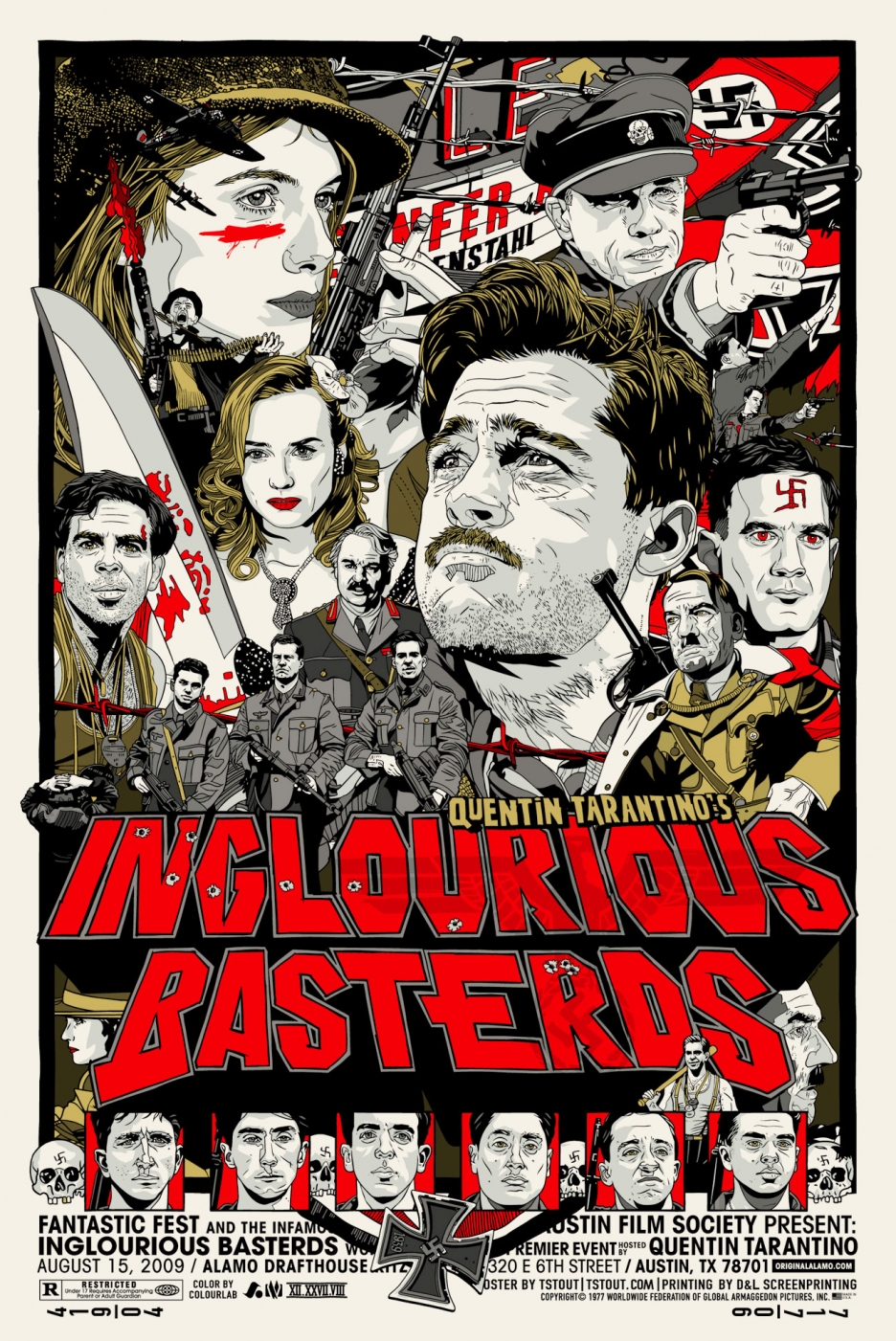 It took Tarantino ten years to finish Inglourious Basterds, mainly because he couldn't figure out the ending or how to spell his title. The story grew in scope so much during that time that at one point he considered scrapping the movie and turning it into a TV show. After many "almosts," he finally shot the film in 2008. The casting of Tarantino's films is always a fun topic of conversation and Basterds was no different. Quentin originally wanted Leonardo DiCaprio to play the career-making part of Hans Landa, which eventually went to Christoph Waltz. Of course, Tarantino would later come back to DiCaprio to play his big baddie in Django Unchained. Landa was a huge problem for Tarantino during writing. He feared that the part was "unplayable." He often mentions Waltz saving his film due to his unique interpretation of the part, a performance that would later win him an Academy Award. Tarantino was always careful with Basterds because he considered it to be his masterpiece. He wanted it to be perfect. I don't know if I'd call it perfect, but it certainly is a great screenplay/movie worth studying.
1) Defy character type if possible (Make your villain polite) – You shouldn't ALWAYS do this, but a common amateur mistake is to make your villain a really mean asshole of a guy. What a boring on-the-nose interpretation that is! Tarantino goes the opposite direction and makes his villain, Hans Landa, the most polite person in the story. Since we're not used to this, it unnerves us, makes us feel uncomfortable, and therefore makes his presence way more interesting.
2) For the love of all that is holy, cut out scenes you don't need! – If you read Tarantino's widely circulated almost-shooting draft, you see a lot of scenes that were cut. For example, there's a scene where Hans Landa explains to an officer why he let Shosanna go. It was unnecessary and therefore cut. There's a scene where Shosanna is taken in by the owner of the cinema she ends up running. Tarantino realized he could move the story along quicker if they start with Shosanna already owning the cinema. You should always be looking for ways to move your story along and cutting out unnecessary scenes is one of the easiest ways to do this!
3) The more doom you imply, the longer your scene can be (or "The Impending Doom Tool") – One of the reasons Tarantino gets away with writing such long scenes is because of the impending doom he sets up at the beginning of them. Because we know something terrible is going to happen, we'll stick around to see it. Look at the opening scene of Basterds. From the very first moment Hans walks in that house, we know this is going to end badly. We see this in Pulp Fiction as well, when Jules and Vincent (after discussing the sexual nature of foot rubs) go to Brett's apartment to retrieve the briefcase. To demonstrate how powerful this tool is, note what happens when Tarantino doesn't use it. One of the most boring scenes in the film is when Lt. Archie Hicox (Michael Fassbender) is briefed by General Ed Fenech (Michael Meyers) about connecting with one of the Allies' contacts. The scene is incredibly boring, and a big reason for that is that it's one of the few scenes in the film where doom isn't implied. It's just two guys discussing exposition.
4) DRAMATIC IRONY ALERT – Tarantino LOVES dramatic irony. In fact, the bulk of his storytelling power comes from the impending doom tool and his use of dramatic irony. We see it in the first scene, when Tarantino reveals that there are, indeed, Jews under the floor. We know this but Hans Landa does not. Then later when Shosanna is called to lunch with the Germans, Hans shows up to talk with her. We know she's the one who escaped the house that day. But Hans does not. We see it in the pub scene, where the Allies are posing as German soldiers. A German lieutenant starts asking probing questions. We know they're not really Germans, but this German soldier does not. You'll see some form of dramatic irony in almost all of Tarantino's scenes.
5) Look for unique ways to stage your characters during dialogue – One of the most interesting scenes in the script occurs after the shootout at the pub. One of the Germans has survived and must negotiate with Lt. Aldo Raine (Brad Pitt) the life of Bridget von Hammersmark. The entirety of the scene occurs with us never seeing Aldo Raine. He's upstairs, yelling down to the soldier the whole time. There's something about Aldo's disembodied voice that brings the scene to life.
6) The Red Herring – Another really cool thing Tarantino does is introduce red herrings into his scenes – people or things we assume will be relevant, but turn out not to be. You see this in the opening scene with the dairy farmer's three beautiful daughters. As Hans approaches them, we're terrified of what's going to happen to them. Is he going to rape them? Is he going to let his men rape them? Will he use their lives to get the truth of the farmer? In the end, they weren't relevant, but we feared they were. Tarantino is always looking for ways to build tension into his scenes and this tool is a sly way of doing so.
7) Reverse Save The Cat – Remember that just as a hero should have a "Save The Cat" moment, your bad guy should have a reverse-save-the-cat moment. Who doesn't hate Hans after that opening scene where he orders half a dozen helpless Jews to be murdered underneath the floor?
8) Always look for different ways to say things – This is one of the easiest ways to spice up your dialogue. Just take a few moments and come up with a more unique way for your characters to say what they're going to say. When Aldo Raine orders The Bear Jew to kill a German soldier, he doesn't use the amateurish line: "Kill this asshole." He says, "German wants to die for his country. Obliiiiige him."
9) The "Tell Me About Myself" tool – You never want a character to start talking about his own backstory. It never sounds right. (i.e. "I'm a killer. I like to kill Jews.") So Tarantino's developed this clever trick where he has the character whose backstory he wants to unveil say to another character, "Tell me what you know about me," as Hans does in the opening scene to the dairy farmer. This way, the character isn't talking about himself. Someone is telling him about himself. For whatever reason, this always feels more realistic.
10) Place your scene in an original (but organic) location – The other day I talked about putting your scenes in unique locations to add more pop. However, it's important to note that those locations must still make sense, must still be organic to the story. There's a great example of this in Basterds. It's the scene where Fredrick Zoller hits on Shosanna for the first time. Shosanna works in a movie theater, so an amateur writer may have put her behind the candy display and had Zoller walk in and make his move. To make things more interesting, Tarantino puts Shosanna up on a ladder changing the marquee with Zoller on the ground, semi-shouting up to her. The distance between them adds a charge and uniqueness to the scene that you never would've gotten had they had a conventional conversation in the lobby.
BONUS TIP – Find humor in the non-humorous – This is one of the tools that has made Tarantino famous. He always mines humor from situations that aren't typically humorous. We saw it in Django when all the men put on Klan masks but start freaking out because they can't see out of them. And we see it here too, with scenes like Hitler going bonkers when he hears about the Basterds. The reason it works is because it's unexpected. We're not USED to laughing at the Klan or at Hitler.
These are 10 tips from the movie "Inglourious Basterds." To get 500 more tips from movies as varied as "Aliens," "Pulp Fiction," and "The Hangover," check out my book, Scriptshadow Secrets, on Amazon!