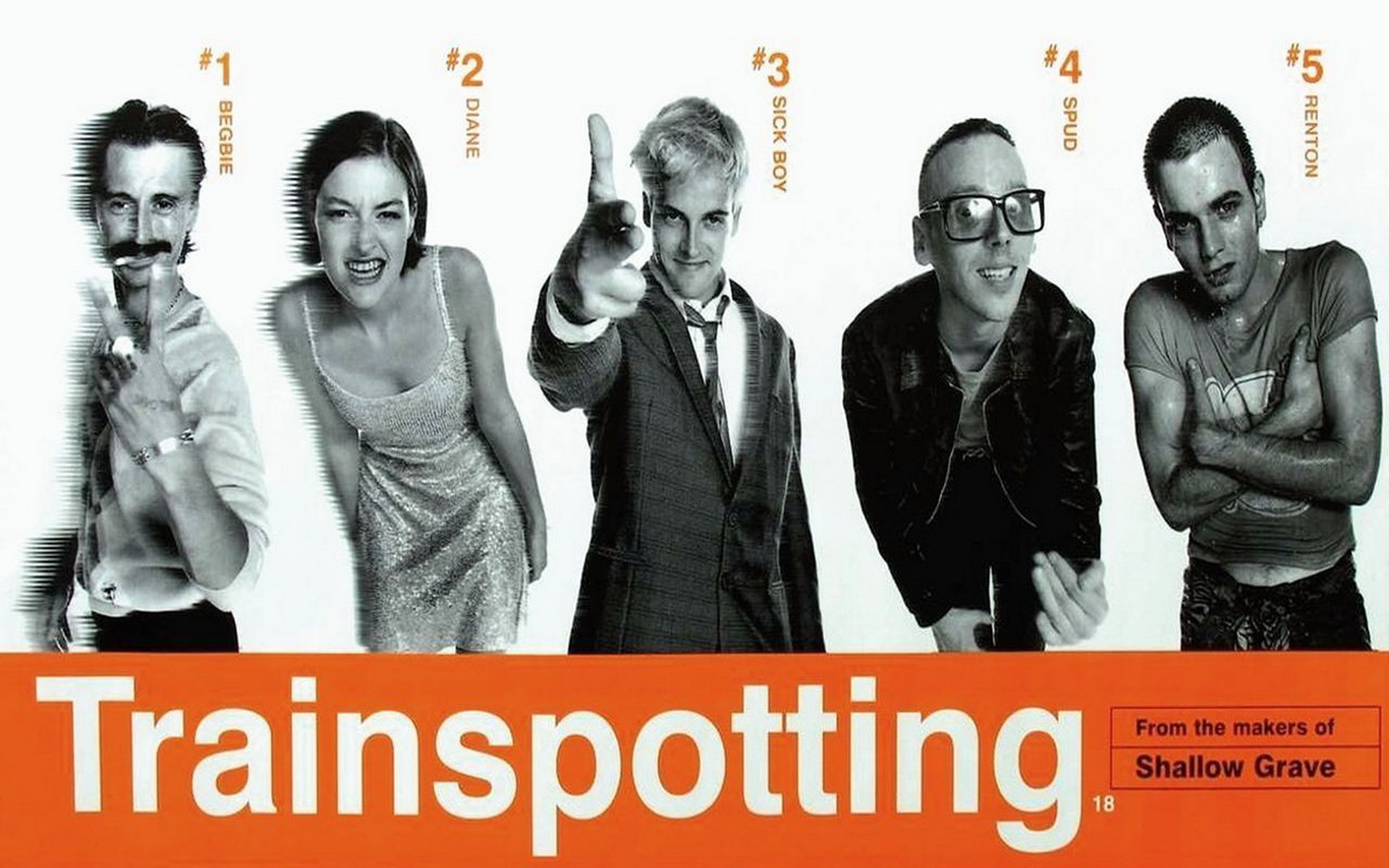 You may remember Trainspotting as one of those 90s movies that was changing the guard in Hollywood. Writer-directors Tarantino and Rodriquez were rewriting the rules on how stories should be told. Screenwriters like Shane Black were changing the way screenplays were written. And then this British heroin-addict flick came along and landed perfectly within that counter-Hollywood culture that many assumed would change the way films were made forever. Well, that change both happened and didn't happen. There's definitely more of a "do-it-yourself" attitude in today's filmmaking community. But that brash no-holds-barred way of writing and shooting died off with the folding of most of the indie companies. It just wasn't as easy to find money outside of the studio system anymore. So everyone started playing it safe again, and we really haven't had a Pulp Fiction or Trainspotting for a long time. Frowney face. Based on the novel by Irving Welsh, adapted for the screen by John Hodge, and directed by Danny Boyle (Slumdog Millionaire, 28 Days Later), Trainspotting was nominated for a screenwriting Academy Award in 1996. It's also ranked 10th by the British Film Institute in its list of the top 100 British films of all time. It just so happens that Hodge and Boyle have reteamed for the new James Mcavoy flick, Trance, which comes out soon. There have been persistent rumors that a sequel to Trainspotting will be made, with Boyle leading the charge, but Ewan McGregor has stated he wants to protect his character, and therefore doesn't want to make an inferior second film.
1) When you have a lot of characters to set up, create a situation/scene that allows you to show us their differences – Here we have Sick Boy, Begbie, Spud, Tommy and Renton. Instead of giving them each their own individual scenes to set them up, which would've taken forever, Hodge throws them all into a soccer (football) game. We see Sick Boy commit a sneaky foul and deny it. Begbie commits an obvious foul and makes no effort to deny it. Spud, the goalie, lets the ball go between his legs. Tommy kicks the ball as hard as he can. This game allows each of the characters an individual action that tells us exactly what kind of character they are.
2) Voice over tends to work better when the pace is fast – When the story's slow, it draws attention to the voice over, which in turn sounds preachy, as if it's trying to carry a boring story. Trainspotting has one of the best voice overs in history ("Choose life. Choose a job. Choose a career. Choose a family. Choose a fucking big television. Choose washing machines, cars, compact disc players, and electrical tin openers."). And a big reason it works is because the story's moving fast (we open on our characters running from the cops). It's not that you can't use voice over with slow material. It just seems to fit better when the pace is quick.
3) Write a story that's opposite in pace and tone from the subject matter – One of the cool things about Trainspotting is that it's about one of the most depressing subject matters out there – heroin addiction – and yet the story is fast and fun a lot of the time. This contrast in expected pace and actual pace gives the story an unpredictable exciting feel. I mean imagine if Trainspotting would've been slow-paced and focused on all the depressing moments related to heroin addiction. It probably would've sucked, right?
4) CONFLICT ALERT – Remember, movies do not work without conflict. You need to mine it wherever you can. Conflict between characters is a given, but not always a necessity IF you have a strong inner conflict with one of your main characters. Here, it's addiction. That's what Renton (Ewan McGregor) is fighting. That's his battle throughout the movie. Without it, this movie doesn't work.
5) Once again, use voice over to help a story in need – We saw this with Fight Club, but here it's even more evident. The more you shun structure, the more you need voice over. The opening of this movie is guys trying to steal items to sell so they can buy dope. Then a sequence where they come off heroin. Then they try to get a job. Then they're all hanging out, going to bars. Then they're back on dope. 30 pages in and no story (no goal) has emerged. But it all flows pretty seamlessly because Renton's voice over is guiding us along. Use voice-over to patch up a patchy story.
6) Talky friend movies need a theme or a unifying element – In these types of movies that don't have much of a plot and are basically a bunch of friends hanging out, you need a unifying element – something the story can keep coming back to. Failure to do so leaves you with a bunch of friends talking, and those scripts are both boring and concept-less. The way to make these movies work is to add that BIG unifying element. Fight Club had fighting. Trainspotting has heroin (or addiction). It turns a situation that really isn't about anything and makes it about something.
7) Give your characters personalities – I think one of the problems with writers is they're so focused on creating character backstory, character flaws, and character relationships, that they forget to give their characters an actual personality. You technically have an "interesting" character, and yet the reader thinks all your characters are boring. So after you've added those elements, simply ask yourself if your character has a personality. Are they someone who people would find interesting in real life? Take Sick Boy, for example. He can't stop talking about those damn Bond films. His obsession with them is a dominant personality trait that helps define him. A personality is what ensures your characters will be memorable.
8) In non-traditional storylines (stories without goals), try to give your characters problems – While your story won't have the same drive as a goal-fueled story, a strong character problem will ensure that the reader will want to keep reading. Take Renton, for example. He has sex with a girl and it turns out she's 14. She then threatens to tell the police if he doesn't continue seeing her. The less structured your storylines are, the more in need they are of problems for your characters.
9) If you're going to do dream sequences, make sure they're motivated – There's nothing more amateur than a trippy dream sequence slapped into a script. They're often weird, random and pointless. One way to write a dream sequence that actually works is to make sure it's motivated. That way, it's no longer pointless. A great example of this is towards the middle of Trainspotting when Renton is coming down off his addiction. He's locked in his childhood bedroom and has an intense dream that includes babies on the ceiling and his doctor as a cheesy game show host. The dream sequence works because it's motivated. The character would obviously have these delusions when coming down off his addiction.
10) For better dialogue, look for a playful alternative to a predictable conversation – After a court appearance where he agrees to rehabilitation, Renton heads to his dealer's apartment. Now this conversation could've gone like this: "Give me the hit of all hits." "That's going to cost you." "I don't care. I need it." Borrrr-ing. Instead, we get this, RENTON: What's on the menu this evening?" SWANNEY (DEALER): "Your favourite dish." "Excellent." "Your usual table, sir?" "Why, thank you." "And would sir care to settle his bill in advance?" "Stick it on my tab." "Regret to inform, sir, that your credit limit was reached and breached a long time ago." "In that case –" He produces twenty pounds. "Oh, hard currency, why, sir, that'll do nicely." Renton prepares. SWANNEY: "Would sir care for a starter? Some garlic bread perhaps?" "No, thank you. I'll proceed directly to the intravenous injection of hard drugs, please." Way more fun of a scene, right?