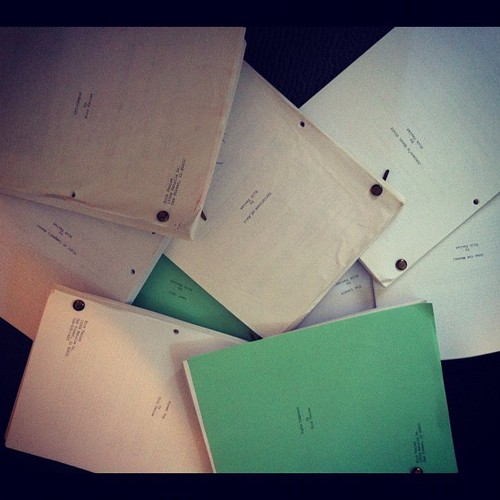 After yesterday's spectacular surprise, the buzz is high for this week's Amateur Offerings.  If you're too shy to display your script to the world, maybe doing the Scriptshadow 250 dance is a better option.  You know how it works.  Read til you're bored.  Share your thoughts in the comments!
Title: Guilt
Genre: Dark Comedy (99 pgs)
Logline: A crack-smoking lawyer, witness to a murder, tries to redeem himself by vindicating the teen prostitute wrongly accused of the crime.
Why you should read: Though I'd love to come up with some touching, true-life moment that makes this story personal, I cannot. I simply wasn't born into the same dire circumstances as those typically faced with the horrors of an unjust justice system. I'm also not a self-absorbed coke fiend like my protagonist. But while this story isn't a reflection of my life, I know it is for many others, and I hope I was able to capture at least some of that strife, in addition to bringing some moments of ironic hilarity.
I've been a long time reader of Scriptshadow, mainly because no matter what the article or review, you seem to provide something fresh every time. You could throw a rock in any direction and hit five blogs on "how to write a screenplay", or "the 10 mistakes young writers make", but every one of them seems to just regurgitate the same points. It's like no one has an original perspective on the business, except you and maybe a handful of others. And to your perspective, I made this script as lean as possible, while creating a fun character that any A-list actor should be dying to play.
My initial goal in writing Guilt was to meld the tragic angst of the Verdict, with the drug-fueled narcissism of The Wolf of Wall Street, along with a healthy GSU, because this young girl doesn't have long before she's put away for life.
Here's what one Blacklist reader had to say: "What makes this script so interesting is how intelligently it tackles the unjust practice of forcing innocents into accepting plea deals. It's rare to see a comedy that can highlight such a serious social ill while still keeping the laugh factor high, but thankfully, this script does just that. Reginald is a well-developed anti-hero; his heart is usually in the right place, but his actions don't' always reflect his good intentions. Though not perfect (see below), his relationship with his daughter Becca is what ultimately grounds Reginald as it gives him the greatest high of all time, one he could never receive from a drug. The dialogue, in particular Reginald's monologues, is also extremely funny and well-written."
I hope you find it a fun read!
Who doesn't believe in second chances!?
Title: The Creation of Adam
Genre: Thriller/Horror
Logline: When Adam, a troubled teenager, learns from his father that they both carry an evil that is passed from father to son, Adam must decide to fight the demon…or become one.
Why you should read: Last year, when my script was featured on AOW, I got a very enthusiastic email from an actor-director who wanted to make the film with his friend, a famous actress, and a couple of other talents from CAA. My screenwriter's dream was crushed when the actress decided that it wasn't for her.The director probably went to look for another project to do with her and I was back to writing something new.
Here it is, a thriller/horror script, Shining meets The Omen, a movie I feel so passionate about, I'm willing to cheat the lottery, direct-produce-edit it myself if I need to. So, why should you read it? Because this script has mystery, thrills, horror, very cinematic set pieces you've never seen before and a weird father-son relationship gone horribly bad. A reader wrote "This script takes coming of age to a whole new level" Hope you agree.
Title: Drawing Dead
Genre: Crime
Logline: An opportunistic and ambitious sniper-turned-hitman gets the opportunity of a lifetime to fulfil his ambitions when he gets the job of killing the woman he's falling in love with.
Why you should read: I work in an advertising agency, where I'm a strategist. My best work to date by far has been the strategies I've developed for how to appear hard at work in an open-plan office where my screen is on public display. And so, in emails to myself, word documents and in the notes section of powerpoint slides, this script slowly came together. When people were getting too close I'd switch to my native Norwegian, just in case.
Anyways, the script is a blend of three crime sub-genres (all with a twist): the hitman movie (Gen-Y has entered the workforce), the film-noir (the femme fatale and private detective join forces) and the Mafia film (a dysfunctional crime family replaces scare tactics with modern marketing principles).
I can but hope that the whole proves greater than the sum of its parts and that the result is a fresh and interesting read. I hope you enjoy it and I very much look forward to your feedback!
Title: Cielo Drive
Genre: Action
Logline: Taken set against the Manson Family murders. Sharon Tate's father, an Army Intelligence vet, takes matters into his own hands when he infiltrates the L.A. underground scene in order to find her killer. — Tate's father do go undercover but it's never been revealed what he actually found. He was close enough to finding something that the LAPD were nervous about his presence.
Why you should read: My name is Erik Stiller, and I've just been promoted to Staff Writer for the upcoming season of CBS' CRIMINAL MINDS. If you like LA history and revenge-action with a good man doing brutal shit then check out this feature.
Title: THE FUSE IS BURNING…
Genre: Mystery/Thriller
Logline : A troubled man tries to find solace by searching a desert canyon for dinosaur fossils. But everything changes when a young girl is found murdered in the same remote region.
Why you should read: There's nothing like a good story. And this one begins one hundred sixty five million years ago.