Get Your Script Reviewed On Scriptshadow!: To submit your script for an Amateur Review, send in a PDF of your script, along with the title, genre, logline, and finally, something interesting about yourself and/or your script that you'd like us to post along with the script if reviewed. Use my submission address please: Carsonreeves3@gmail.com. Remember that your script will be posted. If you're nervous about the effects of a bad review, feel free to use an alias name and/or title. It's a good idea to resubmit every couple of weeks so your submission stays near the top.
Genre: Comedy/Mockumentary
Premise (from writer): A tightly-wound retail store manager on the brink of being fired struggles to prove his worth against a crew who hates him, a competing retailer (who happens to be his ex-girlfriend) out to sabotage him and a mall full of crazed Black Friday shoppers.
Why You Should Read (from writer): Because it is a story about working in retail which means that while it's written as a comedy, it could easily pass for a horror, a drama, a thriller, an action-adventure or any of the wild aspects that make working retail soul-crushingly awful and occasionally (oh so occasionally) great. Also, this script is very much a product of Scriptshadow. I studied screenwriting in college, but spent many years caught up in absurdly grand fantasy-adventure screenplays that were really novels written in Final Draft. And then I stumbled upon Scriptshadow, learned some new lessons, refocused my writing, and set out to create screenplays that were actually screenplays. "Black Friday" is one proud example.
Writer: Jason Tropiano
Details: 104 pages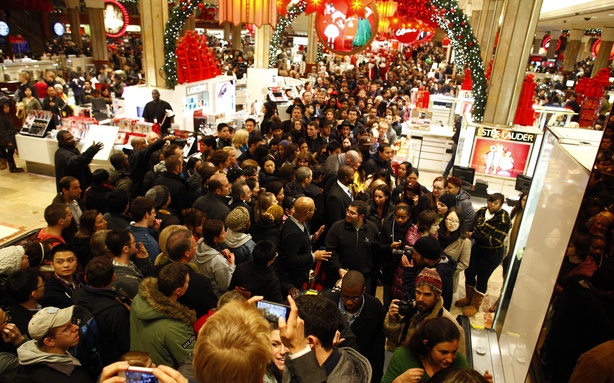 Man, you guys make it hard on me. There hasn't been a clear winner on Amateur Offerings for awhile. And when that happens, it means I have to decide. I hate deciding!
I ended up going with Black Friday for a couple of reasons. I think a comedy surrounding Black Friday is a movie. I can see the poster. I can see the trailer. Also, it's that time of year.  So shouldn't we be featuring a holiday script?  True, Inhuman had more votes, but I was only going to give it a second coveted Amateur Friday slot if it blew away the competition. There are only 55 Amateur Friday slots a year so I like to use that day to see as many new voices as possible.
It's a month before Black Friday, and Jonathan, the manager at American Outfitter's Roosevelt Mall location, isn't wasting any time getting ready for the biggest day of the year. You see, Jonathan has a baby on the way and he hasn't exactly been knocking it out of the overpriced hipster clothing park. All signs point to him being fired unless he makes this the best Black Friday in store history.
That won't be easy though with a young disinterested sales team that has bigger plans in life than working in retail. Jonathan also has to contend with former flame Kennedy, who manages the Abercrombie & Fitch clone, Charley & Waves, across the way. Kennedy divides her time between finding anorexic looking sales-models to stand outside of her store, and plotting her revenge for Jonathan dumping her.
When the big day finally comes, the shenanigans are on. Kennedy fights way below the belt, printing up 50% off flyers for American Outfitters that the clueless sales team at AO start honoring, and having one of her employees defecate in one of AO's fitting rooms. If Jonathan is going to last another day at this job, he'll have to rally the disinterested troops, fend off all the sabotage, and clear things up with Kennedy. All before the closing bell rings at 10 pm.
The other day, someone said in the comments section that you shouldn't send a comedy to Scriptshadow because the people who frequent this site don't celebrate comedy – or, put more bluntly, they wouldn't know what comedy was if it shat on them in a changing room.
I would rebut this. Comedy struggles to gain acceptance in every venue. It doesn't get celebrated in screenplay contests. It doesn't get celebrated during Awards shows. There aren't that many comedies on the Black List.
The problem is that it's really hard to be funny. Especially on paper. You don't have the benefit of a comedian delivering your lines or a physical actor who can just contort his face in a way that makes you laugh. All you have is your words.
So it's not that we here at Scriptshadow hate comedy. It's that rarely do writers meet the bar the genre requires.
So how does Black Friday rank in regards to this bar? Well, from a story perspective, there are some good things here. I like how Jason created some really high stakes for our hero, Jonathan. Jonathan is on the outs at the company. He's got a kid on the way. Black Friday is his only opportunity to save his job. We have a proper villain, Kennedy, who had a personal relationship with Jonathan (the personal relationship adds another layer to the story) and who creates plenty of obstacles to prevent Jonathan from reaching his goal. So structurally, I thought Jason did a good job.
But in regards to the funny factor, I don't think we're there yet. To start, utilizing the mockumentary style feels dated. That was all the rage five years ago, but I think people are looking for something new now. Ironically, telling comedy in a "straight" fashion feels fresh again.
I point this out because there were maybe 20 mockumentary-interview-specific jokes I didn't laugh at because I've seen them all before. For example, when the clueless customer digs through their purse with 80 people in line behind them – then we cut to an interview shot of the salesperson giving a "Really?" look into the camera. That joke is too familiar at this point. It's safe. So that's 20 jokes right there that didn't hit for me. I saw them coming a mile away.
So where do you find the funny? You find it in situations and in characters. That's really your main job when it comes to comedy writing. You have to create funny characters and seek out funny situations. The only character I genuinely laughed at was Woo, the stock-boy with a penchant for extremely inappropriate rap music. He really stood out.
And the only situation that resonated was the fake 50% coupon debacle. But I don't think enough was done with it. I like the idea of everybody coming to their store, seemingly exactly what they want, but then it getting completely out of control once they all start demanding half-off. The thing is, this problem was solved within a few minutes.  There needed to be that moment where Jonathan secretly honored it for one problematic shopper to get him out of the store, then tried to cut the discount off.  But by that point, everyone's found out that the customer got the discount, and they're not leaving until they get it too.  Old customers also need to come back and retroactively demand the discount.  It needs to get to riot levels.  This is Black Friday.  Excessive situations are expected.
Situational comedy can be fun to figure out. But it's something you really have to spend time on. I would go so far as to say that if you're writing a comedy, sit down for an entire two days and come up with 50 concept-specific situations, then cherry pick the best. Cause if you're only picking from a nest of 4-5 ideas that popped into your head, you're not going to be able to compete with the truly hilarious guys.
Finally, I'll say this – the more I read of Black Friday, the more I wondered if this was the right approach. I mean, the script's called Black Friday, but we start a month before Black Friday. We should be starting ON THE DAY. And I wondered if a Breakfast Club type approach might have been better. One day. Seven shoppers. Each with their own specific goals (maybe not all of them to get gifts) and, of course, everything under the Christmas tree goes wrong. Also, when I think of Black Friday, I don't think of clothing stores. I think of big box retailers like Best Buy and Walmart. That seems to be where the real craziness is. And yet those businesses were left out. But even if you're interested in mall-like stores, I'd go for more of a variety. A clothing store, a sports store, a candle store, a Radio Shack type store. We should be getting the entire scope of the mall, not just these two locations. That's probably how I would've tackled it, at least.
There's a lot of love here though. I can feel Jason's own experience in retail shining through. But something's missing and I can't pinpoint exactly what it is. What did you guys think?
Script link: Black Friday
[ ] what the hell did I just read?
[x] wasn't for me
[ ] worth the read
[ ] impressive
[ ] genius
What I learned: Worst case scenario situations. One way to find laughs is to think of the worst case scenario for a character, and then put them in it. So for example, let's say one of the employees at American Outfitters is OCD OBSESSED with his displays. That's literally all he cares about –everything being folded perfectly and placed perfectly and the area being exceptionally clean. What's that character's worst case scenario? Each of you are probably thinking of something different. But chances are, it's funny. Maybe, for example, a mother comes up and starts changing her baby's diaper on the most important display in the store – the one OCD EMPLOYEE was working on all night!  She's just carelessly placing the dirty diaper on the most expensive shirt as if it's nobody's business. This approach is an easy way to generate 3 or 4 big laughs in a movie.