Today's script is going to piss some people off because of its controversial writing style. But I liked it!
Amateur Friday Submission Process: To submit your script for an Amateur Review, send in a PDF of your script, a PDF of the first ten pages of your script, your title, genre, logline, and finally, why I should read your script. Use my submission address please: Carsonreeves3@gmail.com. Your script and "first ten" will be posted. If you're nervous about the effects of a bad review, feel free to use an alias name and/or title. It's a good idea to resubmit every couple of weeks so your submission stays near the top.
Genre: Comedy
Premise: (from writer) Three different graduating classes return to their small New Jersey town for a night of awkward reunions and drunken debauchery on the biggest bar night of the year – Thanksgiving Eve.
About: Black Wednesday barely beat out "Ship of the Dead" in last week's Amateur Offerings showdown. There appeared to be a strong divide in the reactions. Lots of people were up in arms about the "voice," particularly all the asides. And when there's controversy, there's Scriptshadow getting on his Controversy Scooter to solve it.
Writer: Thomas Grant
Details: 111 pages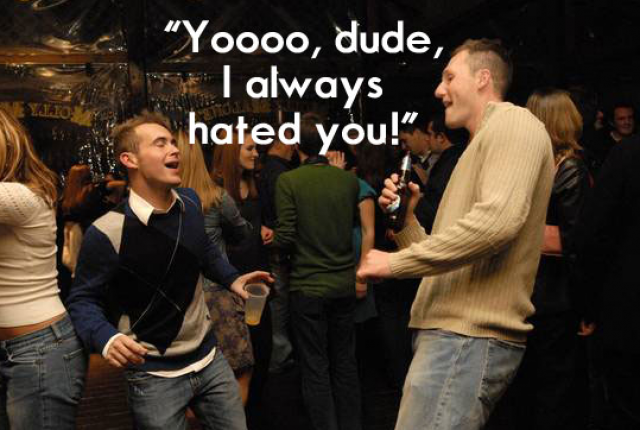 Okay, Dazed and Confused is one of my favorite movies ever. But it's also a really tricky movie from a screenplay perspective because there's no real story. It's just a bunch of people living their life on the last day of school. For that reason, writing a "Dazed and Confused"-like script is typically a losing endeavor. And believe me, I've watched a lot of people try over the years.
You see, when you don't have a traditional story, you have to be awesome at other things in order to distract the audience from the fact that there's no story. One of those things is dialogue. The dialogue has to be really good. Now most of the people who write these types of scripts THINK they're good at dialogue, but they aren't. You have to remember that the best dialogue comes from dramatic situations. And dramatic situations come from a well-told story, since good stories are built to create dramatic situations. Since you don't have that in a movie like this, the dialogue is sort of off on its own, asked to be flashy and fun without any underlying help. That's a skill not a lot of writers have.
This was just one of the things I was worried about going into Black Wednesday. Let's see if the writer was able to overcome it.
Black Wednesday is about that night before Thanksgiving – the one where everyone comes back to their small home town from all over the country and reconnects with all their friends at the bars before being asked "What the hell are you doing with your life" by their parents the next day. It's potentially a really depressing time in that you're forced to face where you are in life.
"Wednesday" follows a hell of a lot of people in that situation. There's 32 year old Brandon, who's reluctantly become an assistant football coach at his former high school. There's Randy "Tag" Taglianetti, who's now selling alcohol to minors at a local liquor shop. There's 32 year old Nikki, who's hot and bitchy and who still hasn't found a husband. There's 26 year old Sophia, who doesn't realize how pretty she is. There's 26 year old Dan, who's trying to make it as a comedian in LA but failing miserably. There's even 17 year old quarterback Vince, who's hellbent on enjoying the night before the big game tomorrow, despite his coach's warning not to do so.
There are a LOT more characters than this, most of whom are trying to survive the night in some way. Brandon's trying to figure out how so many of his former classmates became successful while he's still stuck in Nowheresville coaching football. Dan's out of money and debating if he should give up on his comedy dream and move back home. Nikki is trying to use this night to find a suitable man, maybe not to marry, but at least to have as a boyfriend. Sophia's trying to break out of her quiet shell. And that's pretty much what we got here. There's no real overarching story to get into. It's just a lot of jumping back and forth between these characters.
One of the reasons these scripts are so hard to write is because of the character count. There are always a ton of characters to keep track of and how the writer presents these characters in order to make them memorable can either make or break the script. I mean, I'm finished with the script and I'm STILL kind of mixing Dan and Brandon up. I'm still getting Nikki and Paige mixed up. You have to be a master in character creation if you write a script like this. You have to be very particular about how you name everyone, so their name instantly invokes a unique face. You have to give them memorable opening scenes. You have to know when to eliminate characters that aren't necessary, since they crowd the name pool. Even something as simple as the LENGTH of a name can make a difference in how (or if) that character is remembered. Thomas did a pretty good job of that here, but he walked into a minefield. It's tough for us to keep track of everyone, and I definitely struggled at times throughout the first half of the script (when everyone was introduced) as a result.
Also, because there's no story in a script like this, everything rests on the characters. You have to be an amazing character-creator, and the trick to that is, every character must be going through something that this night is going to challenge. If you look at Dazed and Confused, every memorable character there is going through something. The football player must decide if he's going to sign the drug form, the main character, 13 year old Mitch, is trying to rise above his sister's shadow, Adam Goldberg's famous character must learn to stand up for himself, his buddy has to break out of his shell and talk to a girl for once. If there isn't something for your characters to overcome, then we'll quickly get bored with them because there's no story to look forward to to take our mind off that lack of character development.
Black Wednesday has mixed results in this area. Characters like Brandon, Dan, and Nikki were all memorable because they were going through something. But Kevin Africa and Colleen just seemed to want to have a good time. For that reason, while their storylines were occasionally amusing (ending up at a high school party when Colleen was a high school teacher) they didn't resonate. Even if it's the smallest thing, it's still important to have your character going through SOMETHING that the situation in the movie challenges.
Another thing with these movies is that they must be driven by a theme. You need something to reign the randomness in. There were flashes of themes here and there in Black Wednesday, but I'm not sure if we ever really settled on one. There was this moment on page 50, actually, where one of the older (sort of degenerate) characters was talking about how he watched MILF porn earlier in the day, and realized that those MILFS were now their peers. Yeah it wasn't exactly Socrates, but it was the first moment I felt a potential theme shining through. You grow up fast so you have to enjoy your life. Remember, the best themes are usually the simplest, and I felt like that theme was perfect for this kind of movie. It just needs to be explored in more of the storylines.
Now I'm guessing one of the big problems some people had with the script was the voice. Thomas, here, LOVES to write asides. Like more than actually write the script sometimes. And this always divides readers. I mean, we get things like "This isn't the Hollywood your friends and family are thinking of," and "one of those shitty apartments off Hollywood boulevard you live your first year in LA in because you don't know any better" and "The American Dream this is not."
Okay, so, note to writers. THIS TYPE OF WRITING MAKES CERTAIN READERS ANGRY. Not all readers. Probably only half of them. But half is enough to be careful about this writing style. If you're automatically alienating half your readers right away, you're severely limiting your opportunities in a business that's already short on opportunities.
Now there are some caveats here. First, if the writer is really good, then these asides aren't as annoying, cause they'll be funny and entertaining. Also, if you don't go overboard and you pick and choose WHEN you use asides, readers are generally more tolerant of them. Thomas DROWNS his script in asides, which you just can't do. It starts to feel like you're trying too hard, and once that happens, the reader doesn't like you anymore, and they don't like your script either. So it's a dangerous game to play.
I think Thomas is a good writer so while there were definitely times where I was like, "C'mon already! Enough asides!" it never got so bad that I gave up on him. Which brings me back to the dialogue statement I mentioned at the beginning of the script. Conversational (as opposed to story-relevant) dialogue, is super-dependent on writing ability. I'm not sure Thomas is as good as he thinks he is, but a lot of these conversations felt natural, like the way people coming back together on Thanksgiving Eve for a night of craziness would actually sound. So to that end, I commend him.
Which leads us to the end of OUR night of craziness – aka, this review. One thing Black Wednesday reminded me of is that these types of scripts are so "gotta make it" scripts. The writer has to go make the film himself (Richard Linklater with Dazed and Confused, George Lucas with American Graffitti, Paul Haggis with Crash) because the stories are so specific to the writer's voice. I just don't see these do very well in the spec world because, again, the spec world celebrates stories with high concepts and clear narratives. That's not this kind of film.
So if I were Thomas, I'd go out and make this. Once you make the theme more prevalent and make sure all the characters have something going on, this is pretty much ready to go. It wouldn't be an expensive film to shoot by any means. And the only other real major problem I had – not being able to remember who's who – would be solved, since once we see actors on a screen, we don't forget them.
Black Friday was tough to get into with all the asides and the memory game we had to play with the characters, but once it got going, it was a fun ride.
Script Link: Black Wednesday
[ ] what the hell did I just read?
[ ] wasn't for me
[x] worth the read
[ ] impressive
[ ] genius
What I learned: Aside or not to aside – that is the question. Only use asides in a comedy script (or a script with comedic elements). It's the only real time they work. And even then, use them sparingly. Too many asides and readers will throw you over the side…of their boat…into the Sea of Forgotten Scripts. Can't risk that!