A rare treat. An extremely solid amateur script! But will not owning the rights to the material doom the screenplay??
Next week is a SPECIAL WEEK here on Scriptshadow. It's WEIRD SCRIPTS WEEK. I'll be reviewing five really strange scripts, saving the weirdest and oddest for Friday. Your life will never be the same after you hear about that last script, I promise you. This means there will be no Amateur Offerings this weekend. So check out Damn Nation instead. It's a good script!
Genre: Horror/Action-Thriller
Premise (from writer): Five years after a plague has overrun the United States, turning most of the nation into feral vampiric creatures, a Special Ops unit from the President's current headquarters in London is sent back into the heart of the US in a desperate attempt to find a group of surviving scientists who claim to have found a cure for the disease… but not everyone wants to see America back on its feet.
Why You Should Read (from writer): I believe screenplays are evolving. With the advances of technology in the last couple of decades such as the internet, computers, ipads, smartphones, etc, screenplays can be more than words on paper, they can be visual and even interactive experiences. I'm not the first and I won't be the last person to integrate artwork into my screenplay, but I think this approach, if done right, can add a lot of value to a project. Integrated artwork is just the tip of the iceberg though. I believe soon people will be adding a lot more elements, such as photo references, storyboards, video, sound effects, music, and other audio-visual components embedded into their scripts. The possibilities are endless. — However, I know that my view on things is going to be vastly unpopular right now. I think most people will have an old school attitude and believe that writers should write, leaving the fancy bells and whistles to someone else. — With that said, I do believe nothing is more important than the words themselves. Above all else, I hope my script is judged on the words, not the images. Everything else I've added is just a bonus.
Writer: Adam Wax (Based on the comic, "Damn Nation," written by Andrew Cosby and illustrated by J. Alexander)
Details: 110 pages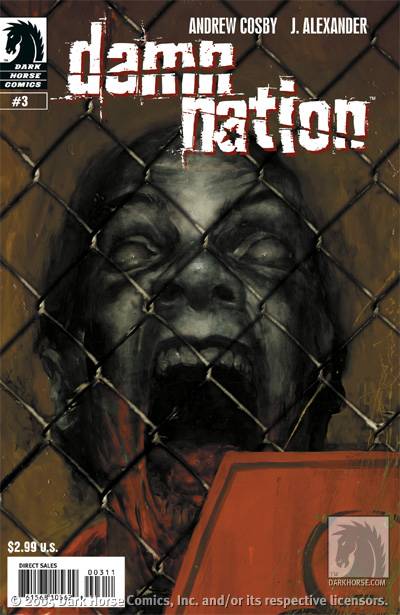 I guess you could say today's entry is a little controversial. We don't usually review adaptations on Amateur Friday. But there's nothing inherently wrong with writing one. I know some people get upset by it but as long as you give credit where credit is due, which Adam does, it's fine.
As far as whether it's legal to adapt something you don't have the rights to – it's perfectly legal. If you went and wrote your own Fifty Shades of Grey script tomorrow, nobody's going to come knocking at your door. The only time it becomes illegal is if the studio buys it and turns it into a movie without obtaining the rights. And even then, it's not you who gets sued, it's them.
Wax has also decided to infuse artwork from the comic into his script. As I've stated before, I have no problem with this either. I think, under the right circumstances, art can enhance the read. I just wasn't a particular fan of THIS art. I'd prefer art that actually gives me a clear idea of what's going on. This art here is almost the opposite – as evidenced here.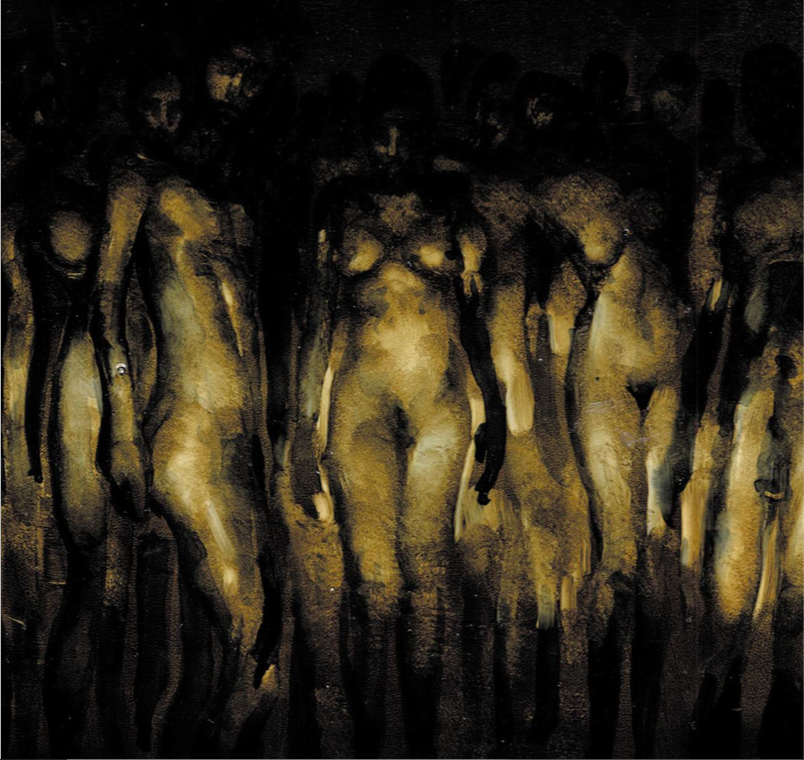 The setup for Damn Nation is pretty straight forward. Five years ago, a lost Russian tanker wanders into U.S. waters, full of dead bodies. When a group goes to inspect the ship, they find that these "dead" bodies aren't as "dead" as they thought. We cut to five years later, where we learn that that event was the beginning of a fast-acting virus that took down the entire United States.
Back in Britain, where the remainder of the United States government now resides, they receive a signal from Buffalo, New York, with a simple message: "We have the cure." The Americans and the Brits put together a team of about a dozen soldiers and send them off to Buffalo to see if there's any truth to this message.
The team is led by the always cynical Captain John Cole. He's joined by the non-shit-taking Lieutenant Emilia Riley, a Brit who's not a huge fan of the American way. The two command a group of both Americans and Brits, and head into Buffalo where they immediately find our scientist with the cure.
Except that's where shit starts going wrong. A sub-division of the team turns on them, killing everyone within sight. They try and kill Cole and Riley, who just barely escape with the doctor, a few other soldiers, and the cure. We eventually learn that the Brits, the Chinese, and the Russians, like this new world where the U.S. is no longer a player. And if there's a cure, that puts the U.S. back in the mix.
Cole and Riley are thrust into a dangerous country where these… things lurk around every corner. They'll need to come up with a plan not only to avoid them, but find a way to safety, and find someone who actually wants to use this cure to save the United States.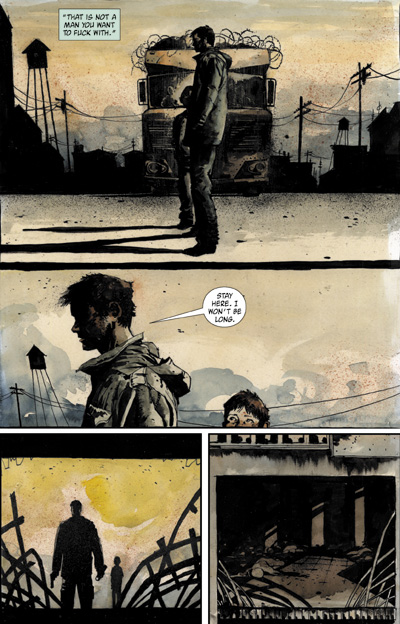 A page from the comic.
In the spirit of being completely honest, permission-less adaptations are usually the worst scripts I read. I'm not sure exactly why this is, but my guess is, these scripts tend to come from first-time screenwriters who fall in love with a property (movie, comic book, what have you) and want to write a movie in that universe. They do this before learning how to actually screen-write, which is why the scripts are often complete messes.
My advice to writers thinking about adapting a high-profile property you don't have the rights to: don't do it. I can guarantee that the rights to anything you've found are already owned by some producer working for some studio, which means you have approximately ONE BUYER for your script. If that one buyer doesn't like what you've done, you're shit out of luck.
There is a less cynical side to the approach, though. If you write ANYTHING that's good, whether it sells to that single buyer or not, the town will take notice. And while you may not sell this specific script, you'll get tagged as a good screenwriter and get some meetings out of it.
I don't know where Adam Wax is in his screenwriting career, but he deserves some meetings after Damn Nation. This script is good. The first word that comes to mind is: polished. This isn't something that was thrown together quickly, like so many amateur scripts we read here seem to be. Rather, there's a clear structure to the story, and Wax moves it along quickly.
We start with that great teaser – A Russian boat that's been lost for 15 years. Inspecting that boat to find 200 dead bodies that suddenly come to life. If that doesn't grab you, you are incapable of being grabbed.
We don't waste any time when we jump to five years later either. We immediately jump to the "cure" signal and within pages, our team is on their helicopters, heading to the U.S. Spec scripts HAVE TO MOVE FAST. And Damn Nation eschews the Prius approach in favor of the Lamborghini.
The first big twist is maybe a little predictable (the soldiers turning on their leaders), but Adam's such a good writer, he makes it work. And it places our characters into a seriously terrifying situation – being alone in a country dominated by blood-sucking creatures with no one to come save them.
I often discuss on this site using ideas that DO THE WORK FOR YOU. This is the kind of idea that does the work for you. Putting your characters in this kind of peril ensures that you'll have a bevy of terrifying scenes and sequences. Every moment counts. Every wrong choice could lead to death. There's never a moment here where the audience can sit back and relax, which is a sign of a really good story.
Some of the character stuff is really good too. For example, Captain Cole isn't just some tough-as-nails vanilla captain. He learns that the whole reason he was picked to lead this mission is because he's been such a terrible captain (killed two platoons in Afghanistan). He was chosen for the specific purpose of ensuring failure. Cole is going to have to dig down deep and overcome all his demons and past failures in order to prove to others, but more importantly, himself, that he can lead.
If you're a fan of The Walking Dead, 28 Days Later, or really any post-apocalypstic literature, I can guarantee you're going to LOVE THIS. I could see this being a hit movie TOMORROW. But I don't know who owns Damn Nation, and I don't know if whoever has the rights plans on making the movie anytime soon. But they should. And they owe it to themselves to at least check out Adam Wax's version.
Script link: Damn Nation
[ ] what the hell did I just read?
[ ] wasn't for me
[xx] worth the read
[ ] impressive
[ ] genius
What I learned: I'll say it again, guys. A spec script NEEDS TO MOVE QUICKLY. The specs that never seem to slow down, that never allow the reader to sit back and relax – these scripts have a HUGE advantage over the slow-moving specs with stories that take forever to get going, and which spend too much time sitting around in that second act. If you can, I'm BEGGING YOU to infuse URGENCY into your spec idea. Urgency and specs go together like peanut butter and jelly.