Get Your Script Reviewed On Scriptshadow!: To submit your script for an Amateur Review, send in a PDF of your script, along with the title, genre, logline, and finally, something interesting about yourself and/or your script that you'd like us to post along with the script if reviewed. Use my submission address please: Carsonreeves3@gmail.com. Remember that your script will be posted. If you're nervous about the effects of a bad review, feel free to use an alias name and/or title. It's a good idea to resubmit every couple of weeks so your submission stays near the top.
Genre: Sci-fi
Premise: Members of a deep-space mission come out of cryo-sleep only to learn that one of their crew members has gone missing, and that mysterious forces may be to blame.
Why You Should Read: Ron Hollis has been promoting his script in the comment section for awhile now and when Scene Week came around, he got a ton of support for his scene from other readers. Therefore, I'm giving him an Amateur Friday shot!
Writer: Ron Hollis
Details: 116 pages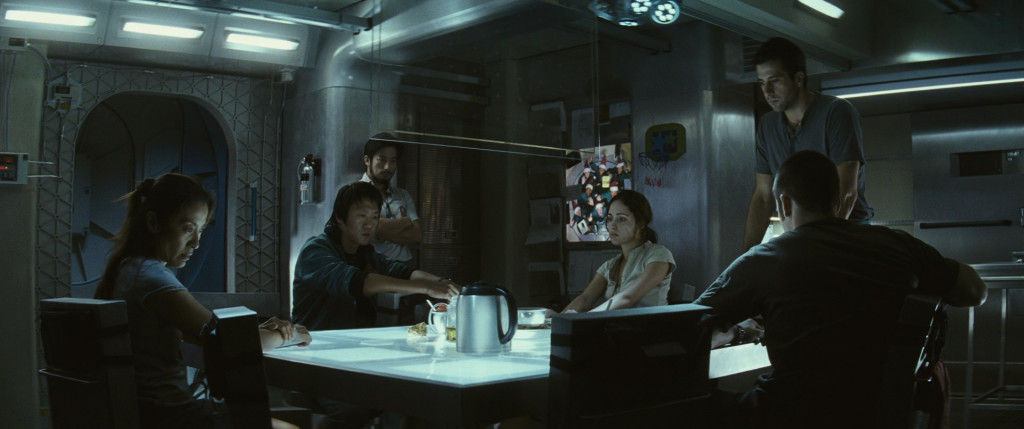 I don't know where I first heard the phrase "Go big or go home." All I know is that Ron Hollis must have that credo tattooed to every visible part of his body. I've got to give it to the guy. Anyone who attempts to explain the origins of mankind, the universe, and the meaning of life, all in one script, isn't messing around.
It's funny that just yesterday I wrote that article about unconventional writing. We couldn't have received a screenplay better designed to explore that debate than Dark Matter. This script is anything but conventional. It takes chances left and right. It's weird. You're never really sure where it's going. By gosh, a chimpanzee even turns into an alien boy at one point!
So it leads us back to yesterday's question – is this the kind of unconventional writing you want writers to embrace? Or should Ron utilize a more proven storytelling approach? Keep that in mind while we check out the plot.
Dark Matter follows two separate narratives. The year is 2199, and mankind has created a space station orbiting Mars. Three people are operating this station. Ethereal beauty Angelique is the one we're primarily following. So one day, while the crew's going about their daily duties, Angelique spots a glowing white orb dancing around the ship. It's a fascinating moment for her, but since it leaves as quickly as it showed up, all she can do is marvel at the experience then get back to work.
Cut to a few hundred light years away where we meet up with the H.M.S. Babylon, a ship that's travelling to a distant planet. On this ship, crew-member Newton is brought out of cryo-sleep to be informed that fellow crew-member Adam has disappeared! The record of this disappearance is being conveyed to Newton by the ship's creepy A.I. controller, S.O.L.O.M.O.N., who seems a lot like another artificially intelligent ship controller we know.
SOLOMON's acting all fishy when Newton asks specific questions about Adam, so he's forced to wake up the rest of the crew early and do some detective work. After some snooping around, they realize that aliens may be involved. Apparently, they're being followed by, or are in some kind of "dark matter" that's allowing their entire ship (and their minds) to be controlled. Naturally, this freaks everyone out.
Now you're probably wondering what these two completely separate space missions have to do with each other. Well, not a whole lot. The lone connection is that Newton and Angelique are a couple and really want to call each other, but no one on either ship will allow them to. I'm guessing this has something to do with cell phone charges in the year 2199 being REALLY bad.
Eventually, Angelique and her crew decide to go down to the Mars surface (not sure if it's ever explained why?), only to crash land in the process. Back on the Babylon, SOLOMON's acting more and more suspicious, while the crew keeps seeing more aliens, white orbs, and spaceships. At one point they even bring out a chimpanzee ("Darwin") as bait to lure the aliens in.
But don't worry, it gets stranger! The crew realizes that dark matter can only be accessed subconsciously, so they decide to go into hyper-sleep together and take on these problems through their collective subconscious. While there, they're able to communicate with the dark matter and the aliens, and find out what their ultimate endgame is. Of course, no one's really sure what's real and what's not, which begs the question if any of this is even real.
Okay, so here's the big debate, kids. Yesterday we asked if we should let the writer follow his voice while ignoring convention, or follow the proven storytelling methods Hollywood endorses. To add some stakes to this debate, let's say that YOU are developing this project for a studio and are tasked with guiding Ron to write a great script. What would you do with Dark Matter?
To me, the two separate narratives here are a killer, particularly because there's barely any connection between them outside of one character from each ship mentioning that they want to call the other. Outside of that, bouncing back between a station orbiting Mars and a ship hundreds of light years away seemed distracting and unnecessary (and is it even possible to make phone calls light years away?).
Now if we're playing devil's advocate, we could say, "Yeah, but take the double-narrative away and you take away the script's originality." I suppose that's true. But would you rather have a focused story that's more engaging or an unfocused one that's more thoughtful? For me, I always want the more engaging story, but I know others disagree with me on this.
As for everything else, Dark Matter was one of those scripts that took a lot of work to get through. And readers don't like to feel like they're working when they read. The problem was I was never quite sure what was real and what wasn't. And I couldn't decide if the deliberate vagueness of the storyline was well-crafted or sloppy.
What I mean by that is we're given these really vague rules, like the fact that dark matter and the soul are linked. And that aliens can take over humans and make them look like human-alien hybrids. That there are alien ships and there are alien orbs, and the two may or may not be connected. And to communicate with dark matter and aliens (which may or may not be the same thing), we have to access our collective subconscious while we sleep.
All of that stuff sounds fun in a vacuum, but when you add it all together and try to spin a story around it, it can be quite frustrating to try and keep up with. If I don't understand the rules of the universe you've created, how can I remain invested? It's kind of like listening to two people talk in a language you only sort of know. You understand a few things here and there, but most of the time, you have no idea what they're talking about, and boy is that frustrating.
It IS a delicate balance though because there are movies that have been able to make this work, such as Donnie Darko and 2001. All the answers are not given. There are many little gaps in rules and logic, and somehow, it makes the story feel deeper and more exciting.  Instead of you feeling frustrated trying to figure things out, you feel charged, like every frame could contain a new clue to the mystery.  You want to participate.  Why Dark Matter didn't get there, I'm not sure.  All I can say is that the rules were TOO fast and loose.  It was hard to find any numbers that add up.
Speaking of 2001, you have to be careful about letting your influences be too influential. S.O.L.O.M.O.N. was so similar to H.A.L. that whenever he spoke, all you can think about was that movie. You can't have that. Look, our favorite movies always end up influencing our scripts. But you have to be smart about it. Find a new angle that makes the thing you're stealing seem unique.
Maybe you change SOLOMON to a female voice. Maybe you make SOLOMON a full-on see-through virtual ship-assistant (something it looked like Ron was thinking of doing, but never quite pulled the trigger on). What I can tell you is that if you recreate one of the most famous characters ever, people are going to call you on it.
Finally, this story seemed to be about "what comes next," or the afterlife. That's pretty much what the last 20-30 pages cover. However, there was barely ANY DISCUSSION about the afterlife throughout the script.
If you're going to focus on a particular subject matter, especially something as intense as the afterlife, you have to design your characters around that idea. We need characters who are extremely religious. We need characters who are extremely scientific. We need agnostics. And we need conversations that tackle these different points of view in compelling entertaining ways. It was really strange that this script ended on such a religious note, yet barely brought up religion throughout its running time.
I'd be interested to hear what people think of Dark Matter in light of what we discussed yesterday. Would you rein this in or would you let Ron trust his voice and roam free? The unfocused narrative and vague rules ultimately did it in for me. But Ron certainly has a unique point of view and way of writing that should serve him well in his career.
Screenplay link: Dark Matter
[ ] what the hell did I just read?
[x] wasn't for me
[ ] worth the read
[ ] impressive
[ ] genius
What I learned: When you're writing, you're always looking for which parts of your story pack the most punch and which parts are missing something. With each subsequence draft, you want to spend more time expanding the "packing punch" parts and less on the "something's missing" parts. Over the course of many drafts, you'll see the good stuff expand to take over most of the screenplay while the lacking stuff disappears completely. That's the approach Ron needs to take here. The stuff that packs the most punch is on the ship, Babylon. The stuff that seems to have something missing is the Mars storyline. Therefore, I'd eliminate Mars and keep the story on the ship.