Get Your Script Reviewed On Scriptshadow!: To submit your script for an Amateur Review, send in a PDF of your script, along with the title, genre, logline, and finally, something interesting about yourself and/or your script that you'd like us to post along with the script if reviewed. Use my submission address please: Carsonreeves3@gmail.com. Remember that your script will be posted. If you're nervous about the effects of a bad review, feel free to use an alias name and/or title. It's a good idea to resubmit every couple of weeks so your submission stays near the top.
Genre: Sci-fi
Premise (from writer): In a future where robots run grisly human-fighting rings for sport, any human who survives 72 matches is given 72 minutes to win their freedom–or die.
Why You Should Read (from writer): I moved to Los Angeles to specifically pursue a career in waiting tables. I was originally gonna write a biopic about Nikola Tesla's chef, but figured this would be more interesting. This script has such a big fat concept, that when it took a selfie, Instagram crashed. Do not read it if you hate: space, hyper loops, nihilism, invisible architecture, and futuristic theories. FULL DISCLOSURE: I'm an alien that's trying to blend in with everyone.
Writer: Robotic Super Cluster
Details: 85 pages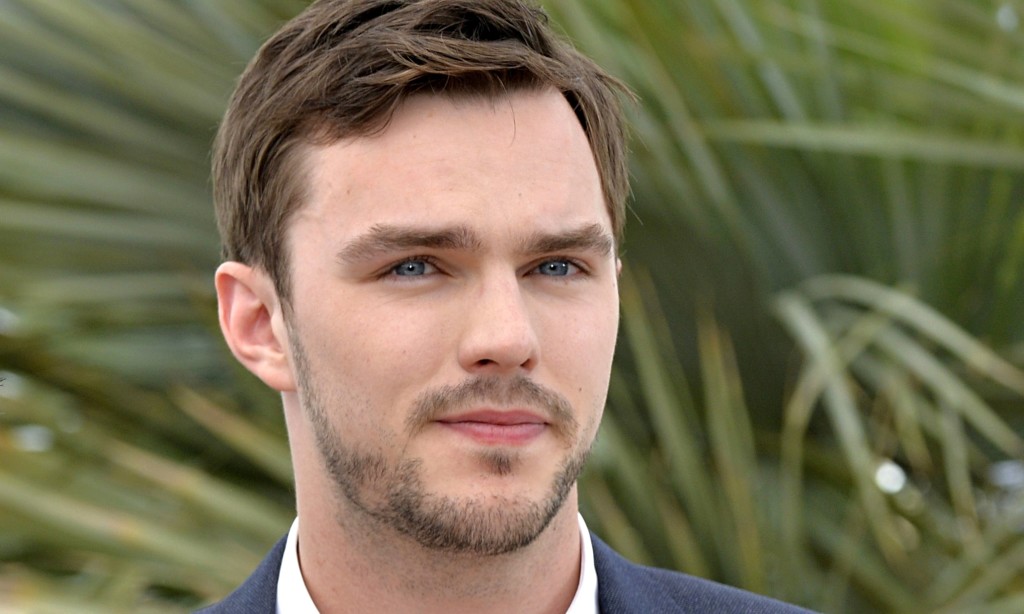 Hoult for president! And for this movie.
I suppose Game of 72 was the perfect script for today. As I struggle to decide on my last few slots for the Scriptshadow 250, my mind is on the verge of madness. And let me tell you, there isn't a better script to read when you're on the cusp of insanity than this one. I want you to imagine Steven Spielberg making A.I., but with Rob Zombie's brain downloaded into his cerebral cortex. The word "trippy" doesn't even begin to describe this bizarro eye-assault.
But before I get to that, I want to know which movie I should see and review for Monday. This is the best movie weekend of the year so far, with Sicario (great script), The Martian (great writer success story) and The Walk (amazing special effects) all coming out at the same time! I'm considering doing my first triple-feature in ten years, but I don't think I'll have the time. So which one do you want me to review? There's no wrong answer!
Okay, on to Game of 72, which was my favorite logline of the bunch so I'm glad it won. Well, I should say I WAS glad that it won. Now? I'm not so sure.
The year is 2820. Earth is run by robots, aliens, and genetically modified monsters. The only thing these beings seem to care about is entertainment – specifically human-on-human fighting. They take the humans, chain them up like dogs, torture them, strip them of their names (replacing them with numbers), and force them to fight each other to the death.
Sounds fun, right?
The only way for humans to escape this misery is to win 72 fights (nearly impossible), after which they're entered into something called "The Game." In "The Game," you have 72 minutes to catch a wandering orb. If you succeed, you gain your freedom, are upgraded into a human-robot hybrid, and get the choice to live forever.
So the stakes are high.
Our hero, 28 year old Finn, is one of the few fighters who's managed to accumulate 72 wins. He joins two others who have managed this impossible feat – Nala and #9560 – and before the trio even knows what's going on, they're thrown onto an interplanetary train that shoots them off to Mars.
When they get to Mars, none of the monsters or aliens have ever heard of The Game. They don't even know who these humans are. In fact, there's no one to tell them how this game works. Complicating matters is that there's a disembodied voice living inside of Finn who keeps telling him to do the opposite of what everyone tells him to do.
No more than five pages after we arrive on Mars, our players are told they're going back to Earth, so they jump on another flight, and arrive into some kind of mind disco. Yes, a "mind disco." As it's explained to us, the music isn't actually being played. It's "transmitted through everyone's bodies and souls, emanating from within." Huh?
I could go on here, but I think you get the gist: THIS SCRIPT IS FUCKING NUTS.
Look, I'm all for imagination. Just yesterday I was complaining about writers who DIDN'T use imagination when writing their queries. But there's adding jam to your sandwich and there's dumping the entire jar on it. Game of 72 throws you into an information ocean, never letting you above water to catch your breath. Here's a typical page from the script: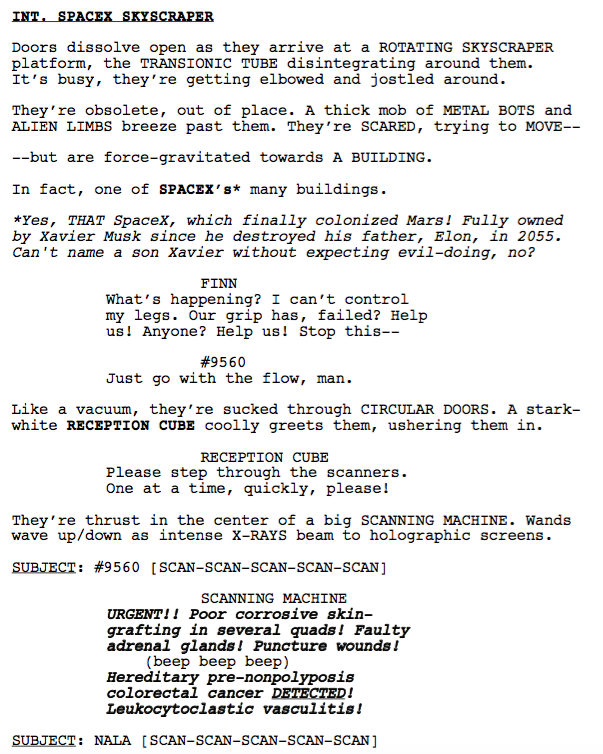 Let's see what we've got here:
1) Italics-based writing.
2) Bolded writing.
3) Underlined writing.
4) TONS of information.
5) TONS of imagery.
6) Manic writing style.
7) Characters with number names.
The whole script reads like this. Here's another line, picked at random: "He FALLS, an accordion of 100-copies of him are frozen mid- AIR. Thousands of MAGNOID thoughts enter his head. DEAFENING. The sensation of sinking into LAUGHING GAS, nitrous oxide."
Huh?
I'm not even sure what to say. I mean, our writer is clearly talented. He had one of the best "Why You Should Reads" of the year. It showed that he's clever, he's imaginative, he can write. But it feels like for this script, he ingested an entire Starbucks store and wrote everything freehand, gripping the pencil like a knife, and stabbing 20,000 words onto the page without ever going back to see if he'd murdered anyone. Particularly the English language.
This is a cut and dry case of information overload. Too much style, too much imagination, too much action, too much information. As screenwriters, we do want our scenes packed with action and plot. But there's a difference between drinking a beer and buying the brewery.
Truth be told there were a couple of red flags before my exhaustion kicked in. People use bitcoin in the year 2820? Space-X (created by Elon Musk) is the main form of transportation? I might buy into this if the year were 2075. The year, however is TWENTY-EIGHT HUNDRED! There wouldn't be any recognizable brands still around, especially if the world had been taken over by robots and aliens.
The official moment I gave up on the story was when we went to Mars, and after five pages, came right back to Earth. To me, that indecision embodied the script's biggest issue – its lack of focus. Our writer couldn't find something interesting to do on an ENTIRELY SEPARATE PLANET, to the point where he had to bring our characters right back to the place they left just minutes ago.
And if you took the time to look deeper, it didn't seem like anything had been thought out. Why didn't anyone on Mars know about The Game? And if nobody knows about The Game, then aren't you telling the reader that it's not a big deal? And if it's not a big deal, why should we care if these characters succeed or not?
In the flawed but fun Arnold Swarzenneger movie, The Running Man, the whole world watched that show. The writers made sure you knew everyone on the planet was obsessed with it. So the objective seemed important. With these characters, they're not even sure if they want the prize (to live forever). Protagonists who aren't even excited about achieving their goal? That's a recipe for screenwriting disaster.
I like this writer here. I just think he tried to be too cute and stuff too much into every page. Dial the imagery back. Dial the world-building back. Get rid of the unnecessary details (the 9th version of the monster subset).
I say this over and over and over again, and nobody listens. The best screenplays are simple easy-to-understand stories with complex characters. Once you switch that emphasis around (to a complex story with simple characters), I won't say you've hung yourself, but you've definitely tightened the noose.
This script was such an assault on my senses that I almost gave it a "What the hell did I just read?" Seriously, it got to the point where it hurt my head to keep reading. You're a talented writer and better than this. Let's nail the next one.
Script link: Game of 72
[ ] what the hell did I just read?
[x] wasn't for me
[ ] worth the read
[ ] impressive
[ ] genius
What I learned: Information overload is a script-killer. Nobody wants to be inundated with description-porn on every single page. Dial it back. If it's not easy to ingest what's on the page, we're going to give up on you fairly quickly.