Today's writer shows us how approaching a subject matter from an angle that's never been done before can make your script instantly interesting.
Amateur Friday Submission Process: To submit your script for an Amateur Review, send in a PDF of your script, a PDF of the first ten pages of your script, your title, genre, logline, and finally, why I should read your script. Use my submission address please: Carsonreeves3@gmail.com. Your script and "first ten" will be posted. If you're nervous about the effects of a bad review, feel free to use an alias name and/or title. It's a good idea to resubmit every couple of weeks so your submission stays near the top.
Genre: Dark Comedy
Premise: (from writer) A demented 14 year old girl strikes up a weird relationship with a convicted sex offender. Shit gets crazy when they embark on a twisted road trip in a "rape van."
Why you should read (from the writer): Goodbye Gene has recently been named a semi-finalist in the BlueCat Screenplay Competition. My evaluation from the readers of Scriptshadow said "it wasn't overwritten, but still incredibly telling." They also said some kick-ass things about my character development. PS — it's in the BlueCat Competition as The Repairable Brightness of Gene. Not everybody gets the Milan Kundera reference, which is understandable. So I simplified it.
Writer: Derek Williams
Details: 106 pages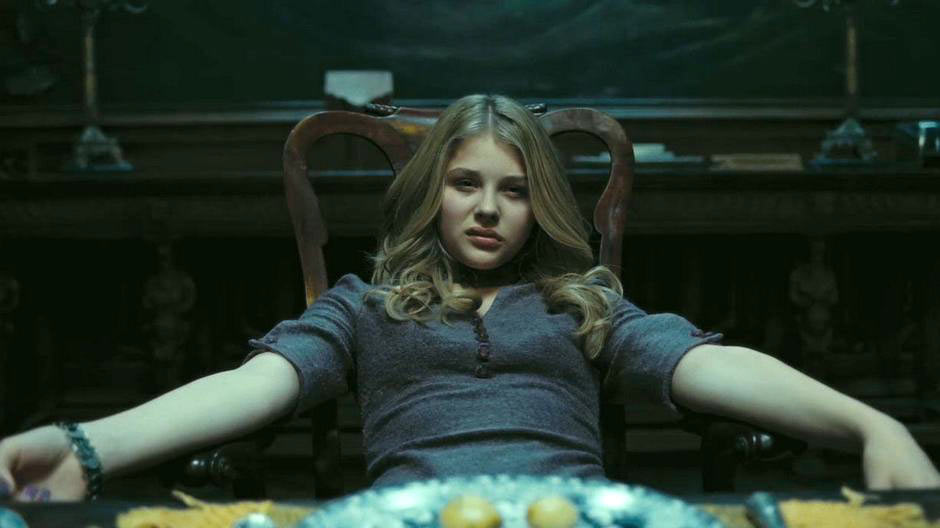 Chloe Moretz for Kiley?
I'd just read American Bullshit and written a review of it for today's newsletter, so most of my energy had already been sapped. I didn't have the attention span or the desire to read and review another script. My mind was already swimming with pre-weekend fantasies. That's what writers forget. Your script may be the second that reader has read that day. Or the third. And if it's a contest, it could be the fourth or the fifth. Writers need to be reminded that when a reader reads your script, it's typically not under ideal circumstances. They aren't recently fed. They aren't bursting with energy. They probably want to get to their own writing or their own work. And you're in their way. You and three others.
Now the best of the readers (like me, of course), understand that this is often a reader's only shot. And you have to respect that by giving them your full attention. But after writing an article and playing tennis and an argument with the neighbor and reading and reviewing another script and putting together a newsletter and it's 10:15 pm and the ladyfriend's blasting "Say Yes To The Dress" in the background…I'm sorry but I'm just tired. The only reason I'm reading this script is because I have to review it tomorrow. If I can muster up any interest for the story, it's going to be a mini-miracle.
And then the main character bites off the head of a hamster in chemistry class and WADDAYA KNOW, I'm WIDE AWAKE again. The power of a shocking first page. Hey, not every story is designed to start with this kind of shock. But good writers know they have to jolt those eternally exhausted readers out of their stupor. So they put something in those first few pages that wake their ass up. Kudos to Derek. I was officially awake now. But was this just a gimmick? What about his actual ability to tell a story? Would he be able to do that?
The girl in question is 14 year old Kiley Waters. To say Kiley is an outcast is a chunderstatement. That's an understatement that's so far under, it actually inspires vomit (I told you it was late – just go with it). Kiley bit off the hamster's head because a) her mom died when she was a kid, b) her rich father isn't a good daddy, and c) her fucked up friends, Joanna and Lonnie, create "Sickest Shit" contests where they lay bets down on who can do the sickest shit. Newflash, Kiley won this round.
But the Sickest Shit contests are getting boring. Kiley needs a bigger rush. Lately, her and Joanna have been crafting up a new game: try to get molested by a sex offender. Yes, this is really happening. Luckily (unluckily?), Kiley runs into Thomas Jay, a pet groomer who can't keep a job because sooner or later his employers find out about his sex offender past. Perfect target! But Kiley soon finds out, to her utter dismay, that Thomas isn't REALLY a sex-offender. He was a senior who had a Freshman girlfriend in high school. They had sex and the state arrested him. So he's not a slimy "legitimate" pervy. He's just a really horny senior who doesn't know you're not allowed to have sex with freshmen.
Kiley won't have it though. She needs to get molested! So she keeps tricking Thomas (who wants nothing to do with her btw) into these meetings where she can encourage him to molest her n stuff. For example, she purchases a "rape van" for him as a present. Thomas is repeatedly annoyed but since he's jobless and bank account-less, he has to take the little monetary scraps Kiley offers him to keep going along with these ventures.
Across town is parole officer Josh Dean. Josh is the world's worst P.O. If someone raises their voice at him, he starts crying. It's gotten so bad that he signs up for a Tony Robbins-like Parole Officer Seminar. It's there where he sees Ferman T Ash speak, the coolest parole officer in the world. Ferman is so cool and confident on the podium that he inspires Josh to do a complete TLC-like makeover. So Josh buys a Dog The Bounty Hunter-type outfit and starts ending all of his sentences with "Bra." He also renames himself "The Crocodile."
The Crocodile becomes obsessed with taking down sex offenders. And when he gets wind that Thomas Jay is spending all this time with 14 year old Kiley, he decides to make an example out of him. And the Crocodile doesn't play by the man's rules anymore. The Crocodile wants to make Thomas Jay DEAD. Naturally, we believe that poor Thomas Jay, the unwitting recipient of this disturbed girl's schemes, is going to get wrongly offed by the newly transformed The Crocodile. But there's one thing I can promise you about Goodbye Gene. Don't ever think you know what's going to happen next. You will almost certainly be wrong.
Okay, I know this is a fucked up subject matter. It's about 14 year old girls trying to get molested. But dammit, this shit was funny. And clever. Derek is a really good writer. You get the sense that this guy could make an adaptation of the Bible funny. I usually hate asides to the reader UNLESS it's a comedy and funny. Lucky for us, Derek is hilarious. After Josh's physical and mental transformation are complete, he insanely starts accusing one of his parolees, because he has a Chinese restaurant menu on his windshield, of building an underground sex bunker for Asian delivery boys. When his co-worker tries to calm him down, addressing him as "Josh," Josh corrects him with, "The Crocodile. I'd appreciate it, if you could make the adjustment, and refer to me as The Crocodile from now on, bra." Derek then writes:  We're definitely going to make that adjustment. JOSH DEAN is now THE CROCODILE. And from that point on, his character name in all the dialogue is "THE CROCODILE." It's hilarious.
But probably the real reason this script succeeds is that it flips the script, so to speak. By going against audience expectations and having the young girl TRYING to get molested, everything in the story feels fresh. I mean, I've seen the indie movie with the pervy old guy trying to nail the young girl. Seen it a hundred times. It's fascinating, then, how by approaching the same subject matter from the opposite angle, you encounter all these new situations you've never seen before. Like our 14 year old character trying to give her sex predator a rape van as a gift. Granted, the humor here is pretty edgy. Some people are going to be REALLY offended by it. But I'll say this to the end – I'd rather you be edgy with your humor than Jay Leno with your humor.
(Spoilers!) Now I do have some issues with the script, and they revolve around the last 20 pages. First off, the twist where Thomas really was a molester was shocking. It totally got me. But here's the thing. This is still a comedy. It's a black comedy. A very dark black comedy. But it's still a comedy. You can't have Thomas rape her. You just can't do it. It takes what was funny and makes it uncomfortable. After that moment, the script completely lost its footing. It "jumped the perv" so to speak.
I actually thought the impending collision between the newly transformed "Crocodile" and Thomas Jay was great. I was really curious what was going to happen. Was the Crocodile going to kill an innocent man? Even if you did go with the twist and had Thomas be a real molester, seeing these two meet in a giant final showdown would've been fun. I just feel like that'll be way more exciting than what happens now, which is basically that Thomas anti-climactically gets caught and anti-climactically gets yelled at by The Crocodile while going to jail. So take out the actual raping. Imply the raping is GOING to happen unless the Crocodile saves Kiley. And then have the big showdown between the two.
Someone on Twitter called this script "unsellable," and I'd probably agree with them. But man does Derek have a unique voice and a biting sense of humor. And he's also a really good storyteller. I'd definitely snatch this guy up if I were an agent or manager. The next thing he writes, assuming it's more marketable, is going to get made. That's what my gut's telling me.
Script link: Goodbye Gene
[ ] what the hell did I just read?
[ ] wasn't for me
[x] worth the read
[ ] impressive
[ ] genius
What I learned: There's something from last week that bothered me. After telling Z that the ending for his script, Verona Spies, fell apart, he said, "Yeah, but if I change it, it'll go against the entire theme I set up." Here's how I see it: If you have to write a "lesser" ending to stay consistent with your theme, then change your theme. I just want a good ending. I don't leave the theater saying, "Man, that ending sucked but dammit if he didn't nail the theme with it." A good story should take precedence over any "under the hood" work with your script. I don't know if that's the case here or not, but this ending went out with a whimper instead of a roar. So please people, good endings over thematic consistency. Thank you.