Scriptshadow 250 Contest Deadline – 83 days left!
Get Your Script Reviewed On Scriptshadow!: To submit your script for an Amateur Review, send in a PDF of your script, along with the title, genre, logline, and finally, something interesting about yourself and/or your script that you'd like us to post along with the script if reviewed. Use my submission address please: Carsonreeves3@gmail.com. Remember that your script will be posted. If you're nervous about the effects of a bad review, feel free to use an alias name and/or title. It's a good idea to resubmit every couple of weeks so your submission stays near the top.
Genre: Crime/Drama
Premise (from writer): During the hedonism of 90s Hollywood, a desperate writer's career unexpectedly blows up when he starts writing about the crimes he's committing, putting his Hollywood success on a collision course with the law.
Why You Should Read (from writer): My previous submission (Devil in You, Oct '14) was relatively well received, "the minimum level of quality required to get made" is basically how it was described. So not outstanding, but still readable. — I believe I've progressed with this script. Hopefully I've been able to take on board some of the notes from yourself and the SS community about issues in my previous script in order to take 'Inspired' to the next level. — 1990s Hollywood was a crazy time, the town's wealth was reflected in the insane 'spec wars', huge actors salaries, and notorious parties. I hope all of that and more is reflected in the script.
Writer: Ned Kilgannon
Details: 112 pages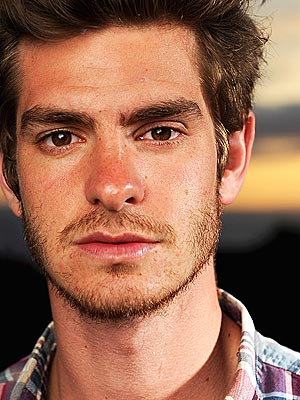 Andrew Garfield for Alex?
What do they say? Never write a movie about Hollywood? That's one of the first things they teach you in screenwriting school. Yeah, but if that were true, we wouldn't have Sunset Boulevard, or Get Shorty, or The Player. Obviously, it's possible to write about Hollywood. But I think the tip stems from the idea that unless you're a part of Hollywood, like entrenched in the day-to-day warfare of the industry, then how can you possibly know what goes on?
And you're then going to submit your ideas of what goes on to the very people who know what's going on? It's like the guy who washes dishes at the restaurant telling the chef how to make a chocolate soufflé.
So I guess the point is, when you write about Hollywood, you're starting from a deficit. Readers and producers are already suspicious ("What the fuck does this guy know about Hollywood??"). As long as you know that and you're confident your script can withstand that scrutiny – and of course, you're backed up by a great story – then why not take a shot at it?
It's 1994 and Alex Lay is an English transplant who's come to Los Angeles to capitalize on the script-feeding frenzy that's taken over Tinsletown. It's Quentin Tarantino. It's Joe Esteherez. It's Shane Black. It's you can write an idea on the back of your supermarket receipt and sell it for a million dollars.
Alex is on the verge of selling his first script when he gets hit by a car and ends up in the hospital with a 40,000 dollar bill. When he gets out, the sale opportunity has passed him by, and Alex has to figure out how to pay the bill back. He runs into a skater named Hunter who steals expensive art from Hollywood mansions and joins his crew.
After a robbery-gone-bad, Alex gets chased by the cops and is responsible for a girl crashing her car and dying. It's this event that gives Alex an idea. Why not write about these experiences? Of course, the resulting script catches the attention of the fastest rising star in Hollywood, and pretty soon Alex has a movie.
Unfortunately, the father of the girl who died in the car crash recognizes the depiction of the event in Alex's film and becomes convinced that Alex had something to do with it. Will this new obstacle insure the end of Alex's brand new career? Or will Alex, once again, find a way to write himself out of trouble?
Like many scripts that make it to Amateur Friday, the writing here is good. Just yesterday we were talking about "readability" and "Inspired" certainly has that. It's also very ambitious – a story that takes place over a couple of years (as far as I can tell). It's as if Ned's going for an epic look at Hollywood here.
And yet, these things also seem to be the script's biggest problem. If you look at the movies you pay to see in the theater, they almost always boil down to an easily identifiable genre or subject matter. The action film, the horror film, the biopic, the mob story, the car chase film.
While reading through, "Inspired," I could never quite figure out where it landed in these categories. It doesn't reside in any identifiable mold that I can pinpoint. And the anti-Hollywood crowd will scream and shout that this is a good thing! We need more movies that are DIFFERENT. But my question is, how many of these people actually go and pay to see movies that don't fall into identifiable categories?
Let's paint the best-case scenario here. Let's say all those people put their money where their mouth is. What percentage of moviegoers would you say that group is? .01%? .02% if we're being generous? The point is, if you write something that doesn't fall inside of an obvious genre or type of movie that Hollywood sells, you've made it nearly impossible to sell your script.
A movie I keep going back to is Out of the Furnace. That film actually DID fit into a recognizable film category. The former criminal just out of prison who tries to get back on his feet. That film starred one of the biggest movie stars in the world. Christian Bale. And it made NOTHING. And that's the kind of market you're up against as a writer. Even with a movie star to sell your film, if you're not slotted into one of the big genres, your job's nearly impossible.
Another recent film I look at is Focus. Focus's genre used to be one of Hollywood's favorites – the con-man movie. It, too, had one of the biggest movie stars in the world selling it – Will Smith. And the movie made NOTHING. Even the fringe genres Hollywood used to be able to depend on can't be depended on anymore.
Now, does this mean that films like Inspired can't be made? No. It does mean, however, that they have to be made completely independently, and that they will require the writer to become his own producer and to put the movie together himself, because every other producer in town won't see it as a sound investment.
And they're not wrong. Take yourself out of the equation. If you were looking at this from the other side, would you put 15 million dollars into it? On a film that doesn't fit into any known genre and would therefore be impossible to market?
Now there's one caveat to all this – and that's if the script is fucking amazing. I don't mean like, "Yeah, that was good." I mean like, "Holy fucking shit, that was awesome." Nightcrawler comes to mind. Every argument I'm making against Inspired here could've been made about that script as well. But that script was fucking awesome.
And even WITH that awesomeness, the writer had to become the director and the producer in order to get it anywhere. It still had to be a personal project that he pushed through the system himself.
Now can Inspired get to that point? I don't know. I know it's not there yet though. The narrative seemed to be constantly changing. It sort of all connected together, but only loosely. We're becoming a screenwriter in Hollywood, now we're stealing paintings, now we're involved in a huge accident, now we're hanging out with one of the biggest movie stars in the world, now we're kidnapping people.
There was somewhat of a build in the story, but it was mild. It never packed enough punch to keep me hooked.
I think there are two potential problems here. The first is the length of time the story takes place in. It's so long. So the script can never sustain any tension. Months go by then MORE months go by. If you look at Nightcrawler, you'll see how taut that screenplay is. Everything feels so immediate. "Inspired" is the opposite. Everything feels so relaxed. Almost like the script is lounging away next to a pool in the Hollywood Hills overlooking the city.
Also, as someone pointed out in the comments of Amateur Offerings, there's no irony in the premise. A writer who steals paintings? What if you made Alex an aspiring painter who stole paintings to fund his pursuit? Now you have irony.
I think in the end, this script is too sprawling. It's trying to cover too much time and too many things, which are the exact things that movies do the worst. The movie/screenplay format likes tight time frames and concentrated storylines. If Ned focused on that, I think he'd have a much better script. But even before that, I think he needs to find a clear subject matter or genre that he knows is saleable. Because without that, you're just banging your head against the wall.
Script link: Inspired
[ ] what the hell did I just read?
[x] wasn't for me
[ ] worth the read
[ ] impressive
[ ] genius
What I learned: I'm going to repeat what I just said cause it's so important. The screenplay format likes tight time frames and concentrated storylines. Once you go away from one or both of these things, you've made things infinitely harder on yourself.