Get Your Script Reviewed On Scriptshadow!: To submit your script for an Amateur Review, send in a PDF of your script, along with the title, genre, logline, and finally, something interesting about yourself and/or your script that you'd like us to post along with the script if reviewed. Use my submission address please: Carsonreeves3@gmail.com. Remember that your script will be posted. If you're nervous about the effects of a bad review, feel free to use an alias name and/or title. It's a good idea to resubmit every couple of weeks so your submission stays near the top.
Genre: Action-Thriller
Premise (from writer): When an ex-UFC fighter reluctantly accepts a kidnapping job from the Russian mob, he sneaks into an upscale apartment complex to capture the target but finds himself in a high intensity hostage situation when armed terrorists simultaneously take over the building in a Mumbai-style attack.
Why You Should Read (from writer): Been hacking away at this craft for several years now. Have written several scripts, read countless others. It can be a frustrating grind — writing scripts and trying to find success with them. Sometimes I'd love to quit. But I just can't. Nothing else even remotely interests me the same way. — This is a classic blood-pumping action thriller with a modern touch that should be a fun ride if it ever makes it to the screen. But don't take my word for it. One reviewer had the following to say: "Although there are big budget explosions and gun fighting scenes, the script never feels cliche in its execution of plot. It doesn't lean on the violence and pays close attention to staying original and dark throughout. This could be a big, blockbuster film that would attract a broad audience and potentially an A-list actor." — Also, it's a quick 105 pages with sparse, vertical writing. At the very least you won't get a headache reading it.
It's done well in contests (initial draft was top 15% in Nicholl) and on the Black List (revised draft recently received an overall rating of '8′), but I'd love to get it some more exposure. The more eyes on it, the better, right?
Writer: Bill Anthony Lawrence
Details: 105 pages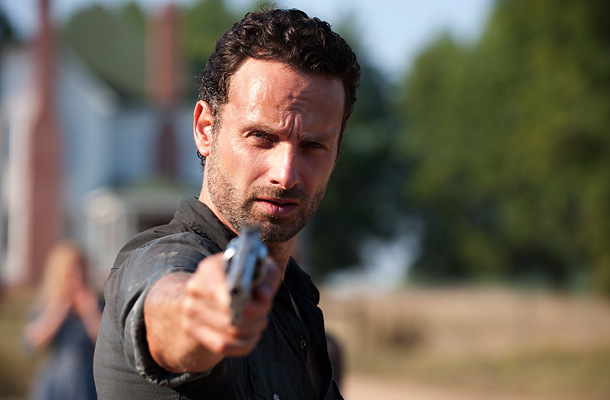 Is Andrew Lincoln ready to make the jump to the big screen? This might be the perfect vehicle.
Yesterday's late posting (sorry about that guys) stirred up a bit of controversy in the comments section, with someone saying, "Is this all ya got?" In five years of reading Amateur scripts on Scriptshadow, is this really the best you can come up with?
Now personally, going off all the professional and amateur scripts I've read, I think yesterday's top 10 is AT LEAST better than the bottom 25% of the Black List, with the only difference being the Black List writers have agents blasting their scripts all over town, to the very voters who vote on the list.
However, I will admit that we haven't found anything world-changing. But that's because no one's writing anything world-changing. Not amateurs, not pros, not anyone. A world-changing script (which I'd consider "American Beauty") comes around once every few years. "Genius" scripts, maybe once a year. Really really awesome scripts, maybe 3-5 times a year.
It's really hard to do.
And I do think there's a bit of a "lightning in a bottle" thing going on when it comes to writing a great script. Something you only realize you're onto once you're 40-50 decisions deep into the process. There's no real way of knowing you're there until you're there. And there's no way of really going back if you aren't. You've already committed a ton of time to the script.
I'm a Chicago Bulls fan. Which has been hard since Michael Jordan left the team. We have zero talent on our team. The kind of situation where if a player goes down, we're asking people on the streets if they know how to dribble a ball.
But the Bulls have this coach. And the coach only requires one thing from his players. That they give their all every single second of every game. And I don't mean that in some vague "try your hardest all the time" kind of way. I mean literally EVERY. SINGLE. SECOND.
So while the other team is strolling up, dribbling the ball, the Chicago defender will be right up in his face, waving his hands around, dancing his feet back and forth, non-stop high energy ball all the time, making that other guy miserable. If a player stops moving for so much as a second, the coach calls a timeout and benches him.
And you know what? They've been one of the best teams in the league because of it – finishing way higher than they have any business finishing. And it all has to do with effort. They just outwork the more talented teams. Finding lightning in a bottle is near-impossible. But effort is something all of you have control over. You may not be the best in your class. But if you give your all on every single element, if you work your ass off, you can hang with writers a lot better than you.
Where does that leave us? Oh yeah, reviewing a script! Roy Spence Jr. used to be one of these badass MMA fighters who could choke people out with his legs and stuff.  You know, one of those cool cage-fighting guys that laugh at boxers because they're such pu*&ies.  Now he runs an honest business while occasionally looking for his Russian wife, who deserted him and took their only daughter.
When a local Russian crime boss tells Roy that he knows where to find his daughter, and he'll offer that information to Roy if he does a job for him, Roy's in. Of course, Roy has no idea what he's in for. Turns out he has to find and bring back an FBI informant, who's hiding in one of most heavily secured buildings in the city.
Roy suits up and heads over to the building, gets all the way up the 30th floor, where the informant, Marat Dementyev, is located, only to find that Marat's being guarded by a powder keg of an FBI agent named Sandra Packard. Packard neutralizes Roy, but before she can take him down for good, explosions start happening all over the building.
After looking into it, they realize a terrorist organization consisting of 40+ men, is coming up the building to get that informant. Roy and Sandra are now forced to work together to get Marat, and themselves, out of the building in one piece. Wouldn't you know it though, there are a lot of unexpected surprises along the way. Let's just say other people have thought way further down the road than Roy has. And they're going to make sure he's not walking away with Marat.
You know how everyone pitches their action script as "Die Hard on a plane," "Die Hard on a bus," "Die Hard in a 5 star restaurant." The funniest thing I've ever heard is this producer who said that he was once pitched, "Die Hard in a building." So ignorant had people in this town become, that they didn't even know what movie they were referencing anymore.
And indeed, one look at Nerve and Sinew, and it appears to be the embodiment of that pitch! Die Hard in a building, right? That's certainly what you're worried about going in. Another action-thriller clone, so many of which gum up the script airwaves to the point where Hollywood has to cough them out on a weekly basis. Maybe that's why we have so many earthquakes.
But I'll tell ya this. Nerve and Sinew is not your average action-thriller. This is good! I mean, it's kind of formulaic, but it's got its own thing going on as well. One of the hardest things to do in screenwriting is to have a simple plot, yet keep your audience guessing. And that's what I liked most about this script. You think you know what's going to happen next, but you don't.
The first thing Lawrence did right was the opening. Instead of only following Roy's storyline, we're following Sandra's also. And with Sandra, we're not quite sure what's going on with her. So there's a mystery box quality to her storyline. Eventually, near the end of the first act, the two storylines meet up, and we get some semblance of what she's up to.
But at that very moment, a third entity, the terrorists, show up, and neither Sandra or Roy know who they are or why they're here. That's good writing. As soon as one thread is settled, you want to introduce a new one. The audience always has to have a carrot dangling in front of them.
The script then segues into one of my favorite devices, the "temporary truce" between two enemies, who now have to work together. This allows conflict (them each needing to do things their way) inside of conflict (having to maneuver around the terrorists). Thats' the "fresh piece" that separates this from Die Hard.  It's two people, both of whom don't like each other, forced to work together.
The only problem I had with the script was that it may have tried getting too cute. Spoilers abound. Halfway through the script, Lawrence made the daring choice to have our hero escape the building. But it's a false escape. It turns out the informant was a fake. The real informant is back inside. Which means Roy must go back in.
The problem I had with this is that you basically say to the audience, "Getting out of the building isn't that difficult." Because they already did it once. And there's something about completing the goal and then having to go back in and complete the same goal that feels a little repetitive. I just thought, "Haven't we been here already?"
Also, from that point on, the story and the elements weren't as clever. And how could they be? We'd already been down this road.
It's one of those 50/50 choices that are really hard to gauge as a writer in the moment. I can see why Lawrence made the choice (Roy getting out of the building at the midpoint is completely unexpected, and the detour informant is a nice surprise). But in making it, you force the story into a weird corner where everything feels kind of sleepy. Like giving kids cake at a birthday party, having them go outside and play around for awhile, then bringing them back in for more cake. No matter how you cut it, the enthusiasm for the cake is never going to be as high the second time around.
But I'll give it to Lawrence, this is really solid writing. I can totally see him writing a big action flick assignment in a few years if he keeps at it. And who knows, he might even get this one made. All the elements are there for a movie. No doubt about that. If he can pull off something a little more exciting with that second half, I may be in. Oh yeah, and this needs a new title! Scriptshadow Nation – Help him out!
Script link: Nerve And Sinew
[ ] what the hell did I just read?
[ ] wasn't for me
[x] worth the read
[ ] impressive
[ ] genius
What I learned: Never weigh your twist on the twist alone. What's more important is what the twist does to your story afterwards. A great in-the-moment twist is worthless if it saps the air out of the balloon for the next 30 pages.