Get Your Script Reviewed On Scriptshadow!: To submit your script for an Amateur Review, send in a PDF of your script, along with the title, genre, logline, and finally, something interesting about yourself and/or your script that you'd like us to post along with the script if reviewed. Use my submission address please: Carsonreeves3@gmail.com. Remember that your script will be posted. If you're nervous about the effects of a bad review, feel free to use an alias name and/or title. It's a good idea to resubmit every couple of weeks so your submission stays near the top.
Genre: Crime-Thriller
Premise (from writer): Over the course of one night, a reformed father must step back into his murky past to find his criminal brother who is the only suitable donor for his dying son…
Why You Should Read (from writer): I think it was Tarantino that said he'd been staring through the window at the industry for so long prior to Reservoir Dogs' success that it felt normal for him to be on the outside now. At times I very much feel the same. I've had the agents, the managers, the lawyers and done the water bottle tour too. I've had scripts go out to all the major studios and prod cos and placed highly or won most of the major contests worth entering. I've written/directed my own award winning short films that allowed me to go around the world to various festivals and meet audiences first hand, and I've had pilots go into networks and yet I'm still here bashing away, whilst staring through that looking glass and working as a bartender. So, I decided to take stock, go away and write something that I'd want to see at the cinema. A movie me and my buddies would find cool. It's taken me 13 feature scripts and 4 pilots to "find my voice" and I'm keen to show it to a script writing community that's as passionate about writing great stories as I am. This is REBEL CITY – with echoes of Michael Mann's Thief and The Friends of Eddie Coyle – it's a neo noir crime flick… Hope you like it as much as I enjoyed writing it.
Writer: Chris Ryden
Details: 114 pages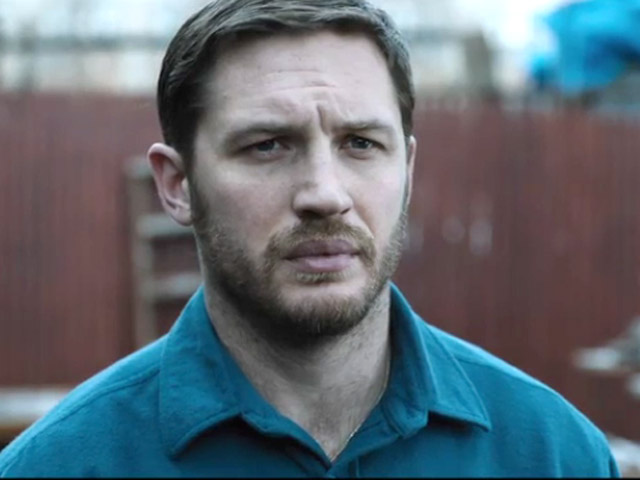 Tom Hardy for Jonjo?
Man, I hadn't read the "Why You Should Read" until just now. That shows how hard this business is. Chris has already made a ton of headway in his career, and yet he's still, as he points out, "bashing away."
After reading Rebel City, I know why he's made it as far as he has. Chris can fucking write. Not only does he have all the technical stuff down (very sparse description, clean easy-to-read writing, characters that pop off the page as soon as they're introduced, gets to the point quickly in scenes) but this just feels like a movie when you read it.
One of the things I love, as a reader, is when I go into something with expectations, and those expectations are immediately turned on their head. Like when I see "Crime" as the genre, 9 out of 10 times I know we're going to start in some restaurant (or bar, or club) with a bunch of "tough guys" (cops or thugs) talking "tough guy speak." The restaurant will always be over-described, giving the first page wall-of-text ebola. We'll then listen in on the tough-guy speak, only to realize by the second page that there's no point to the scene other than for the writer to be able to write this dialogue – dialogue, mind you, that is 95% clichéd.
In Rebel City, we start with a black screen and a phone call. The discussion is quick and to the point. "Where the fuck are you, Seamus?" "Your flight landed four hours ago." "Wasn't on it." "I didn't hear that." "I'll come get you."
Not only do we start unexpectedly. But we start with PURPOSE. The words coming out of the characters' mouths actually MEAN something. A story is being presented. In the very first scene! That's how you catch a reader's attention.
And that's how Rebel City opens. Jonjo, a former criminal who used to live in the small dirty city of Cork, has to go back there to pick up his derelict brother, Seamus. You see, Jonjo's 7 year old son is dying. Seamus is the only kidney match for him. But Seamus is a wreck. He's already missed half a dozen plane flights back here with various excuses, and somehow Jonjo knows that if he doesn't get him now, he might never get him.
So back to Cork Jonjo flies, thinking he'll just show up at his old house and there Seamus will be. Except it's never that easy with Seamus. Instead of his brother, Jonjo runs into three thugs who rough him up, telling him he needs to give Seamus a message. They want Florenta back, whoever the fuck that is.
Jonjo then heads to his sister's place, who he hasn't seen in years, and she wants nothing to do with him ON TOP of not knowing where Seamus is. Jonjo realizes that if he's going to find Seamus, he's going to have to go back inside the grisly underworld he worked so hard to escape. He's going to have to be Bad Jonjo again.
So then, in the spirit of The Equalizer and John Wick ("That dog was a dying gift from my wife!"), that's exactly where Jonjo heads. He meets some old friends and makes some new ones (if "making new friends" includes being shot at, tied up, and tortured). The longer he looks for Seamus, the more he realizes his brother's involved in some deep shit, the kind of shit where even if he finds him, there's no guarantee they're going to get out of this town alive. But Jonjo's son takes precedence over everything.  If there's any chance of getting his brother, he's going to take it.
It's hard to read Rebel City and not marvel at the skill on display here, particularly the dialogue, which is something we don't get to celebrate enough on the site. Chris keeps his dialogue short and to the point so it zings by, knows his characters well enough that each one sounds a little different, and gives each line a touch of salad dressing to elevate it above regular conversation.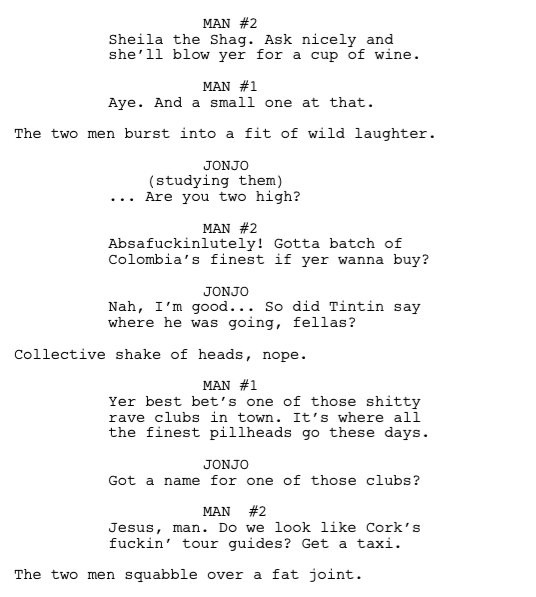 And his description isn't too shabby either. Chris never lingers, never over-describes, but adds just enough flavor to paint a picture.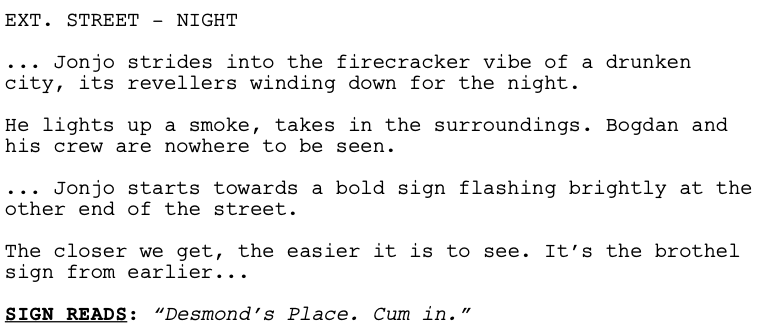 You're probably sensing from my tone that there's a "but" coming. And there is. But there's something that didn't click here for me. And this is one of the most frustrating parts of my job. It's kind of like being a music producer. You have a singer come in and they have an AMAZING voice. It fucking blows you away. Then later you pop in a song of theirs and the song is ho-hum. You still hear that amazing voice, but the song isn't doing it for you.
I think my reservations are due, in part, to me hoping the script would go in another direction. I thought Jonjo was going to pick up the world's shittiest brother, Seamus, and the two would have to navigate themselves out of the town. Cause to me, Seamus was the most interesting character in the screenplay. He's this piece of shit who has the opportunity to save his own nephew, and yet he can't fucking get on a plane with a ticket already bought and paid for. I wanted to know more about what made that guy tick. And I wanted to see that sibling relationship play out over the course of the movie.
But after 20 pages, I realized that Seamus was a plot device only. He exists only to get Jonjo there, which means Jonjo's going to be doing this alone. And don't get me wrong. There are still some nice moments. Hell, I think the Peg-Leg Pete Dominatrix scene (page 65 for those who want to jump straight to it) should go down in the annals of Amateur Friday history. That was some fun/hilarious/disturbing shit.
But a lot of the other conversations and scenes felt too familiar. Just like those singers who can knock a high note out of the park, Chris had a stranglehold on these characters and they all sounded wonderful. Still, the song wasn't making me dance. If you've asked one low-rent punk where Seamus is, you've asked them all.
So if I were Chris, I'd embrace the absurdity of this world. Just like the Peg Leg Pete scene and, to a lesser extent, the Evelyn scene (I feel like we cut out of that scene before things could get good), you make this a cast of characters that are over-the-top and fucking weird. Each one moreso than the last. The further this journey goes on, the stranger it gets. Because, yeah, the Cunninghams were okay as a gang, but they were far from MEMORABLE. I want memorable.
Also, and keep in mind this is coming from a sci-fi geek, I thought the mystery government high-tech box thing should have played a much bigger part in the story. That was the first moment where I went, "Whoa, what the hell is Seamus involved in here?" There was finally some real mystery to the story. But as soon as it's mentioned, it goes back into hibernation. I would've loved for that to arrive earlier and be a bigger part of the plot.
The way I see this is we've already seen the standard version of this movie. The thug underbelly English/Irish life. So what are you going to do to make your "thug underbelly English/Irish life movie" different? How do you make yours stand out? I say you do it by putting more crazy into these characters. I understand this changes the tone of the movie significantly, and if that's not the movie you want to write, don't write it just because I think you should. But that was my problem with the script. It felt too familiar.
Script link: Rebel City
[ ] what the hell did I just read?
[x] wasn't for me
[ ] worth the read
[ ] impressive
[ ] genius
What I learned: It's no secret that I believe opening scenes are the most important scenes in the script. They're the scenes where you either hook the reader or lose them. So here's a strategy for writing them. Whatever TYPE of movie you're writing (genre plus concept) ask yourself, what's the most likely opening scene for that kind of movie. For example, if you're writing a Western, the most likely opening scene might be a duel in the middle of town. Then, write something COMPLETELY DIFFERENT FROM THAT. Just write something they aren't expecting. Because if you can defy your reader's expectations on the VERY FIRST PAGE, they're going to trust you as a writer. They're going to believe you can keep doing that over and over again.