Get Your Script Reviewed On Scriptshadow!: To submit your script for an Amateur Review, send in a PDF of your script, along with the title, genre, logline, and finally, something interesting about yourself and/or your script that you'd like us to post along with the script if reviewed. Use my submission address please: Carsonreeves3@gmail.com. Remember that your script will be posted. If you're nervous about the effects of a bad review, feel free to use an alias name and/or title. It's a good idea to resubmit every couple of weeks so your submission stays near the top.
Genre: Comedy
Premise (from writer): To save his scandal-plagued career, a sex-addicted footy star enters an experimental Swedish rehab facility that is actually a castle of machismo-draining vampires.
Why You Should Read (from writer): You've read the title, right?
Writer: Scott Robert Chamberlain
Details: 99 pages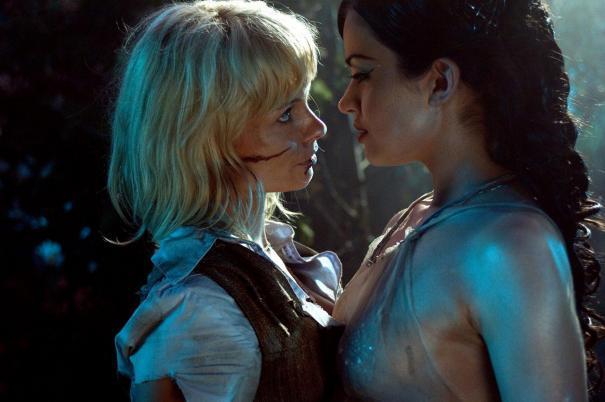 Whoa. This Amateur Offerings was TOUGH. Four scripts received equal mention in the AF comments section. Lost Continent, Swedish Lesbian Vampire, The Tallest Darkest Leading Man, and Code Black. I don't know if the competition was too stiff or too easy, but I kind of wish someone would've mixed all of them into a super script. Code-Breaking Black Lesbian Vampires Confuse Sweden for The Lost Continent. That's a movie I'd see tomorrow.
Let it be known that I TRIED to read Lost Continent. And the writing was good! But my focus was so zapped from two unrelated scripts earlier in the day, I kept having to go back and re-read every name and city twice (with them being ancient and unfamiliar and all). After that occurred a dozen times, I was like, "This is going to take me forever!" So what did I do? You better believe I asked Swedish Lesbian Vampire to the dance. I was fully expecting her to make me buy a corset. But this girl was an easy date. All I had to do was show up (IQ not required). How did the dance turn out? Did I get laid? (this analogy is starting to get weird). Read on to find out!
Asking "What's the plot" to a movie called "Swedish Lesbian Vampire Wonderland," is kind of like asking, "What are the ingredients?" in mashed potatoes. In fact, you can pretty much excise the "L" from "plot" when you're dealing with a script like this, and just light up a doobie.
But for those curious, there ARE a series of events happening in a cause and effect manner here, indicating a loose definition of the word "plot." And so I'll do my best to relay said events to you.
Blake is a dude. A football dude. He's a star player football dude. But what he's really a star of is banging.
Blake loves the mamacitas. Well, he loves each of them for ten minutes, but then he loves another one. And then another one. Let's be honest. Blake is a slut. He smashes and dashes. But one night it all catches up to him when he bangs an entire sorority house, and the girls sue him for sexual harassment.
Blake's told by his lawyer that they'll drop the suit if he goes to rehab, so Blake heads to one of the best rehab facilities in the world, some Swedish castle place filled with sex-crazed lesbians.
Blake takes his pot-smoking less talented little brother, Dave-O, and off they go, Blake to meet his rehab stay quota and Dave-O to prove this place is a sham. When they arrive, they're greeted by a bunch of gorgeous women who seem to have the magic touch. Every man under their care is turned into a docile loving commitment-centric partner.
But Blake and Dave-O figure out quickly that they're achieving these results with the vampire equivalent of a ponzi scheme. If you don't acquiesce, they turn you into vampires. If you do acquiesce… they turn you into……. Vampires? I'll be honest, I wasn't sure when they turned you into vampires and when they didn't. I just knew we didn't want Blake or Dave-O to be turned into vampires.
There's a sort-of queen vampire chick who wants to take Blake down. There's a hot vampire chick that kind of likes him. And then there's "the one that got away," Blake's true love from childhood (who's ironically, a virgin) back home. She's getting married next week so Blake figures if he can just get out of here alive with his brother (or without him, it doesn't really matter), he'll do the right thing, marry the girl of his dreams, and live happily ever after.
A script like this has one quota to hit. It has to be fun. That's all. It doesn't matter how the writer achieves this. Whether you're a Blake Snyder beat sheet maniac or you're a first-timer following your instincts: Be fun. We're happy.
But here's the catch. There's a big difference between the writer having fun and the script being fun. Just because the writer's having the time of his life doesn't mean that's translating to the page. But that's exactly what the writer assumes. It's one of the 7 great screenwriting paradoxes. You want to have fun. Just not for yourself.
So where does the fun land with Swedish Lesbian? It's hard to say. I know that I wasn't laughing a lot, and I was trying to figure out why. Let's look at the first scene. A guy bangs a girl, then walks into another room and bangs 12 girls. Then we're told he's a sex-addict and needs help.
It all felt a little too on-the-nose for me. He's a sex addict and then he's just banging an entire sorority. There was nothing surprising about it. Then again, if I were playing devil's advocate, I'd say, "That's the point. That's what's funny. It's over-the-top." Okay, I thought. So let's say it's funny. Why am I still not laughing?
Let's look at Blake, our main character. Blake is a guy who seems upset by the fact that his life is complicated by being able to bang too many women. This is the man we're being asked to root for, to relate to. A man who feels bothered by having too much pussy. Hmmm. Not sure I feel bad for the guy.
This is why most comedies follow underdogs, because it's a lot easier to care about underdogs. That's not to say asshole main character comedies don't work. There's something we enjoy about seeing the jerk get what's coming to him. But without that "connection" factor between the main character and the audience, it's always more of a risk.
The battle between writer and reader is usually won or lost early on. If the reader likes the main character and likes the setup, there's a good chance you have them for the rest of the script. If they don't, you've probably lost them, no matter what you do from that point on (a point I know I make a lot – but I want to drive home how important this is).
It certainly didn't help that the rest of the setup didn't make sense. Our main character, Blake, is a womanizer. He's going to be sued by a bunch of girls he banged for harassment unless he goes to rehab. So the rehab he goes to is a sex-crazed lesbian wonderland? Does this make sense to anyone? I know a character brings the preposterousness of this up: "I know it sounds weird. But trust us." Still, I would've made the rehab a giant secret. It's only when Blake gets there that he sees all the hot women and wonders what's going on.
But yeah, once we get to the castle/wonderland, there's a clever little "Alice In Wonderland" theme going on. But things start to get redundant pretty quickly. We're running away from lesbian vampires. And then we're running away from more lesbian vampires. And then we're…you guessed it… running away from more lesbian vampires. It's funny in a silly "you definitely need to be stoned to read this" sort of way. But again, since I never connected with Blake, I didn't care what happened to him amongst all this chasing.
Of course, this brings up the obvious question: does it matter? I mean, you're going to have half-naked lesbians running around for 100 minutes. Is 15 year old Timmy who secretly rented this on Itunes going to say to his Tinder-obsessed best friend Char-Dog, "Well Charry-Dee, I certainly would've enjoyed that more had they included a better mid-point twist. Alas, they did not, and the second act really fell apart as a result." Probably not.
But I would warn Scott not to depend too heavily on the T&A factor. Outside of the concept, these scripts still need fun characters that we give a shit about. And having an entitled asshole who's whining about the fact that he can't bang more girls leading your story might need some tweaking. If there's any way to make him more likable, do it. Or maybe make underdog Dave-O the main character? And Blake the co-star? Food for thought. That reminds me. I need a snack. Got the munchies for some reason.
Script link: Swedish Lesbian Vampire Wonderland
[ ] what the hell did I just read?
[x] wasn't for me
[ ] worth the read
[ ] impressive
[ ] genius
What I learned: The setup of your main character and the setup of your plot are the two most important things about your first act. Unless you nail both, there's a good chance your reader won't be interested in reading on.