Get Your Script Reviewed On Scriptshadow!: To submit your script for an Amateur Review, send in a PDF of your script, along with the title, genre, logline, and finally, something interesting about yourself and/or your script that you'd like us to post along with the script if reviewed. Use my submission address please: Carsonreeves3@gmail.com. Remember that your script will be posted. If you're nervous about the effects of a bad review, feel free to use an alias name and/or title. It's a good idea to resubmit every couple of weeks so your submission stays near the top.
Genre: Spy Thriller
Premise (from writers): Based on true events. When Allan Pinkerton discovers a plot to assassinate Abraham Lincoln before his inauguration, the legendary detective and his most trusted operatives must race against the clock to prevent the murder of the president-elect.
Why You Should Read (from writers): When we came across this story, we were amazed it hadn't been made into a film yet. Starring the most famous American president in history, the most renowned of real-life sleuths, and the first female detective in the United States.
Writers: Parker Jamison & Paul Kimball
Details: 119 pages
Note: The writers sent me a new version of the script implementing notes from the Amateur Offerings post. I thought I was reading that draft.  It wasn't until I put this post together that I realized I had read the original copy.  I apologize about that.  But it'll be interesting to see if I noticed the same problems as you guys.  And I welcome Parker and Paul to tell us what changes they made in the comments section.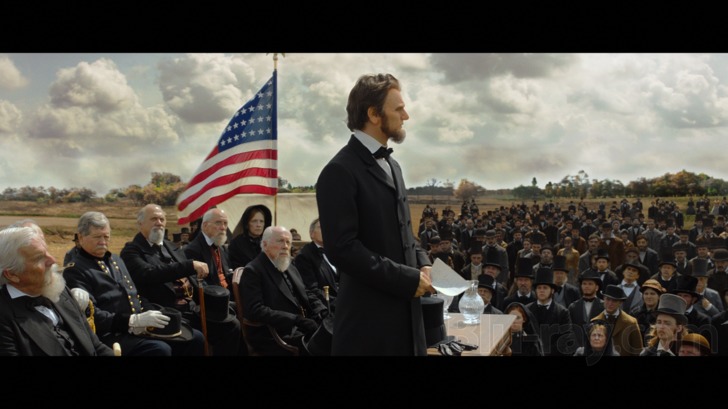 I've never found Lincoln to be an interesting character due to him being wholeheartedly honest and good. These traits, while making him ideal to run a country, unfortunately make him a pretty boring subject. Movies (and books) like characters with flaws – characters who have amazing qualities which are offset by terrible ones. This creates an inner-struggle where the two opposing energies constantly work to balance each other out. An external conflict arises out of this struggle, which ends up making the character his own biggest enemy. Which is why the best stories usually require the hero to defeat himself to achieve his goal.
Bill Clinton would be a good subject for a movie. Here was a man who genuinely wanted to help the people of the world, yet wasn't against breaking the heart of the person he loved most. Steve Jobs may end up being a good subject for a story. He built a series of products that gave people all over the world the power to be great. And yet by many accounts he was a horrible human being to the people who worked for him.
Unfortunately, the portrayal of Lincoln in The Baltimore Plot didn't do anything to change my opinion of him. He still is, by and large, boring. He wants to do the right thing, which is great, but with every other aspect of him being perfect, there's no dimension to his character. However, I think the writers can put Lincoln in a situation that'll better bring out the most in the man. I'll get to that in a moment. But first, here's the plot.
The year is 1860. Abraham Lincoln has become president but hasn't yet been sworn into office. While the North is pumped by Lincoln's win, the South is pissed. With Lincoln threatening to rid the country of slavery, more and more southern states are seceding. A war is brewing.
It isn't just the southern states that are pissed though. Baltimore, Maryland is wreaking havoc up in the North's Eastern cluster, threatening to align itself with the South. There are rumors that a plot is forming to blow up the Baltimore railroad, which would hamper the North's ability to ship supplies should a war break out.
To get to the bottom of these rumors, private detectives Kate Warne, Timothy Webster and Allan Pinkerton are hired to infiltrate Baltimore's society and find out what the plan is. The stakes are raised when Lincoln himself announces that he'll be taking the train up through Baltimore to Washington, where he'll be giving his inauguration speech.
What the group finds is a small hive of terrorists who plan to assassinate Lincoln when he passes through Baltimore. But because the defiant Lincoln refuses to operate on rumors and fear, our group must come up with convincing evidence that the plot is real before Lincoln hits the city, a task that proves much more difficult the deeper they dig.
I'll start by saying there's definitely something here. This well-written logline caught my eye immediately and the writing is pretty good all the way through. These are also the writers of Barrabas, another script I liked. So I had my Baltimore Plot pom-poms on and believe me I was shaking them.
But as it stands, I'm not sure this script takes advantage of its premise enough. I feel like this idea was the Autobahn and we were puttering along in the right lane at 30 miles per hour. I think the first change Parker and Paul need to make is to think of this as more of a thriller. It reads way too casual at the moment.
The biggest reason for that is the Lincoln storyline. Kate and Timothy and Allan – they were the ones with the strong goals – to find the assassination plot in time to save Lincoln. So when we were with them, they were always acting. They were always trying to get something done.
When we came back to Lincoln (who we came back to A LOT – like 20 times) he had nothing to do but ride to his next destination and share a few expositional details with his campaign manager. His scenes were completely dead and they killed all the momentum whenever they came up.
I understand the need to include Lincoln. This screenplay is about an attempted Lincoln assassination. If we don't get to know and sympathize with the guy, we won't care what's going on in the other storyline. But that doesn't mean you can just plant him on-screen and let him mumble away. You need an exciting storyline for him as well.
That's the way I like to look at parallel storylines (or subplots). Ask yourself, "What if I didn't have the other half of this story to tell? Would this storyline be interesting enough?" If you cut out the Pinkerton assassination investigation, this would literally be about a guy travelling in a cart talking about the difficulties of campaigning. There's not enough there.
So that's the first change I'd make. Give Lincoln something he's after, something that makes him active instead of reactive. I know you include him writing his speech but that's a very malignant goal. It's hard to make writing interesting in a film anyway (ironically) and we don't even see him deal with that problem. We just hear him every once in awhile say, "I don't know what to say." It's not enough.
The next problem is that there's no character development in the story. Nor are there any interesting relationships in the story. It's appropriate that this is called The Baltimore PLOT, because that's all it is.  Plot.
For example, there's a moment near the middle of the script where Kate starts to tell Allan about how difficult it is to live a lie. It's our first genuine moment inside a character's head. But instead of a conversation emerging from that charged statement, there's a vague acceptance from both characters and the scene is over.
And then there's the relationships. This frustrated me the most because these kinds of movies allow for the most interesting relationships in film – relationships built on lies. Each of our three spies must get close with one of the terrorists in order to find out about the plan.
When you have a setup like this, you want the good guys to really connect and (at least on some level) LIKE the bad guys because that makes working with them all the more complicated. They like them but they have to deceive them.  Not one of these relationships ever gets past the point of polite conversation. There are no true connections made.
Now I'm guessing Parker and Paul might argue that there wasn't enough time for that. The script is already 120 pages and I'm asking for more. I'm going to let you guys in on a secret. It's easy to find pages without bulking up your screenplay. You simply steal them from the subplots that aren't as important. In this case, there are way too many scenes with Lincoln. We could get rid of half of those and have 15 new pages to play with.
Finally, in any spy movie, as the movie goes on, it's essential that the spies find themselves in danger of getting caught. We have to get that sinking feeling that the bad guys are onto them and that they're about to be discovered, for which they will surely be killed. I never felt anything close to that here except for ironically, at the very beginning of their infiltration (page 35 – when Hughes is onto Davies).
This scene embodied the script for me. Davies had made up a backstory that he was from Charleston, and one of the men he was with suspiciously says, "I'm from Charleston [too]." The man then starts questioning Davies about the town, of which Davies knows nothing about. Finally, we had an intense scene brewing here. I'm into it! But then, not more than 2 questions later with Davies' lie ready to be exposed, another guy butts in and says, "You guys can deal with this later!" Right as we were revving up to 60 on the speedometer, we slammed on the breaks.
All of these things are fixable but they're things writers need to know. You can't write a story unless you keep an engine revving in all the storylines (not just one), unless you explore the character's inner lives, unless you explore the relationships, unless you kick your character when he's down instead of helping him back up (as was the case in the scene I just mentioned).
I like Parker and Paul. They have a knack for finding period stories that could make good movies. They still need to work on that storytelling though. I hope they take these notes to heart because if they stick with it, I think they have a real shot at working in this industry.
Script link (old draft): The Baltimore Plot
Script link (new draft): The Baltimore Plot
[ ] what the hell did I just read?
[x] wasn't for me
[ ] worth the read
[ ] impressive
[ ] genius
What I learned: A great flaw to explore in "spy" movies is a loss of identity. You play the part of so many other people that you've forgotten who you are. I thought this is what we were going to see from Kate, but it didn't happen.  Might be something to look at for the next draft.