Get Your Script Reviewed On Scriptshadow!: To submit your script for an Amateur Review, send in a PDF of your script, along with the title, genre, logline, and finally, something interesting about yourself and/or your script that you'd like us to post along with the script if reviewed. Use my submission address please: Carsonreeves3@gmail.com. Remember that your script will be posted. If you're nervous about the effects of a bad review, feel free to use an alias name and/or title. It's a good idea to resubmit every couple of weeks so your submission stays near the top.
Genre: Action/Thriller/Comedy
Premise (from writer): A team of disabled vets reluctantly reunite when their former commander drops a bombshell on them: the terrorist who caused their disabilities is in America to pull off a devastating attack, and they're the only ones who can stop it.
Why You Should Read (from writer): It's a 2014 Page Awards Semifialist, a 2014 Creative World Awards Quarterfinalist, and it made the top 15% of 2014 Nicholl fellowships. There's a wide array of reactions to the script, and I'm really curious at to what the SS readers (and you) will say. As for the script? Action galore, fast-paced, complex female characters, wild twists, dark humor, and a strong theme. Oh, yeah, GSU up the wazoo.
Writer: Will Hare
Details: 107 pages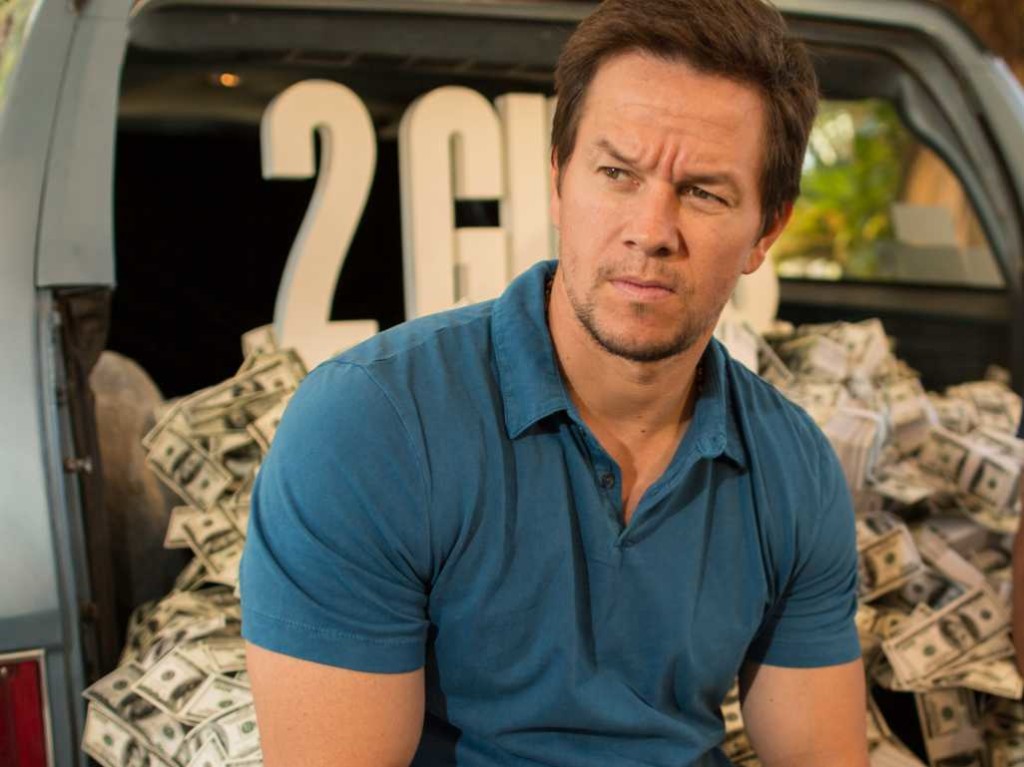 Mark Wahlberg for Pops?
In the comments section of this batch of Amateur Offerings, readers remarked about a few of the entries gaining traction on other sites (being optioned, finishing in the semi-finals of contests, and in the case of Will Hare, having an indie movie probably going into production). The general consensus was, "Wait, if a guy doing this well has to come to Scriptshadow to still get help, how hard is it out there?"
It's hard. Will has done great. He keeps writing and he keeps hustling and getting this far is a huge achievement. But people finishing high in contests and waiting for their first indie movie to get made are still a far ways away from being able to make a living at screenwriting. Heck, I know people who've sold scripts for 6 figures who are now back in their home towns bussing tables.
That's why I don't have any qualms putting these "higher amateurs" in the mix for Amateur Friday. You're a struggling writer until you start getting consistent work. And for those who think it isn't fair, my message is simple. Write a better script than these guys. If you're going to compete with people like Travis Beachem and Dan Gilroy, you first gotta beat the guys finishing in the semi-finals of big contests (and actually, the guys who are winning those contests).  So bring it!
It's 2008. Afghanistan. Tough guy Major Fenton leads a group of young soldiers with cool nicknames (Gurps, Pops, Coldbeer, Sanjuro, Ikiru) into an Afghanistan town. Everything seems to be going fine as they drive up, until an evil female terrorist named Afshoon appears amidst the dust. Before they realize they've been ambushed, a firefight begins.
Cut to six years later and that government who so dutifully called for their services no longer seems to give a shit about them. Pops is missing a leg and has agoraphobia. Coldbeer (a female) has begun an online service focusing on physically abusing deadbeat dads. Sanjuro is still reeling from her sister's death on that fateful day. And Gurps is in a mental ward sucking down Dr. Feelgood pills.
But when Fenton finds out that Afshoon has snuck into the U.S. and is preparing for an attack bigger than 9/11, he decides to get the band back together for an impromptu terrorist assassination, so the people of this country can finally see the group for who they are, heroes.
Of course, not everything goes as planned. Their journey takes them from Deadbeat Dad organizations to drug warehouses to The Taste of Chicago to the streets of Philadelphia. When it's all said and done, will they kill the terrorists, save the United States, and become heroes? Or is this group destined to be a band of clueless misfits forever?
Berzerkers was kind of like if you took the sequence from "One Flew Over the Cuckoo's Nest" where the mental patients go on a boat trip, combined that with Rush Hour 2, then dropped that combo into the F5 tornado from "Twister."
I will give Bezerkers this. It lived up to its name. This thing was NUTS! There is more shit packed into this script than any script I've read all summer. You gotta be on your game when you pick this thing up because it bombards you with information. Here's a typical page from Berzerkers: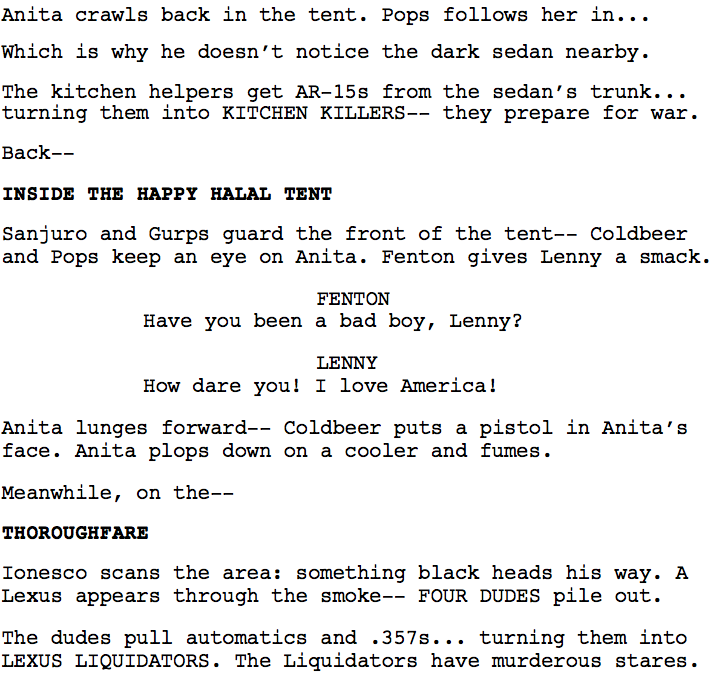 Let's count all the elements on this page.
1) Anita
2) Pops
3) AR-15 guns
4) A sedan
5) Kitchen Killers
6) Happy Halal Tent
7) Sanjuro
8) Gurps
9) Fenton
10) Lenny
11) A cooler
12) Thoroughfare
13) Ionesco
14) A Lexus
15) Four dudes
16) 357s
17) LEXUS LIQUIDATORS
This isn't even a full page, actually. It's ¾ of a page. And there are 17 elements to keep track of! Imagine trying to juggle that many things in your head for an entire script. I was trying to keep everything straight but by page 20, I was doing that thing where I would get down the page and realize I didn't remember anything I just read. So I had to go back and reread it again. And once I did this 5 or 6 times, my brain called "Uncle." It needed out.
So I enacted my "Tough Cookies" policy. This is where if I don't understand something or if I've made it halfway down the page and realize I haven't grasped any of what I just read, I don't go back and reread it. I charge forward.
My logic for this is that it's the writer's job to make it easy for me. It's not my responsibility to want to read something. Of course, once you reach the "Tough Cookies" point, you're only grasping a portion of what you're reading, and by the time I reached the end, I didn't know what 30% of the stuff being mentioned was. Maybe more.
This brings up an important question. How much information is too much information? How many characters can there be? How many plot twists? How many villains? How much jumping around? How extensive can the protagonist's plan be? How crazy can each scene get?
Unfortunately, it's not as simple as finding a number. The number of elements a reader allows correlates directly with how well you're telling your story. Is the concept intriguing? Do we like the characters? Are the scenes exciting/fun? Is the story fresh/original? Is the dialogue strong? The higher you rank in all of these categories, the more leeway the reader's going to give you as far as complexity.
And if you step back and look at the individual elements in Bezerkers, there's definitely some good stuff going on. I like the idea. I think it's funny. Some of the characters are well-conceived (Pops, an agoraphobic amputee). There are a lot of female characters in traditionally male roles, which was nice to see. It's just that when crammed together along with all this other stuff, those little gems got buried.
One of the pieces I think was misconceived was the opening. It goes by way too fast. We know these characters for all of two seconds. They come upon some silhouette of a person in a dust storm. Somehow they know this is an evil enemy of theirs. Then, bam, the scene is over and we cut to present day. What?? The scene's over before it began!
Sometimes, in our desire to get to our story as quickly as possible, we speed through important early scenes. This opener should've been milked. Get to know all these characters so we like them. Don't just have them shooting the shit either. Give them choices to help define their characters for the audience (a driver can either go towards two sketchy looking men or take the long way around them – this would show whether he's brave or a coward).
Then put us in that town and have the characters do whatever they're supposed to do there (deliver supplies?). Build tension as we sense something is wrong. Some of the soldiers start to get worried. A few of them float the idea of ending the delivery early and heading back to the Humvee. But it's too late. It's a trap. And at the center of the trap is our villain, Afshoon, who we should get to know way more extensively in this version.  This way, we feel like we know who these guys are, so when they get the band back together, we care about these folks.
I just want to conclude this by saying I love Will's hustle. I love that he keeps writing and networking and pushing his work out there. That's what you gotta do. If you keep doing those things, sooner or later it WILL pay off. And finally, I just want to part with this Pixar quote, yet again, since I keep seeing writers make this mistake: Simple story – Complex characters.
Script link: The Bezerkers
[ ] what the hell did I just read?
[x] wasn't for me
[ ] worth the read
[ ] impressive
[ ] genius
What I learned: Do not shorten an opening scene (or any scene for that matter) just to meet some beat sheet page number. If your scene needs time, it needs time. Would the famous opening scene from Inglorious Basterds have worked had it only been two pages? No. I think the opening scene in The Bezerkers needed that extra time to build tension and suspense, as well as to introduce us to everyone.