Today's amateur zombie screenplay poses the question – What is character development really?
Amateur Friday Submission Process: To submit your script for an Amateur Review, send in a PDF of your script, a PDF of the first ten pages of your script, your title, genre, logline, and finally, why I should read your script. Use my submission address please: Carsonreeves3@gmail.com. Your script and "first ten" will be posted. If you're nervous about the effect of a bad review, feel free to use an alias name and/or title for your screenplay. To help vote for contending amateur script and to stay up to date on which scripts will get reviewed, join my mailing list. It's a good idea to resubmit every couple of weeks so your submission stays near the top.
Genre: Drama/Zombie
Premise: (from writer) In a quarantined post-viral New York City, Elaine and Cora, two survivors with a strong stance against killing the infected, collide with two brothers who take the exact opposite approach.
About: Today's writer used this zombie short to get into NYU, which was shot in a couple of days with minimal help.
Writer: Avishai Weinberger
Details: 109 pages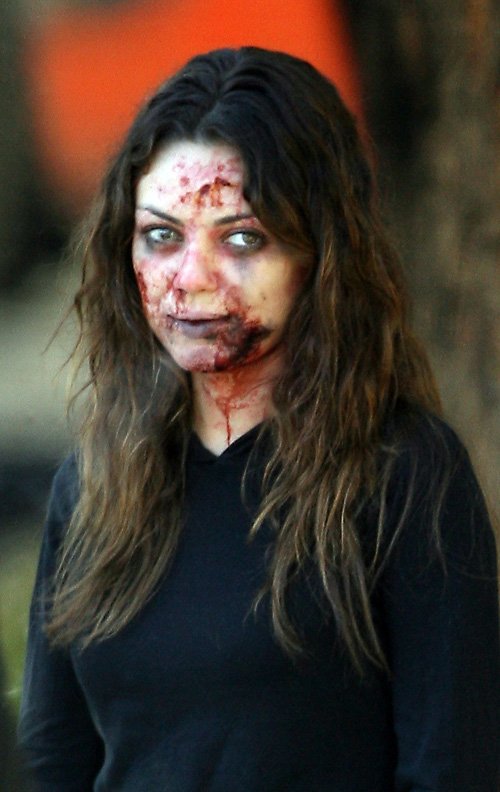 I know what you're saying. "Another zombie script?" Well there might as well be an echo in the room because that's exactly what I was thinking. The good news? We're not alone. Today's writer began their e-mail with, "I know what you're thinking. Another zombie script?" So we're all on the same page here. We're all worried that this is going to be "just another zombie script." But! Our guest of honor promises that they're doing something different, focusing more on character development than zombie slurpage.
And that's a big reason why I picked this. When writers want to write character pieces, they all have different ideas on what that actually means. Some think it means all of their characters should talk about deep issues and traumatic childhood experiences'n stuff. That's not character development. That's boring. What DOES character development entail? Read on to find out.
The Last Ones Out starts with two friends in their late teens stuck in a post-apocalyptic Brooklyn. There's 17 year old Cora, a mute, and 18 year old Elaine, an alpha female. The pair spend their days looking for food and fending off the occasional zombie. The zombies here are a little different from the kind we're used to. They look confused, almost afraid. But when they get hungry, they have no problem turning you into a four-course meal.
But as strange as the zombies are, it's not half as strange as how Elaine deals with these gimpy goofballs. Instead of shooting these bastards square in the forehead like our zombie-killing ancestors have taught us to do, she lures them out into the open and sets them free. She lives by a Terminator 2 no-casualties mantra.
Back in their apartment, Elaine does her best to care for the ailing Cora, who it appears still hasn't recovered from the trauma of the apocalypse (hey, can ya blame the girl?). So her main focus outside surviving is bringing loopy Cora back to the land of the living, so to speak.
Just as Elaine's about to give up on a rescue, the duo are visited by two brothers, 24 year old Joseph and 20 year old Ben (Surviving the apocalypse appears to be a young man's game). While there's some initial reluctance from the girls, the guys seem pretty genuine, so they let them in. The real point of contention in the group comes later, when Elaine finds out that Joseph is a shoot first and ask questions later kind of guy. Or in other words – a zombie killer! Elaine is not cool with this and gives him the John Connor speech about how you can't just kill people. Err, Joseph points out, but they're not people. They're zombies.
Despite their differences, the group will have to work together when they find out an army is awaiting survivors on the other side of the Brooklyn Bridge. All they have to do is make a trip to an abandoned hospital, get a few things the military is requesting, and hope they don't run into any zombies along the way. Yup, I'm sure that's going to happen.
There's a lot to learn from The Last Ones Out. Avishai definitely did some things right. There's a really smooth easy-to-read writing style here and a solid third act. But the first two acts move way too slow and simply don't have enough direction or meat to keep the reader riveted.
Let's go back to that question about character development. That's what Avishai wanted to do here – explore the characters. Was it a success? Well, in my opinion, the characters here weren't that interesting.  I was kinda annoyed by how Elaine wouldn't kill zombies.  And I was frustrated (and often confused) as to why Cora wouldn't talk.  The relationships weren't that interesting either. There was only minimal conflict between anyone, and the key relationship, between Elaine and Cora, was more confusing than anything (although I'll admit the confusion was alleviated via a 3rd act payoff).  I felt the characters' frustration and loneliness and fear.  But because the interactions were so static and neutered, I didn't feel like anything was developing on the character front.
How can this be fixed? Well, one of the best ways to explore your characters is through their choices. Put difficult choices in front of characters and you're going to see them develop right in front of our eyes. Let me give you a generic example. What if Elaine and Cora are running out of food and they're both on the brink of starvation? Elaine knows this. But she's indicated to Cora that everything's fine. Does Elaine sneak the food for herself, letting Cora continue to starve?  Does she share the food, even though it's not enough for both of them?  Or does she selflessly give all the food to Cora?  How she reacts to this problem gives us insight into who she is.  Then maybe later,  when circumstances get even more dire – when they're literally down to their last piece of bread – does she change?  Whereas before she shared the food, maybe now she fights for it.  What we're seeing before our eyes is a character developing.  She's changing.  Choices are a great way to show this.
Or we can use one of the most common zombie tropes there is. Someone gets bit. They're going to transform soon. Do our characters kill them or save them? This is a compelling CHOICE because it gets down to the core of who a character is. Are they selfish or loving ? This was kind of explored later on with Ben but it was 70-80 pages into the script. We needed compelling moments like this in the first and second acts as well.
Which leads me to probably the biggest problem with The Last Ones Out. There's no goal for 60 pages. There's no direction, no plan, outside of occasionally spray painting messages to fellow survivors. As I've said before, it's not that a lack of a strong goal can't be done in a screenplay. It's just that it becomes infinitely harder to tell your story because your characters aren't actively going after anything. They're sitting around. And there's too much sitting around here. The only time that really works is when there's a TON of conflict within the group, creating lots of drama . But as I said before, there's no real conflict inside of any of the scenes in the first and second act.
How do you fix the goal problem? Just give them a goal that's important. In the story, Elaine's cell phone works (for the record, I didn't think the cell phone storyline made sense. It created too many questions). But it's a mystery why it works. So maybe their goal is to find the cell towers, or find the cell headquarters, so they can see if there's anyone running the system. That's their current search. Now, instead of just wandering around for the occasional (and cliché) food hunt, they're looking for something more concrete. Remember guys, characters ALWAYS NEED A PLAN. A plan means action. And you want to keep your characters active.
When your characters are NOT actively going after things (when they're home at night), you need to figure out other ways to keep your reader interested. Readers don't give out "mulligans" when they're reading. They don't say, "Oh, you just had that big outdoor scene so I'll let you write two slow boring scenes now." Unfortunately, it doesn't work like that. If a reader's bored, they check out. Which mean EVERY. SINGLE. SCENE. has to be interesting in some way.
(Spoilers follow) So, for example, let's say we establish Cora as a zombie early on. But Elaine has been using a combination of medicines to keep her from turning all the way. When the boys show up, she has to hide this secret. She knows if they find out, they'll kill Cora. So now there's way more tension during the scenes because Elaine is hiding something. And the boys (who should probably be older and more sinister in the new version – they're too docile here) are starting to get suspicious. That way, even your slow scenes have something going on in them. I know this is kind of explored with Ben later in the script, but again, it was too late. This direction would also allow a more logical reason for why they raid the hospital. Elaine needs more meds for Cora (the whole "military needs us to get meds" thing was obviously only thrown in there to create a late set piece at the hospital.  Be careful not to unnaturally force plot points into the story.  Good readers always spot them).
(major spoiler in this paragraph) There are a bunch of other little things I wish I had time to get into (I'm kind of preoccupied figuring out what the posts are going to be next week) but let me say a couple more things. I think you need to change the relationship between Elaine and Cora from friends to mother and daughter. I just never bought that Elaine would become so obsessed with nursing a zombie back to health who she never knew in the real world, to the point where she refused to kill any other zombies. But if it was her daughter, that would be different. I'd buy that.
Despite some fairly extensive criticism here, I wanna point out that the final act of The Last Ones Out was quite good. You have to do a better job setting up the army's introduction, but the revelations and the urgency and the intensity of the final act – all of that was done quite well.
Going forward, I would also ask yourself, "What's different about my zombie movie?" I think you need to find a more unique hook here. You'd probably counter, "Well my zombie script is more character driven." Yeah but really, any good zombie flick should have character development. The "not killing the zombies" angle is sort of hook-y, but I don't know if it has the weight to make a producer go, "I want that now!."  So I'd try to improve the hook.
Congrats on finishing this, Avishai, and thanks for letting me read it. Hopefully my notes will help improve the next draft. :)
Script link: The Last Ones Out
[ ] Wait for the rewrite
[x] wasn't for me
[ ] worth the read
[ ] impressive
[ ] genius
What I learned: In any movie, you want the climax to be the hardest thing our protagonist battles through. Every possible way you can make things more difficult for your characters during the climax? DO IT!. For example, I didn't like how that they got to travel to the army base during the day, where it was easy to spot and avoid zombies. Why not force them to go at night, when the zombies are the most active and it's harder to spot them? You gotta make it difficult!