A former Amateur Friday entrant comes back for more. And Carson proclaims that rules have rules. Have both these men gone insane?
NOTE: Scriptshadow will not be posting on Monday, which is Memorial Day here in the states, an entire holiday dedicated to improving our memory. So use that extra day to work on your Scriptshadow 250 Contest Entry!!!
Genre: Dark Comedy
Premise (from writer): In the final days of a yearlong deadline to either improve his life or end it, a sheltered mama's boy, with nowhere else to turn, appoints a would-be criminal as his new life coach.
Why You Should Read (from writer): March 9, 2012, a day dubbed as "the Jai Brandon experiment," Carson reviewed a script of mine titled, "The Telemarketer." — When I originally wrote that screenplay, I thought "entertainment value" outweighed plot, structure, "rules," or anything else you want to throw out there. I was a screenwriter with all of 18 months on the job and thought I had this craft figured out. I was confident in my ability to entertain, though I never made claims that The Telemarketer was "better than every script sale out there," or "better than some of the classics that have graced our movie theaters for years." I wasn't ever that clueless. However, I did think the story could hold my readers' interest throughout.
Boy was I wrong.
The most memorable feedback, to me, wasn't even about the script. What stuck with me the most were comments along the lines of "I put this down at page XX." Or "I bailed after page XX." It sucked to fail at the very thing I thought I could accomplish. — Since that time, I've read tons of screenplays and penned another unconventional script that never went anywhere. Enough is enough. I wanted to prove to myself that I had the discipline to follow the rules. As a struggling actor, I also wanted to create a story that would be relatively easy to produce, with me as one of the leads. I decided to use the central idea behind The Telemarketer – as well as a couple of scenes from that script – and write a dark comedy called Three or Out. Hopefully this time I succeed in accomplishing what I failed to do earlier: hold my readers' interest with a compelling and conventionally structured screenplay.
Writer: Jai Brandon
Details: 114 pages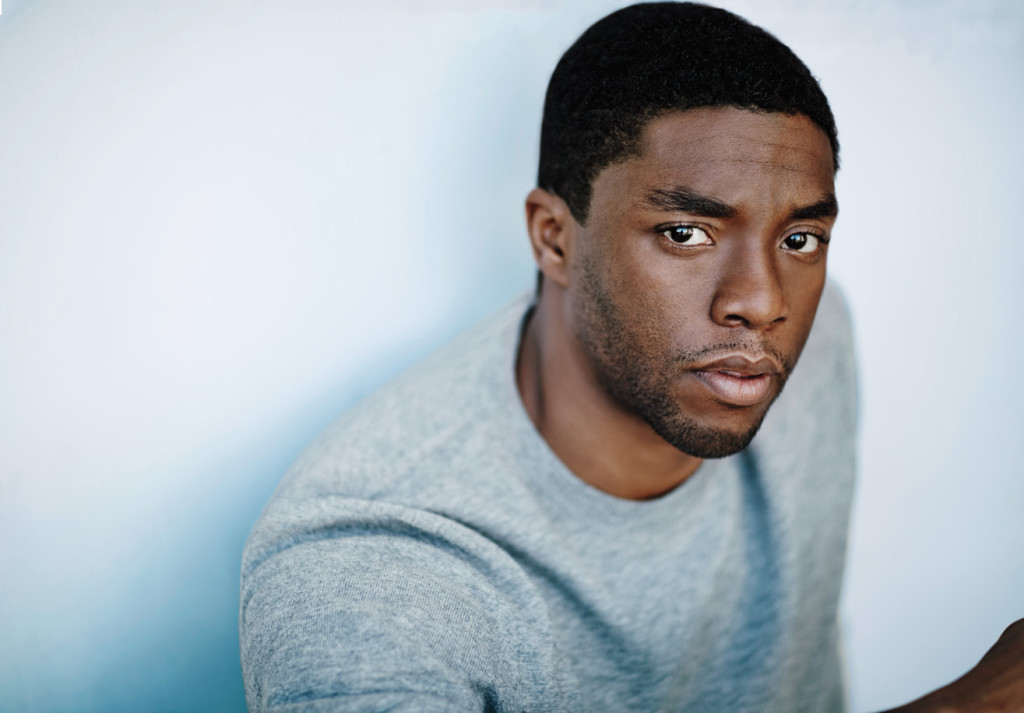 Chadwick Boseman for Arlen??
It's been a long time since I read Jai Brandon's original Amateur Friday script, and I went back and forth on whether to reacquaint myself with that review. Ultimately I decided I wanted no baggage going into this one and to judge it on its merits alone.
Also, it seems that Jai has become quite humbled by that experience and I think that's a good thing. As a screenwriter, you don't want to ever get too high on yourself. In fact, you almost want to be the opposite. The more skeptical you are of your abilities, the higher you'll set the bar for yourself.
This review is a bit long, so I don't want to waste any more time prepping it. Let's dig in.
Arlen, who's barreling closer to the big 3-0, isn't exactly kicking life's ass. He still lives with his mom, who's a major bitch and driving him crazy. He has a sucky telemarketer job that barely pays anything. And he doesn't get no love from the ladies.
A year ago, Arlen told himself that if he didn't fix these three things within a year, he would kill himself. Now, with only a week left on that deadline, it's not looking good for Team Life.
However, after a pesky customer named Xavier gets pissed at Arlen for not offering him a job (not sure why you'd expect someone you don't know to find you a job) the two run into each other at a convenience store, and Xavier takes the opportunity to shake Arlen down for money.
Arlen tells Xavier that he can have his money, but only if Xavier helps him achieve his three goals by the end of the week. The unlikely partners then set about getting Arlen's life back on track, and in the process, saving it.
What good are my articles if we never reference them? Hence, I'm going to take today's script and put it through yesterday's Seven Questions ringer. Buyer beware, this is not the nice sweet cuddly version of "Does your script meet our requirements?" This is the mean Hollywood producer asshole version of "Don't waste my time." In other words, real life! :)
1) Is your idea high concept?
This is a movie about a guy who's basically trying to get a new job. The suicide angle gives it a slight edge, but not enough to call this high concept.
2) Are you writing in one of the six marketable genres (horror, thriller, sci-fi, comedy, action, adventure)?
No. We're going Dark Comedy here, which is a hard sell in the marketplace, although occasionally celebrated on the Black List. Still, this is two strikes.
3) Is your idea marketable?
I can't think of any successful movies like this really so I'll unfortunately have to say no.
4) Do you have a fascinating or extremely strong main character?
Our main character is a depressed guy who wants to be a little happier. Not exactly the kind of role actors are desperate to play. Xavier and the mother have a little more meat to them, but in a screenplay, we're looking for GREAT MEMORABLE characters, not just "okay" ones.
5) Does it have a unique angle?
Since we aren't sure what kind of movie this is (there isn't really a "suicide" sub-genre) there's no opportunity to create a new angle.
6) Is your script packed with conflict?
There is some conflict here. There's conflict between Arlen and Xavier, Arlen and his mom, Arlen and himself. So we can say yes to this one.
7) Does your idea contain irony?
The saving grace for low-concept is irony. If you can add irony to your premise, you can really improve your script's appeal. So this is about a guy who wants to commit suicide or make his life better. There's unfortunately nothing ironic about that. Although this is a bit on the nose, the idea would be more ironic if our main character, who was suicidal, worked as an operator at a Suicide Prevention Hotline. Listening to Arlen provide a boatload of people with great reasons to stay alive while he was secretly planning to kill himself would've been a clever way to draw us into the story.
Which gives "Three and Out" a score of "1" on the 7-point scale. Does this mean the script is hopeless? No, American Beauty would've scored low on this test as well. But what it does mean is that the script has to be a thousand times better than the scripts that DO meet these requirements, since those scripts are going to be a thousand times easier to sell. The lower the score, the more amazing the writing has to be.
So was the writing amazing? While I think Jai's writing has improved, you have to remember that following the rules comes with its own set of rules. And one of those rules is that your story must feel seamless, despite being structured.
Three or Out ran into trouble almost immediately due to its forced setup. How many times throughout history has a telemarketer ran into someone he was talking to on the phone just ten minutes earlier? That's hard to buy into.
I understand what Jai was trying to do. He had Xavier point out, due to the "private number" on his caller ID, that Arlen must live locally, allowing us to buy into their later meeting. But the fact that Xavier had to bring that up is exactly what brought MORE attention to the artificiality of this conceit, not less.
The second I'm stopping to think about how weird or coincidental things are is the second the script enters Trouble Territory.
One of the skills professional screenwriters have is that they've learned to make their plotting SEAMLESS. You never see the gears grinding underneath their script. By that I mean, you don't see the writer's attempt at covering up the hugely coincidental moment that two characters run into each other. Professionals either hide the cover-up better, or come up with a situation that isn't difficult to buy into in the first place.
For example, why not take the telemarketer stuff out altogether? With Arlen being suicidal, let's put him into an even more desperate state. He's collecting welfare. And he's barely able to support his mom with the money, which is why he wants to go out there and get a job in the first place.
Then, have him meet Xavier when they're both at the store and Xavier tries to rob it. There doesn't have to be this big weird artificial coincidence that facilitates their meet-up. It can and should be simple.
Another problem with the setup is that it didn't make a lot of sense. What was it, specifically, about Xavier that Arlen needed to achieve his goal? He needed Xavier to help him visit potential apartments? Really? He couldn't have done that by himself??
It seems like Jai is following the "rules" approach too literally. He's so set on having this conflict-fueled pair drive his story that he hasn't really considered why our main character would need this criminal to help him in the first place. Arlen can barely scrape together 500 a month for rent, yet he's paying Xavier four grand to act as a second opinion??
I could get into some other things but truth be told, the forced set-up was the moment I sub-consciously withdrew from the screenplay. I've been down this road too many times to know that if you can't nail a seamless setup, then more issues are coming.
And that's not to say there aren't some good things here. This script is very easy to read. The writing is sparse and keeps the eyes moving down the page. I like that Arlen has a goal here and a ticking time bomb, even if it's self-enforced. The dialogue is snappy. I liked the complicated relationship between Arlen and his mom.
But I think this comes down to me not being excited enough about this idea. If I'm Mr. Producer and this hits my desk, I'm having a tough time seeing how I could sell this movie. There's no real hook, unless you argue that suicide in a week is a hook. And I'd probably fight you on that. And the stakes are kinda low since they're self-enforced. If Arlen doesn't meet his requirements, he doesn't HAVE to die. He can just change his mind. So we never really feel that he's in danger.
So I think Jai just needs to keep working on it. When you come over to this side (the rules side), there's two halves to the process. The first is writing a script that follows the rules. And the second is writing a script that follows the rules but integrates them seamlessly, so that the audience isn't aware of them. You've achieved part 1, but not yet part 2.
Get back in there and figure out part 2. I'll be rooting for you.
Happy Memorial Day to everyone. I'll see you Tuesday!
Script link: Three or Out
[ ] what the hell did I just read?
[x] wasn't for me
[ ] worth the read
[ ] impressive
[ ] genius
What I learned: This isn't so much a "What I Learned" as an exercise. I want each one of you to try and come up with the best logline about suicide you can that uses IRONY. Understanding irony is the key to writing an indie movie that people will actually care about. Good luck!