Genre (from writer): Satirical Dark Comedy
Premise (from writer): When his girlfriend becomes an overnight movie star, a lady shoes salesman must now become famous or he risks turning into the next Kevin Federline.
Why You Should Read: Everyone nowadays dreams of becoming famous. You hit upload, wait around like a child on Christmas Eve, only for someone to eventually gift you a "like" on social media. Our melting pot is currently overflowing with fame whores who move to Hollywood, begging her to make their dreams come true. — As a fame whore myself, let me tell you… life is tough, life in Hollywood is impossible. — Imagine being one of the few in Hollywood who's not a fame whore. You finally meet the only "great girl" in town, and then somehow you get her to fall for you. Sounds like a perfect Hollywood ending, right? But the only things in Hollywood that have Hollywood endings are Hollywood movies. — Your "great girl" lands the lead in the biggest movie in the world, becoming the next Jennifer Lawrence overnight. You sell ladies shoes. The "great girl" thinks that's fine, and loves you for you… but the world thinks that makes you a loser, the next Kevin Federline. — Your name is Ernest Pope, and #TRENDING is your story. It's a satirical dark R-rated comedy.
Writer: James L. Leary
Details: 109 pages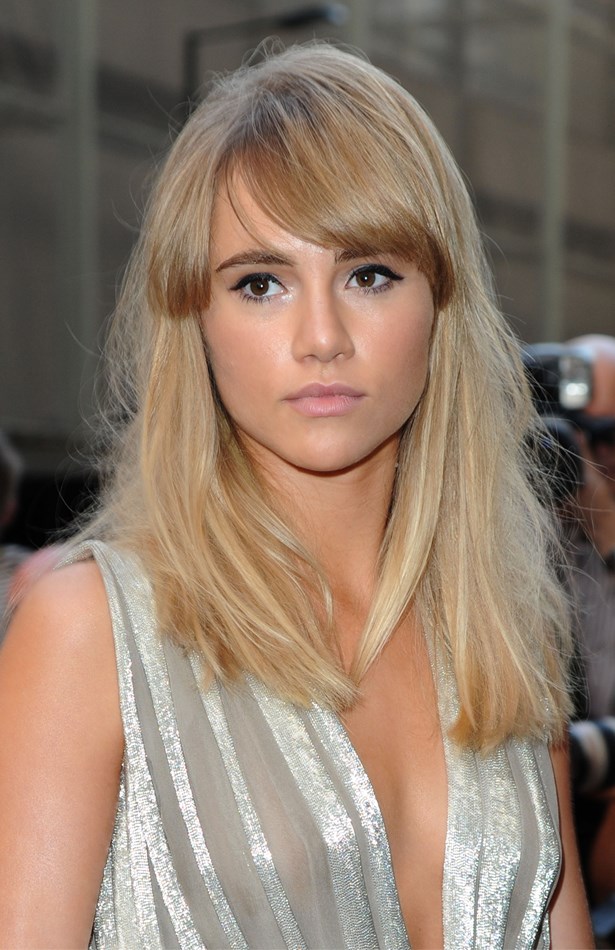 Suki Waterhouse for Molly?
My initial impression of #trending was, "Catchy title." It's something that can be overlooked in the process, the title. But when everything else is equal and your script is on the table with several others, it may well be the catchy title that gets your script read.
Here, the "#" sign gives the title an untraditional but intriguing look, and "trending," ironically, is a trendy word on the internet, so it's no surprise that it grabbed more attention on Amateur Offerings than generic titles like, "Watching Over Remie" and "Treasure of Fate." And I'm not saying anything about the quality of those scripts. I'm just saying "#trending" stands out as a title.
Now before I read the script, I have to admit I did a little pre-judging. Readers always do, despite the best of intentions. This was called #trending, implying some light fun faire, yet when I opened the script, I saw 110 pages. Ugh. That long? Really? This feels much closer to a 100 page idea. So I'm already on the writer's case, even before I've read a word. If I see anything here that feels like it's dragging, I'm going to be thinking, "Yup, I knew it. I knew the script was too long." I don't say this bitterly. I just want writers to know what's going on in a reader's head when they pick up a script so they can avoid making the same mistake. With that said, I hope I'm wrong, and that #trending is #trending tomorrow on Twitter, which would be so meta.
24 year old woman's shoe salesman Ernest Pope is a lucky man. He happens to have found love with Molly Taylor, an out-of-his-league aspiring actress who's doing a lot more aspiring than acting. How Ernest landed Molly is anyone's guess, but it's clear she loves him more than anything. For now, that is.
While dining at a Chinese food dump, the couple are bombarded by the paparazzi, who start snapping Molly's photo and yelling her name. After narrowly escaping photographic death, the two learn that Molly's landed the role of a lifetime, in a new novel adaptation called "Dawn," where she'll co-star with meaty heartthrob Channing Tatum.
I think we know where this is going. Cut to the premiere 9 months later and while Molly and Ernest are still together, he's getting increasingly insecure. Rumors of an on-set romance between Molly and Channing are everywhere. And the public loves it. They'd much rather celebrate a Molly-Channing coupling than anything to do with this Ernest loser. I mean, the guy has a mustache!
Eventually, the two drift apart, and Ernest's best friend, Juan Camacho, convinces Ernest that the only way to get Molly back is to become famous too. The quickest route to fame, of course, is to become an actor. With a little luck, Ernest gets a small part in a movie, and when the director's a dick on-set, he pulls a Christian Bale and goes nuts.
The rant goes viral and, what do you know! Ernest is famous! Well, famous in that cheap internet sort of way. But everyone knows who he is now. This gives him the confidence to rekindle his romance with Molly, but Molly can see that Ernest has turned into a fame whore and leaves him. Ernest uses his fleeting fame to bang a lot of girls, but (major spoiler) he eventually is killed by fucking too much. The End.
#trending started out great. Every character introduced popped off the page. There were these weird asides (a male Sexy Santa contest) that had nothing to do with anything but were still hilarious. I loved James's portrayal and deep-seated hatred of hipsters (drinking coconut water and standing by their vespas). And there's this great "doggy bag moment" where we learn all about the thirty mile zone (the acronym for TMZ), which was fascinating. I said to myself, if he can keep this up, we have ourselves a winner.
But as is so often the case with amateur work, it didn't keep up. The first time I blinked was Molly's instant-fame moment. People find her at the Chinese restaurant because TMZ tweeted out she just won the Dawn role. But I didn't know she was even up for the role. Come to think of it, I didn't see her go up for any roles. I'd forgotten she was an actress. So this came out of nowhere, giving the scene that awkward "did I miss something" feel to it.
From there we make a nine month time jump. You guys know how I feel about huge time jumps in the middle of screenplays. I understand why James did it – he wanted to get to the Dawn premiere, where the fame would be at its highest. But coming on the heels of the sloppy Dawn role reveal, it felt like double sloppy joes to me.
From there on, the script had major structural issues. Molly sort of breaks up with Ernest, although it's unclear if that's what really happened or not, leaving the narrative in a confused purgatoric state. I mean if it was a break-up, we know he must get her back. If not, we know he's got to keep her around. But if it's neither, we don't know what he's supposed to do.
From there, Juan Comacho comes up with this idea that Ernest needs to become a movie star to get Molly back. That's where the script officially lost me. Not only was I unsure if he and Molly were actually broken up, but now he and his friend are just making up rules for how this is going to work. When there's no evidence that Molly even cares whether Ernest becomes famous or not, creating an entire section where Ernest pursues fame is strange.  There's zero stakes attached to that choice.
This is what structure is. It's creating strong goals with high stakes, so that whatever portion of the script we're in, something important is happening. Your hero is going after something and there are major consequences to not getting that something. When the importance of those goals becomes muddled – if we're not even sure that what our characters are doing matters – the script is dead.
If I were James, I'd stick with the opening, which is good. Just make sure we know Molly's an actress trying out for big roles. Then, once Molly gets famous, I wouldn't jump forward 9 months. You can create everything you got from the 9 month jump right here in the present. If you want Channing Tatum in the mix , maybe he wants to meet Molly so they can start "going over their lines." This results in paparazzi photos of the two together a lot, which starts screwing with Ernest and Molly's relationship. I actually think it's funnier if you show all these Dawn fans going crazy NOW instead of once the movie premieres. It shows how freaking crazy they are ("Who are these people?? The movie hasn't even shot yet!").
From there, you follow the traditional formula that's worked for a hundred years. Molly leaves him and he has to get her back. I don't think the becoming an actor thing works. It appears out of nowhere (he had no acting ambitions prior to this) and therefore feels lazy ("made up on the spot" syndrome). It might be funnier if he tries to become an internet star. That's such a crazy world and it hasn't been fully explored in movies yet, giving you the opportunity to really do something original. If he tried to figure out the top 10 most famous internet people and replicate their success (he tries auto-tuning himself, kitten videos, saving a kidnapped woman from a home, a la Charles Ramsey), there could be something there.
I'm just spit-balling. You'll want to come up with your own solution to this. Because the truth is, James, you're a funny guy. Your first 20 pages had me lol'ing a ton. You just have to build a stronger narrative into the second and third acts. I wish you luck, my friend. Thanks for letting me and the rest of the world trend with you for a couple of hours.
Script link: #trending
[ ] what the hell did I just read?
[x] wasn't for me
[ ] worth the read
[ ] impressive
[ ] genius
What I learned: I want writers to know that when they submit a weird combination of words for their script's genre, I immediately know it's an amateur. It's a huge red flag. The accepted genres are: comedy, period, fantasy, sci-fi, action, thriller, drama, biopic, sports, romantic comedy, black comedy (or 'dark comedy') and then there are some accepted derivations. Buddy comedy, action-thriller, science-fiction horror. What you don't want to do is start using strange combinations of these words and then adding your own twist to them. "Satirical Dark Comedy" should just be "Dark Comedy." Likewise, you shouldn't submit things like, "Elevated Science Fiction" or "Coming-of-Age Dramedy." Even if your script doesn't fit perfectly within one of these genre tags, it's better to use that tag than create your own.