Get Your Script Reviewed!: To submit your script for an Amateur Review, send in a PDF of your script, along with the title, genre, logline, and finally, something interesting about yourself and/or your script that you'd like us to post along with the script if it gets reviewed. Use my submission address please: Carsonreeves3@gmail.com. Remember that your script will be posted. If you're nervous about the effects of a bad review, feel free to use an alias name and/or title. It's a good idea to resubmit every couple of weeks so your submission stays near the top.
Genre: Thriller
Premise: (from writer) A mother and daughter held hostage at an isolated farmhouse struggle to survive as one of their captors grows increasingly unstable.
Why You Should Read: (from writer) This script was a Nicholl quarterfinalist in 2011. It's gotten some attention in the past, but has always managed to get lost in the shuffle. I thought this would be a good opportunity to inject new life into a script I feel has been overlooked. I don't claim the concept is unique, but I do believe the execution is. I wrote it partly to prove to myself I could write a contained thriller and still be original. It's difficult to stand out once the budget gets below a certain level, but I think this script shows a good effort. It's got strong structure, three dimensional characters, and has something to say I've wanted to express in a story for a long time. It's a quick read in both style and page count and I'm confident you'll enjoy it.
Writer: Breanne Mattson
Details: 100 pages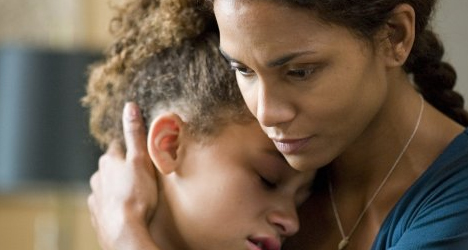 Halle Berry for Audrey?
I don't know what it is with you Scriptshadow readers. But you always seem to endorse the darkest shit! Last week it was child murder. This week it's moms and daughters being tied up and threatened in every way imaginable. There's even a rape backstory. What ever happened to happy stuff!? Why can't there be a script about ducklings and puppies? Maybe a ducklet and a puppy named Pupplestor team up to solve a farmland crime? It can be a prequel to Babe. I don't know. This is probably a reflection of me. Something about my writing brings you dark-minded folk to my site. I must be a sicko.
With that being said, today's script, while hurting my happiness, is actually quite good. The story flies by. Lots of conflict. Lots of drama. Lots of suspense. You could do a lot worse than Warning Shot, that's for sure. But why hasn't it done more for Breanne? Let's throw on our script-fighting capes and find out!
30 year old Audrey is a former valedictorian who dropped out of college for reasons unknown (reasons we'll find out later). She's got an 8 year old daughter, Cheyenne, who's the only thing that gets her through the day. And those days aren't pretty. Her diner tips barely get above the 2 dollar variety and she's THIS close to getting evicted from a trailer park. That's when you know things are really bad.
Lucky for her, her grandfather dies! Well, not "lucky," but you know what I mean. He left Audrey his farm, and that means her and her daughter at least have a roof over their heads. Little do they know, across town, this loser named Bobby doesn't know about the grandfather's death. And Bobby's grandfather (who's on his deathbed) has been trying to get the water rights from that man for 60 years. Bobby thinks if he can get them, his grandfather will finally respect him.
Bobby's plan is to hire the ultra slimy Rainy and his dope head pot dealer, Juarez. The two have simple instructions. Go get the old man to sign the rights away to the water but don't kill him. Well, when they get there, they find that Audrey and Cheyenee are there instead. And that Grandpa is dead.
So they tie them up, wondering what to do. And that's when the loose cannon, Rainy, starts getting other ideas – as in maybe he'll have a little fun before doing business. The threat of rape quickly turns into the threat of murder, but it's when an innocent church goer, David, comes by and accidentally sees what's going on, that Rainy loses his shit. He ties all of them up, with plans to kill the lot.
This is WAY more than Juarez bargained for, and he's eventually able to restrain Rainy, but in this house, on this day, nobody has control of the situation for long. The guns and the power keep shifting, leaving small windows for the weak to make their move. But nothing will prepare anybody for when Bobby shows up. He wants this deal done and he wants it done now. And he doesn't care who's standing at the end of the process.
You know, I don't think I've ever 100% agreed with a writer's "Why You Should Read" until today. This script is EXACTLY what Breanne says it is. The concept's a little bland. The structure's really tight. It moves fast. It feels different from other contained thrillers. Understanding your work well enough to know exactly how it comes off is a talent in itself.
The thing holding it back is that lack of a compelling concept. I mean, if I'm a producer and I'm trying to figure out how to market this movie, I'm confused. What are you selling? A movie about a bad guy who ties up a mom and her daughter? That kind of thing happens in almost EVERY MOVIE at some point. It's an eventual part of every story. So to make something so ubiquitous the hook of your film? That's not going to get people excited.
I suppose if you got movie stars to play the parts, it might make some money, but these days, with more and more star vehicles going straight to VOD, it's just really hard. I mean maybe that's your answer. You get this made as an independent film for a small price and then go straight to VOD. That could happen. But as someone looking at it from the other side, I need to get excited about the concept. And I'm not. Which sucks. Because it is well written, and like Breanne says, well-executed.
In addition to those things mentioned, it's got a great villain in Rainy. I mean this guy is scary shit. This is highlighted in the section where Rainy doesn't have a gun. Juarez has taken charge and put Rainy "in the corner" until Bobby gets there. Despite the fact that Rainy doesn't have a weapon, he's the scariest he is all movie. The way he grills Audrey with probing questions, you just know he's biding his time. You know he's got something up his sleeve. The dude sends chills up your spine!
The dialogue here was really good too (with the exception of Cheyenne, who spoke too much like an adult at times). There's a strong emotional anchor with Audrey and her daughter. Over the course of the script, we learn that Cheyenne may have not been in the plans, which forces Audrey to tell Cheyenne the truth about her father. And I mean come on. A mother and daughter in a life or death situation? Even if you don't add a lick of backstory, we're automatically rooting for them. So the script pretty much has us right from the start.
And then there's the metaphor (spoiler) behind the story, which is obviously the fact that Audrey was raped in college (which is why she had Cheyenne) and then the farm's water rights weren't even hers. They belonged to the city. Which meant none of this ever had to happen. Just like the guy who raped her in college, all they had to do was ask. So that certainly adds an extra layer to the story that makes it hit harder.
The only weak story element was how Bobby's plan didn't make sense. He was going to come here, get this woman to sign the rights away, then kill her? It doesn't take the Dateline Team to figure out that a woman signing over the rights to her land then getting killed a day later may be connected somehow. So I would've liked if Bobby's plan was a bit more tidy, seeing as he's supposed to be a smart guy.
Breanne is a really good writer. But this is a hard sell.  If I were her, I'd contact every big actress with a daughter, preferably young daughters.  Protecting your daughter is such a primal instinct I could see one of them making a big connection with this material.  And once you have the actress, you have a chance to make your movie.  I'll be keeping an eye on Breanne.  This is a solid effort.  I can't wait to see what she does with a bigger concept.
Script link: Warning Shot
[ ] what the hell did I just read?
[ ] wasn't for me
[x] worth the read
[ ] impressive
[ ] genius
What I learned: When you're doing one of these contained thrillers, it's all about changing the dynamic to keep the story fresh. Cause you can't change the setting. So changing who's in charge, what information is revealed, when new characters are inserted – anything that changes the dynamic in that room – that's how you keep a low-location story fresh. So here, Rainy starts out in charge. Then David shows up. Then Juarez takes charge. Then Bobby shows up and takes charge. Changing the dynamic keeps the story from becoming stagnant.