NEW TOP 10 SCRIPT! NEW TOP 10 SCRIPT! AND IT'S AN AMATEUR ENTRY!
Amateur Friday Submission Process: To submit your script for an Amateur Review, send in a PDF of your script, a PDF of the first ten pages of your script, your title, genre, logline, and finally, why I should read your script. Use my submission address please: Carsonreeves3@gmail.com. Your script and "first ten" will be posted. If you're nervous about the effects of a bad review, feel free to use an alias name and/or title. It's a good idea to resubmit every couple of weeks so your submission stays near the top.
Genre: Crime/Drama
Premise: A suspended inner city social worker tries to protect a young girl and her mother from the girl's father, a psychotic killer who's just been released from prison.
About: Where Angels Die beat out all the Amateur Entries a couple of weeks ago. Make sure to sign up for the newsletter to get the Amateur entries early and vote for which one should be reviewed come Friday. Writer Alex Felix JUST MOVED to LA to pursue screenwriting more seriously.  Little else is known about him but I'm trying to find out!
Writer: Alexander Felix (based on the novel "In the Place Where Angels Die" by Richard Seal)
Details: 93 pages
Update 1: Contact Brooklyn Weaver or Thomas L. Carter if you're interested in script.
Update 2: Script going out to prodcos and talent.
Update 3: Thomas L. Carter (Station 3) co-managing Alex on this script.  Offers have started coming in.  Alex and group looking for best fit.  Still listening.
Update 4: Alex now with CAA.  CAA is looking to package material.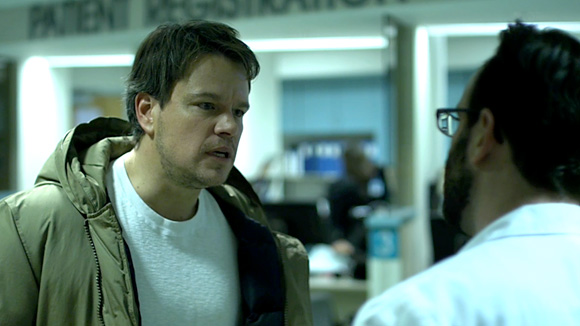 A scruffed up down-on-his-luck Matt Damon for Parker??
Holy shit!
Holy shit holy shit holy shit holy shit.
Immediate background. I started reading this at 4 A.M.
How many scripts have I been able to finish that I've started at 4 A.M.?
Zero. It's never happened.
Except for this script. Except for this MASTERFUL script. This is the kind of script you dream about. I have sent out an e-mail to Alex basically begging him to let me work on this with him. Not only do I want to give him the highest praise, I want to thank all of you who participate in Amateur Offerings. Without you guys filtering these scripts, there's a good chance Where Angels Die never would've made it in front of me. Because it doesn't have the splashiest logline. It has the kind of logline that actually makes you think the script's going to be boring.
But then you have this writer, Alex, who's come out of freaking NOWHERE, getting hold of this novel by Richard Seal, which doesn't come up anywhere if you search for it on the internet (is this a published novel??), and you have these guys who just…nobody's ever heard of before. And they produce this??
I'm still gob smacked. This is like Drive meets The Equalizer but with ten times the character development and depth. There's so much going on here. I have to apologize because I'm writing this at six in the morning and I'm still a little loopy, but wow. I will GUARANTEE you that this will be made into a movie. I don't know how soon from now. But it will happen. You don't run across scripts like this often. And Alex, wherever you are, wake up and answer my e-mail. I want to be a part of this.
Okay, where do I start? The plot! Right, the plot. Okay, so we have this guy, Parker Jode. He's a social worker with OCD. I know that sounds hackneyed but trust me, Alex makes it work. In fact, he makes it sing. Everything that happens in here, you believe, no matter how nutty it is. I mean at one point our bad guy dresses up in drag to blow to bits an entire strip club. Wait, I'm getting ahead of myself. So basically Parker is this social worker living in a shitty town (Detroit) with a shitty life.
But he's trying to make the best of it. One of the people he's working with is a stripper, Dhalia. Dhalia's got a daughter Parker checks in on every once in awhile. It's a mild case, nothing like the really bad cases where the parents are ODd on heroin while their babies haven't eaten in two days. Dhalia's actually back on the straight and narrow, taking care of her daughter. And Parker has a thing for her, a thing he's been unable to pursue because of the job he's supposed to do. And Parker takes his job really serious. It's one of the things you love about him.
But anyway, Dhalia's psychotic husband, Horatio, has just gotten out of jail on a technicality and boy is he fucked up. He's manic-depressive. He's got AIDS. He's bipolar. He's a jack-in-the-box nightmare on a stick. I'm not talking about the good kind with the 2 tacos for 99 cents deal either.  This compadre's evil.  And he doesn't like some "cracker" social worker hanging around his home.
So one of the first days back he finds out that Dhalia's gone to her stripper job. This is something he thought he made clear can't happen. So he heads to the strip club, and not only kills everybody there, but kills the damn cop who's getting a lap dance from his wife. It's a massacre. And this guy just doesn't give a shit. He mows these people down with the same nonchalantness as a Sunday stroll.
When Parker figures this out, all he wants to do is save Dhalia and her daughter, because he knows this psychopath is a few days away from offing them too. So that's exactly what he does. But Horatio isn't just going to stand around and let that happen. He sends his boys to take Parker down. And when that fails, he sends himself. This reckless imperfect crazed social worker is going to take on this psychotic berserking ex-con, and insides are going to become outsides when it's all said and done. But who's insides will they be? Is the man we've grown to love and root for going to come out with his valentine's day card still beating?
While there are some standard elements to this plot it's HOW Alex tells this story that's so impressive. We have men-in-drag slaughtering strip clubs, we got hated fathers who are orchestra conductors, we got seemingly pointless grudge matches with street kids who steal car radios (that for some unexplainable reason we care immensely about), we have a stapler incident at headquarters that makes the OFFICE SPACE stapler incident look like a minor dust-up. We have AIDS, OCD, Aspergurs, 7 year olds carrying around 200 grand. But most of all, we have someone who captures the grime and grit of the Detroit streets, of the disgusting lower than low filth that's settled over that city and turned so many promising lives into lost ones. You FEEL this world on the page, and I just don't see that on this level very often. Or at all.
When I pick up a script, one of the first things I focus on is, "Will an A-list actor want to play this part?" Or, more specifically, is the lead role challenging and interesting and unique? I don't think there's ever been, onscreen, a kickass alcoholic OCD gun-wielding social worker who's based in REALITY. Who's based in TRUTH. Parker's not played like Denzel's super-hero character in The Equalizer. This man is heavily flawed. He saves kids from troubled homes but he's wasted when he does it. And he's imperfect and he holds grudges and he can't leave the past alone and THAT'S EXACTLY WHAT MAKES HIM POP OFF THE PAGE. I just can't see a major actor reading this character and not wanting to play him.
Another thing I look at is the villain. Does he stand out? Because every big hero needs an another equally big villain to oppose him. Someone with equal weight. I don't even think The Equalizer had that. Horatio is fucking memorable. He's a little cliché at times, but his powder-keg personality makes him unpredictable enough that you're just not paying attention to that cause you're so damn scared of the dude.
If there are notes to give they would probably be to take this story a little further away from Drive where you can. There are some similar plotlines here and you want to stand out from that movie more. I also think there could be a little more unpredictability in the last 30 pages. One of the mistakes I see a lot of writers make is when they get to the more action-y stuff in their third act, they fall into that predictable run/chase/shoot trap, because there's not as much room to play around as you had earlier on when you had time.  I want to see some of that same cleverness in the final act that I saw in the first two.
But really, those are my only complaints. This script was freaking awesome. The character building was incredible.  Second to none!  I'm going to sleep now. And when I wake up, I hope to hear from a few people that I sent it to and see if we can get it where it needs to be, which is at a studio or a big production company and getting MADE.
Good job Alex!
Script link taken down.  Shit is happening.
[ ] what the hell did I just read?
[ ] wasn't for me
[ ] worth the read
[x] impressive (TOP 10!!!)
[ ] genius
What I learned: The ONLY thing that annoyed me the entire script! I don't like it when writers put their opinions in the action text. The only opinions that should be coming out are those of the characters. Look, I'm not a Katy Perry fan either, but I don't want to know that you, the writer, aren't. That's not what scripts are for. The only time I was taken out of this entire script was when I read, "KATY PERRY or some other POPPY RADIO TRASH plays through the store's P.A." It was the only time I stopped and thought about the person writing the story. Which was a CRIME because I was so damn sucked into this story otherwise. So even though I love you Alex, don't do this anymore!