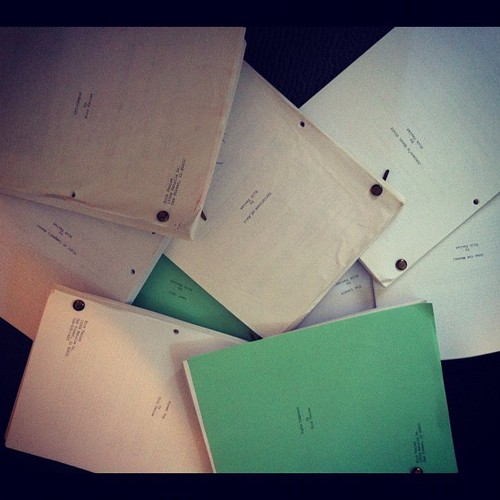 We had a worthy winner last week. Let's see if we can do it again!
Here's how Amateur Offerings works: Read as many of this weekend's scripts as you can and vote for your favorite in the comments section. Winner gets a review next Friday.
If you'd like to submit your own script to compete on Amateur Offerings, send a PDF of your script to carsonreeves3@gmail.com with the title, genre, logline, and why you think your script should get a shot.
WEEKEND DEAL! Also, I've got a sweet SCRIPT NOTES weekend deal for you. $100 off any script consultation package. Well, except for the logline consultations, which are $25. I suppose that would mean I would owe $75 to anyone who signed up. Probably not a smart business decision. Anyway, if you want to sign up for a script consultation or a logline consultation, e-mail me at Carsonreeves1@gmail.com with the subject line, "CONSULTATION!"
On to the showdown!
Title: Bleak House
Genre: Horror
Logline: A preacher is placed inside a legendary haunted house where he must kill six members of his church in order to save his daughter from a dangerous criminal bent on revenge.
Why You Should Read: (note from Carson: The below text was spread out with lots of line breaks but I combined it into one paragraph so it didn't take up the entire post) If this looks like something for you then please give this a read. It's an elevated genre film that tackles social issues like the recent GET OUT did. Yet, this is more irreverent in its tone/characters. It has a great core question of: "As a parent would you be able to take another life in order to save your own child?" That central emotion is what will drive every reader to question how far their love would extend to save a loved one. Well pondering that question – you will be entertained every step of the way with its quirky characters. Like our lead JONAH who is a Tony Stark/Jordan Belfort type of flawed character who may not always make the best choices yet they are relatable one's. This story is for every human being who is angry, heartbroken, who's been shafted, who's lost everything, who's been ignored, not heard, lost, who is the outcast…who want to see real CHANGE. I have heard you and your feelings are reflected within this yarn. For the easily offended – note – It IS controversial…and errrr… no …I ain't going to apologize. The TRUTH will set you free and unfortunately, sometimes it BITES. Judge for yourself. Have an opinion. Above all else…for those who've been searching for a place to belong… This is YOUR home… WELCOME HOME.
Title: Miss Fury
Genre: A female-led action thriller
Logline: A highly skilled group of female vigilante assassins, known as 'the council', must overcome brutal odds, to take down the deadliest human trafficking organization in America.
Why You Should Read: Thanks for taking the time to read my submission guys. I'm a horror writer, usually. But, decided to have a blast at the action genre. I've written many drafts to get it to this point, and would love to hear what Carson, and the rest of the site thinks about it. I really appreciate it guys, thank you.
Title: Lineage
Genre: Action/Comedy
Logline: A pregnant superhero struggles to complete a final, career-defining mission while losing her powers to her developing child.
Why You Should Read: By bringing a fresh perspective on the superhero craze, this screenplay became a finalist in the Industry Insider Screenwriting Contest. With its slyly humorous take on the mid-life crisis of an aging superhero that doesn't exactly have her act together, the script is a cross between Bridesmaids and The Avengers.
Title: Bury Your Dead
Genre: Western
Logline: A young girl joins forces with her womanizing, alcoholic father who abandoned her years before, and a group of escaped slaves to track down the confederate soldiers who murdered her family.
Why You Should Read: This western won first place in the Script Pipeline contest last year. Matt at SPL said my latest (and much improved) draft was the best western he's read in 10 years. Then he went on to say the only thing holding it back is that it's a western. Well, shit! The producer of Bone Tomahawk, who is also producing a new movie with Mel Gibson and Vince Vaughn, said he really enjoyed it and asked if it was still available. So I have my first meeting today (Tuesday June 6th). By the time it's up for AOW (if I make the cut) I should have an update. So while I love the script and the characters, and while I also feel it's strong overall, I know it's not perfect and a work in progress. That's where Carson and you lovely people come in… and with your help I know I can make it stronger than it is, give eyes to the weaknesses that I may have overlooked. Stuff to cut, stuff to expand, stuff to improve, etc. I also want to test the waters and see how people as a whole feel, react, and respond to the story and the characters. Hopefully this sees Saturday for voting and Friday for reviewing. I also promise to be part of the converation, which a lot of these AOW writers don't seem to do. Thanks for reading and giving it a shot!
Title: Disbelief
Genre: Surrealism/Horror
Logline: Two friends take off on a road trip to college, several states away, and decide to take a myriad of drugs while going through the desert on the way. The morning after this binge, they find themselves stranded in the middle of the desert, their car's gas tank empty. What follows is a horrific, confusing, and uncooperative series of events that constantly rage against our characters, as they struggle to survive in the desert.
Why You Should Read: My name is Liam McNeal, I'm a twenty year old film fanatic from Washington state. This is my third screenplay, and it's the most experimental of all of them. It's a little wild, and deliberately avoids expectations, so it can tend to be a little off-putting, but I have faith in it. It's absurd and a little unbelievable at times, but, as Paul Thomas Anderson said when confronted with similar accusations on Punch-Drunk Love, "If everyone else in town starts fucking doing that, maybe we'll have some movies to watch." Suspension of disbelief is an important element in filmmaking, and the purpose of this screenplay (again, experimental) was to try and see the boundaries of that, without totally breaking the relationship with the viewer. It's betrayal after betrayal. I can understand if you or anyone else doesn't like it, but I'm sticking with it, and I'm hoping to get some constructive criticism (which I will no doubt cherry pick) out of this experience. I realize that this may be contrary to the philosophy of your site, and I respect that, but my interests do not lie in selling, they lie in the art of the project. I don't care about making money in this project, I just want to make something that is at least somewhat good. Unlike my previous screenplay (very long) this one is very short, but contains a lot of segments without dialogue.