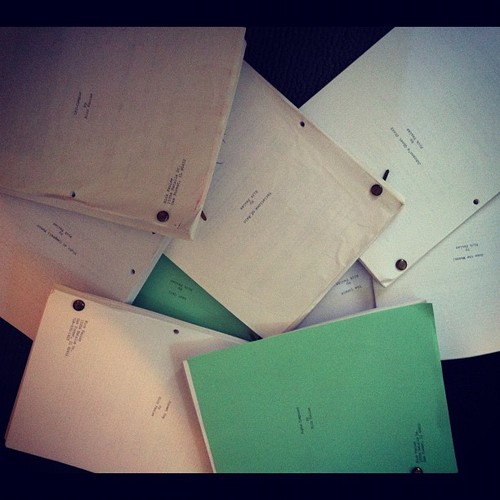 I'll start today's Amateur Offerings out by offering a couple of tips.  It's funny because the things I assume are common sense are mistakes I keep seeing over and over again.  First, when you're submitting a script anywhere, don't start your e-mail with "To Whom It May Concern." Know where and who you're sending your script to and address them personally. In a world where people are so busy that they're looking for every excuse to say no, an informal greeting gurantees your query won't be read. In addition to this, please know the difference between words like "it's" and "its" and "who's" and "whose." I will, without hesitation, dismiss these queries as soon as I read the misused word. This may seem cruel. But my experiences have taught me that these are always the sloppiest scripts.  Okay, here are this week's contenders!  Read and tell us what you think in the comments.
Title: New Coke
Genre: Comedy/Drama
Premise: In 1985 the Coca-Cola company made the epicallly boneheaded decision to discontinue its original flavor in favor of a newer, sweeter one. A national nightmare ensued, which forever changed the destinies of three southern families.
Why You Should Read: It's a mostly true story about one of the most fascinating marketing cases of modern times. Yes, it could be considered a long commercial for Coca-Cola, but it worked out for "The Lego Movie", didn't it?
Title: Wars of Eternal Spring
Genre: Martial arts/Asian epic
Logline: A rebellious-minded woman in ancient China seeks the help of Shaolin to save her village from a love-obsessed General and his bloodthirsty Captain.
Why You Should Read:  I'm a 44 year-old soccer mom who secretly loves kung fu. There are a lot of us out there – sneaking into Man of Tai Chi after the lights go down; snagging a $5 copy of Ip Man at 2nd & Charles so the Netflix queue stays "clean." Every day we chauffeur, tend, cook, coordinate and cajole while desperately longing to settle things with a swift scorpion kick.
"Wars of Eternal Spring" took shape after the perfect storm of a "fu-binge," Robert Downey, Jr. interview and spur-of-the-moment Google on "Wing Chun style." Not long afterwards I read that Keanu Reeves was looking for his "next story" to direct. Filling needs is practically my raison d'etre these days, so the off-hand words of a man I'm never likely to meet were more than enough to fuel a feeble flame and get writing.
I gave myself a year. I even told my therapist. In between writing bouts I read screenplays and books on creative processes, story structure and character development. I searched high and low for a critique group. All the while I worked, re-worked and started to get a sense of how much time, realistically, writing anything worthwhile takes.
I believe that the biggest room in the world is the room for improvement. Your professional, experienced review would go a long way toward helping me do that. Thanks in advance for your consideration.
Title: Lights On The Lake
Genre: Sci-Fi Thriller
Logline: When a young woman fails to convince a small town that a former Nazi scientist is responsible for the death of her husband, she decides to destroy the menace herself.
Why you should read: I've spent a few years researching MK-Ultra and other Cold War mind control experiments from the early-1950's. What I found most fascinating was the shadowy personnel employed by the government agencies as well as the strong resistance of the local populations, even though many of them where being completely misled by authorities.
Title: West Carver High
Genre: Horror
Logline: After all the teachers of a small-town high school disappear out of thin air, the students find themselves trapped in the building with man-eating wendigos… and no one is coming to save them.
Why You Should Read: You know what I hate in horror films? Dumb teenagers. I'd like to think this script is mostly absent of that, at least as far as "hey guys let's put ourselves in danger because reasons!" I also wanted to capture how a group of teenagers would react in the face of an extraordinary, otherworldly event with no adult oversight. In this case, much of the student body reacts in a horrifying way: by building and supporting a monstrous social hierarchy just as threatening as the "real" monsters hiding in the school. I pitch it as in the vein of THE SHINING and LORD OF THE FLIES. Oh, and one more thing: an older draft of this made the semi finals in the Creative World Awards — so I'd love your perspective to help bring this script to the next level. Thank you!
Title: Condemned
Genre: Horror
Premise: Controlled-demolition experts tasked with bringing down an eerie grand hotel awaken the deadly supernatural force inside, putting them into a fight for their lives to escape (It's the Overlook Hotel from THE SHINING meets explosive experts).
Why you should read: Since our last Amateur Friday appearance, we've been working hard to hone our craft and learn from our shortcomings on THE HOSTAGE. Have we made forward progress? We're hoping Scriptshadow fans would like to know! Our latest collaboration, CONDEMNED, works in the same low-budget horror realm as THE HOSTAGE, but (hopefully) has richer characters and more satisfying surprises. Is the second time the charm? (Although, to be clear, the first time was definitely a charm–Scriptshadow got that script optioned.