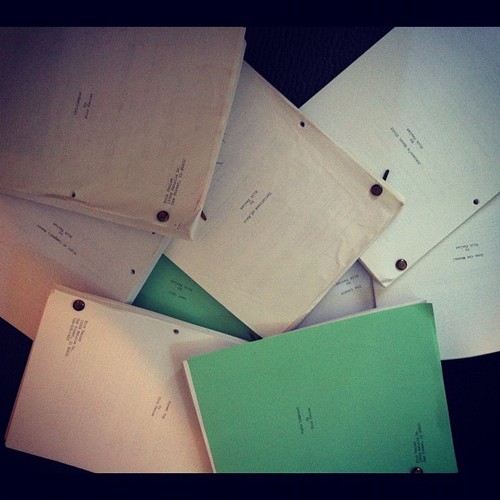 You know the deal. In between writing scenes for your Scriptshadow 250 entry, sample today's amateur offerings and help the writers with some constructive feedback. Also, vote for the winner at the top of your comment.  If you only have time to read and help one writer this week, check out I Shall Be Released.  I don't think I've ever known someone to be so passionate about a screenplay.  Greg really cares about making this script the best it can be and he's a dedicated Scriptshadow reader and fellow commenter.  Good luck to him and everyone else!
Title: I Shall Be Released
Genre: Drama / Biopic
Logline: Losing his voice to cancer, Levon Helm reflects on his life with The Band, and how their meteoric rise to fame comes with a heavy cost.
Why you should read: I grew up listening to The Band. Not from the dull playback of a stereo, but from backstage at the concerts my parents would bring me to, and from the comfort of Levon's living room when we went to visit. My family shared a close relationship with Levon, Rick, and Richard for over thirty years. When I left college, Levon told my father that he would do anything for me, and suggested I consider pursuing a book or film with him. Now that our friend has passed, I want nothing more than to secure his legacy, and bring the personal insights I have into the man to the silver screen, so that he, his music, and the impact he had on a generation of rock and rollers can live on.
Title: The Beard
Genre: Sex Comedy
Logline: After landing a reality TV show on Bravo — the gayest network on television — a straight YouTube star, whose popularity hinges on the world's belief that he's gay, hires a "beard" to keep up the front. Suffice it to say, things don't go as planned.
Why you should read: In the wake of R-rated comedies like Neighbors, 21/22 Jump Street and This Is The End — films that absolutely cracked me up — I set out to flip the bromantic comedy on its head while sending up reality TV shows for good measure. Thus the concept behind THE BEARD was born, and I gotta admit, it was a shitload of fun bringing it to life. I wrote the first draft pretty quickly and submitted it to Carson for a consultation. He thought there were some issues with the execution, but overall, he thought the script was "very funny" (which he says is rare). The biggest problem he had was that he didn't care for any of the characters. So I've revamped the structure and streamlined the execution, and tried my best to make unlovable characters lovable. Now I need a second opinion! :) Basically, I need to know if the humor and execution of the story makes up for its unsympathetic characters. Please give it a read and let me know what you think. But be forewarned: This script is VULGAR with a capital V.
Title: Thy Enemy
Genre: Action/Thriller
Logline: After learning his estranged brother is a spy, a disgraced FBI cadet goes rogue to stop his sibling from detonating an experimental nuke in New York City.
Why you should read: In 2011, I met Shane Black. We were both waiting at a crosswalk after a lecture he gave. I dared to ask him a question: "What's your biggest fear when you open up a script?" He thoughtfully replied: "Interchangeable action scenes that don't affect the story or characters. I see it all the time and it saddens me. Set pieces must have consequences or what's the fucking point." The light changed. Shane was gone. I never forgot his words while I wrote this beast of a script. Thanks, Shane. — And thank you to all of Scriptshadow's contributors. Readers here deserve a lot more back and forth from candidate writers. Don't see enough of it. So, if picked for AOW, I 100% guarantee that I'll be available to interact with readers. No excuses. It's the least I can do for a community I've benefited so much from.
Title: Blind Curves (AKA "The Shot")
Genre: Crime/Thriller
Logline: After accidently killing a female hostage during a botched robbery, LAPD Officer Michael Egan is exiled to a small desert town, where he's forced to deal with his estranged daughter and face his greatest fear come true.
Why you should read: This script has tortured me for the past four years. Just when I thought it was "finished", I'd get feedback that would prompt another rewrite. Last year, this script made it to the quarter-finals in the Bluecat competition (Top 5% of over 4,000 submissions). I was elated but knew deep down why the script didn't place higher. It became my poster child for the adage "learn to cut your darlings" and I shelved the script for nearly a year. The script continued to plague me, I knew what needed to be fixed but resisted making the change. Finally, I broke down and dismantled the whole thing and did what needed to be done. This script is the result of letting go, listening to your gut and not being content with just getting to "Fade Out".
Title: Be a Hero
Genre: Action-Comedy
Logline: After accidentally killing a beloved vigilante superhero, a smartass slacker takes over as defender of the city to cover his tracks, but soon finds himself being hunted by a psychotic crime lord.
Why you should read: Well, I'm a young, fairly inexperienced screenwriter looking to kickstart my career. I believe you should give my script a shot because have you ever met someone from Ireland who wasn't talented or awesome? No, of course you haven't. We're a wonderful people. But while we have a talented, artistic and creative population of ginger alcoholics, we're also a country that often gets overlooked on a global level. This is especially true in the film industry. We have so much to offer, with so little opportunity. So, this struggling ginger alcoholic would kindly ask that you do his career a major favour by checking out his little screenplay. I would be ever so appreciative, and I think you'll enjoy the script if you give it a chance.