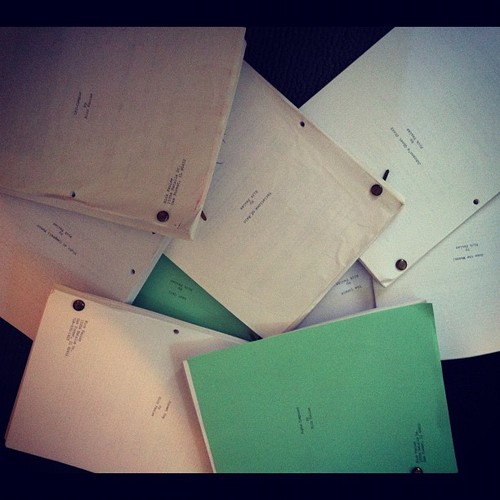 Read as much as you can from each and let me know which script I should review!
Title: Midas
Genre: Science Fiction
Logline: A teen who seeks vengeance against his treasure obsessed father joins a rogue spaceship on its hunt for a legendary asteroid of solid gold.
Why You Should Read: "I was recently told that Hollywood only makes this kind of sci-fi if it's based on existing IP. Ironically the expert that told me this cited Star Wars and Star Trek as examples, ignoring the point that both of those come from original stories developed for the screen. So this is a dead end script, unless someone reminds Hollywood that they used to take chances on scripts like this, and sometimes those chances paid off in a really big way."
Title: Monster's Holiday
Genre: Christmas Fantasy/Comedy
Logline: Terminally single Merrily Campbell, a female music executive, is a modern-day Scrooge. But life changes for her when she meets an overly optimistic orphan, his alter-ego (a devilish, seen-only-by-her angel), and a pompous, powerful businessman — all determined to help her renounce her holiday hating ways.
Why You Should Read: I saw your review for the Otis Kringle Hates Christmas script, and no offense to the writer, but I think I've written a better Christmas script! That's right, I'm throwing down the Christmas script gauntlet. I grew up watching movies like this, and while they can be as corny as hell, in a world full of crazy, if done right, they can offer an enjoyable welcome respite. The truth is, I read your site every day, but don't comment much, because I am so busy learning and taking in what others on the site have to say. I'd love to know what they have to say about my script, Monster's Holiday. While I was a semi-finalist in a well-known Screenwriting Competition a few years ago and I was a semi-finalist (top 33/500) for a studio fellowship program last year, I can't seem to break through. I feel I'm on the right track with my writing and storytelling, and I'm wondering will this script help me get my foot in the door, or will I end up with a broken foot when door after door gets slammed on it? I challenge the Script Shadow Nation to decide if this script could possibly be the one to help jumpstart my screenwriting career. I am super excited about discussing my script with them on your site.
Title: Super Epic
Genre: Comedy
Logline: A closeted superhero wrestles with both of his secret identities, as the world embraces his superhero alter ego but his friends and family can't accept the man behind the mask.
Why you should read it: I saw that The Almighty Stud got really negative reviews based on the fact that it conveys a misogynistic message and displays a gay character that perpetuates the flawed association between homosexual men and predatory inclinations. So, why not offer a superhero screenplay that does the opposite of all that? My protagonist is a gay superhero that challenges the stereotypes, it has a cool feminist superheroine and the villain, although in a first moment seems to be just like The Almighty Stud villain, actually hides a secret that mocks through subtext the current trend among certain men of demonizing feminism and feminists.
Title: The Killing Man
Genre: Western/Thriller
Logline: A bounty hunter pursues an elusive serial killer through Gold Rush San Francisco, but the line between hunter and hunted starts to blur in the ultimate fight for survival and redemption.
Why You Should Read: THE KILLING MAN is a unique entry in the Western genre. It has a strong protagonist, the type of character most A-listers would love to play. It is not your typical shoot-em-up either. The supporting characters, the dialogue, and the tone of the script also leave a strong impression on everyone who reads it. THE KILLING MAN is a quick read with numerous historical references that don't bog down the story, but instead give it a singular identity. I have written several screenplays, but I am most attached to THE KILLING MAN. I hope you will give it a read and find out why.
PAGES: 102
Title: Intelligent Design
Genre: Crime/Horror/Sci-fi
Logline: While investigating a gruesome vampire-like murder, an NYC Detective gets in way over his head when he discovers that his prime suspect has been dead for over twenty years.
Why You Should Read: Because you might like it.
About me: Been a writer/director for about 7 years. Done 3 shorts and a feature. Am about to have a sci-fi thriller optioned (lawyers and producers are ironing out the details). If all works out, it will have a low 7-figure budget. Fingers crossed.