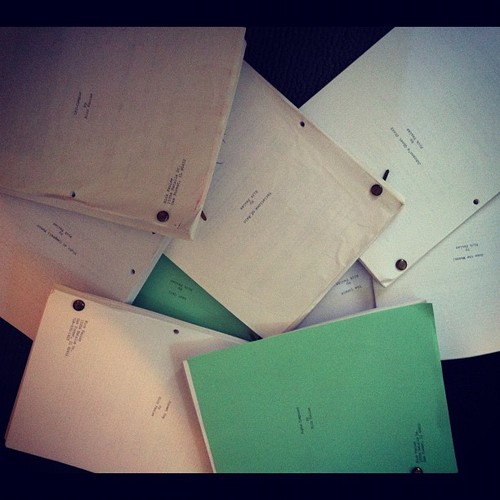 Read as far as you can and vote for your favorite script in the comments.  Feel free to help the writers out with constructive criticism.  And please make your vote clear at the top of the comment.  Enjoy!
Title: The Baltimore Plot
Genre: Thriller
Logline: Based on true events. When Allan Pinkerton discovers a plot to assassinate Abraham Lincoln before his inauguration, the legendary detective and his most trusted operatives must race against the clock to prevent the murder of the president-elect.
Why You Should Read: When we came across this story, we were amazed it hadn't been made into a film yet. Starring the most famous American president in history, the most renowned of real-life sleuths, and the first female detective in the United States.
Title: The Dead and the Drawn
Genre: Western/Horror
Logline: In Texas, 1887, a lone gunslinger reluctantly escorts survivors to sanctuary during the aftermath of a zombie epidemic.
Why You Should Read: It's the tried-and-true, harrowing, horrifying tale of random people working together to survive the zombie apocalypse. Only this time, it just so happens to take place during the era of six-shooters, lawless individuals and colonization of the American Frontier. I've always been fascinated by Westerns, particularly because they involve adventurous characters actively moving from one location to the next. Those are the kinds of movies I love, and that's the kind of movie I envisioned this script to be. Hope you enjoy.
Title: Rough Head
Genre: Crime/Drama/Sport
Logline: Irish Fighter Rory Wilson has absorbed so much punishment in the ring he is now more monster than man. On the run from the IRA his estranged brother follows him to America where they crash head on into Boston's underworld.
Why you should read: Battle of the Fight Films! When I saw the review for Southpaw posted i just had to have a shot at it. As a writer I'm at the top of my developmental curve. As the years pass I'm no longer improving at any great rate – so if I can't get this going I am pretty well stuck in amateur armageddon. Probably it's a bit like a sprinter than does the 100 meters in 11 seconds – it's fast but not fast enough to make it. It's not like you can get new legs – or in writing terms a new brain… Carson I give you the privilege of putting me in the game – or knocking me out!
Title: Once Upon a Time in the North
Genre: Family/Adventure
Logline: A gritty origin story of Santa Claus, in which Old Nick, a grumpy, reclusive miner, goes up against Krampus, an evil goat demon and ruler of a fantastical North, who steals a child every year on December 24th. Frozen meets Raiders of the Lost Ark.
Who We Are and Why You Should Read Our Script: We're both playwrights and performers. We've been co-writing comedies for the stage since 1998. Our most notable credit is Toothpaste and Cigars, which was adapted into the feature film The F Word/What If – which featured on your site before it was produced. — Once Upon a Time in the North has some similar comedic sensibilities, but belongs to a radically different genre, which makes it harder to get people to read the thing. It's adapted from a stage version we wrote of the same story, which enjoyed great success. Our goal was to capture the excitement of the adventure movies we loved growing up – Star Wars, The Goonies – with jokes both adults and kids would enjoy, all grounded in a solid story, a la Pixar.
Title: The Devil's Footprints
Genre: Thriller/Horror
Logline: In 1850s England, a condemned criminal joins an expedition to defeat the supernatural force behind a string of grisly murders — a killer suspected to be the Devil himself.
Why You Should Read: This screenplay recently won the grand prize in the 2014 ScreamCraft Horror Script Contest and has also earned a score high enough to be featured on the SpecScout website. Despite these accomplishments, The Devil's Footprints has had some polarizing reviews and I would love YOUR take on it. I honor and respect your opinion and believe a review would be immensely helpful.