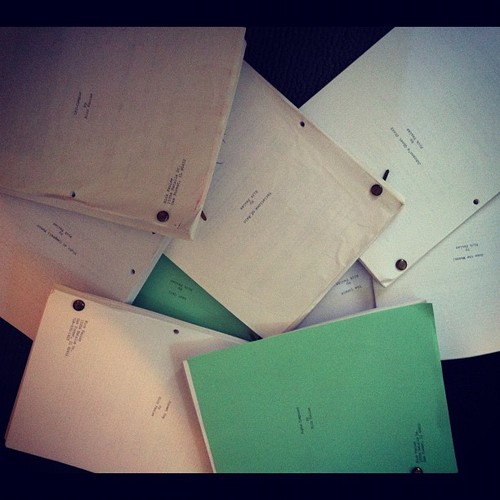 Five amateur screenplays.  Read and tell us which one you liked best in the comments section.  The winner gets a review.  Also, feel free to offer constructive criticism to the writers.  
Title: Molniya 7
Genre: Sci-fi, Adventure.
Logline: A reckless American astronaut risks everything to save seven world leaders trapped on board a crippled Russian space station before it crashes to Earth.
Why You Should Read: Hi Carson, my name is Tony and my passion for movies and screenplays spans decades. I've analyzed hundreds of works and read dozens of books on the craft — especially your book, which is the best ten bucks I ever spent, (wink, that's worth a read, right? )
Your mission, Carson, should you decide to accept it, is to open the attachment to this email and immerse yourself in this high concept adventure about ingenuity, human spirit, and the will to live. I've kept the read under 100 pages, yet made sure every character has something to do — actors will love this, and I guarantee you that there is stuff in this screenplay that even you have never before seen. — As always, should you or any of your subscribers be caught or killed, the secretary will disavow any knowledge of your actions. This email will self-destruct in five seconds. Good luck, Carson.
Title: Quiescent
Genre: Sci-Fi Adventure
Logline: After a long-dormant Atlantean power station buried under Manhattan for thousands of years transforms the city with a mysterious time-meshing force, a vision-haunted Native American tunnel worker, a Columbia geology professor and his beautiful assistant team up with a hardened CIA agent to shut the pyramid down before it destroys the planet.
Why You should Read: Quiescent is a labor of love that took me years of research and a ton of rewrites to complete to my satisfaction. A sci-fi action adventure with a strong male and female protagonist, rich in history, memorable characters and deep metaphysical undertones. The threaded mysteries of time, ancient Atlantean technology and Native American spirituality make this tale an exciting thrillride.
Title: The Battle of Mirbat
Genre: War / Action
Logline: A retelling of the 1972 battle in which eight special forces soldiers defended an Omani town against 400 heavily-armed guerillas.
Why You Should Read: Described as a latter-day 'Zulu', the Battle of Mirbat is an incredible account of valor in the face of overwhelming odds. Classified for over thirty years, the soldiers' mission has only recently become public knowledge but hopefully this script will bring their remarkable tale to a wider audience.
Title: Hadleyville
Genre: Western
Logline: An idealistic Easterner journeys to the burgeoning Western frontier where he falls for a prostitute and gets in the wrong with a powerful businesswoman, forcing him to learn how to leave his idealism and civility east of the Mississippi.
Why You Should Read: While I know the Western isn't (and hasn't been for arguably 40 years) the most topical, profitable, or popular genre it used to be, it still has a certain appeal for writers looking to explore ideas that other time periods aren't necessarily designed for. The lawlessness, the encroaching border of a growing nation, the differences between Eastern civility versus frontier survival: Where else but the Western can you touch upon these concepts?
I've been writing screenplays for about five years now (and have a B.A. in screenwriting if that means anything…). I've had two features optioned and was hired to re-write a feature — all by indie producers looking for ever elusive financing. On top of that, I've been a quarter-finalist, semi-finalist, and finalist in national contests, including BlueCat, Big Break, and Table Read My Screenplay. Hadleyville, in fact earned me a spot as a finalist in The Black List's 2014 Cassian Elwes Independent Screenwriting Fellowship — I'm sure the fact that it's one of the (if not the) highest rated Western on blcklst.com gave me a leg up there.
The point is: I know how to write a screenplay, good ones even, but I'm looking to heave myself over the hump into the lands of "Very Good" and "Great." I have my degree, hours of writing and reading scripts, and tips from Script Shadow to improve my writing — but there's something I'm missing. Something I can't get a bead on. And I have no doubt that you (and fellow Script Shadowers) can lead me into the sunsetting happy ending.
Title: The Irish Rover
Genre: Comedy
Logline: Looking to connect for the first time, a son and his drunk, crotchety, dying Irish father take an epic journey to Ireland to get him laid for a final Father's Day goodbye fuck. Mayhem, whorehouses, shootouts, and rollicking celtic music all ensue in the process of this father and son finally coming together.
Why You Should Read: Fred Seton and I wrote this about two years ago. We took this to only one producer (who we love), got him attached, and the project fell apart. It's just been sitting collecting dust ever since. Fred wrote "Pierre, Pierre" and recently had his script "Kid Leviathan" that he wrote with Peter Hoare on the Hit List. "The Irish Rover" is a raunchous romp of an Irish R-rated comedy that was originally dreamt up for Robin Williams and Chris O'Dowd to kill it in. The script is insane, wild, got heart, and beers for everyone. It's a place where you'll find Van Morrison, The Pogues, the Dubliners, and Ween all getting hammered and playing at the bar. Cheers to the Blarney Stone!