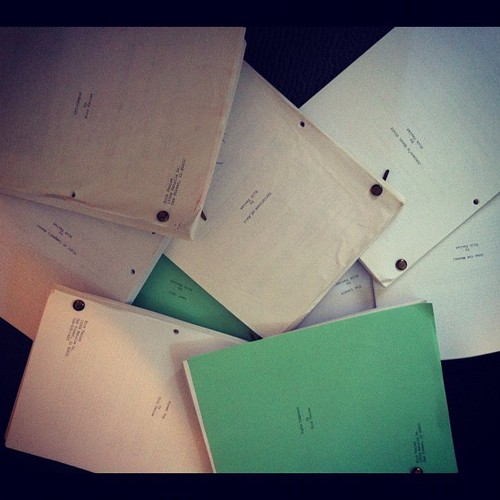 James Bond has a secret.  Transformers spin-offs are coming.  The Scriptshadow 250 deadline is four months away.  Add that all up and divide it by two and you get… Amateur Offerings!
Title: FIELDS
Genre: Sci-fi Thriller
Logline: When a group of dysfunctional teenagers are thrust through a gateway into a dangerous alien world, they must race to escape before the gateway closes forever.
Why You SHOULD Read: So this is screenplay number 12 for me. Needless to say, I'm really hoping this is the one. It's the product of just over a years work. I've stressed and struggled to deliver an adventure that not only makes the audience clinch at their armrests, but allows them to watch relationships develop against the theme of perseverance. Thanks and good luck to the other writers.
Title: The Runner
Genre: Action / Adventure
Logline: Back-stabbed by his employer and marooned in Mexico, a tough, drug-running pilot struggles to fly himself and the family that rescued him back to America alive.
Why you should read: Growing up on the border, there are lots of crazy stories you hear about trafficking (mostly from your friends that are doing it). With this story I wanted to take a lot of that raw material and structure it with an action adventure spin and a solid protagonist while still having some of the authenticity of experience. It was a trickier line to walk than I imagined, but I've gotten a lot of positive feedback about the script so far so something must be working. I'm excited to see what the SS readership thinks (and if they think I pulled off the balancing act) and I'm pumped to use any and all feedback to keep improving the writing!
Title: The Demon Within
Genre: Horror / Psychological Thriller
Logline: After witnessing the brutal massacre of her family and undertaking years of institutionalized psychiatric treatment, Karen Reed returns to her secluded childhood home where she discovers her parents may be involved in a devilish secret.
Why You Should Read: I'm a self-taught writer that enjoys old fashioned horror movies. I was a horror geek as a kid back in the 80's. I used to visit the old VHS video stores, staring at the beautiful covers on display but never having enough money to pay for them, or being old enough to rent them for a night or two. When my dad would allow me to see them, he'd pay the rental fee and that movie with the awesome movie cover was mine. — The Demon Within is a throwback in someways to those moments and a homage to the 70's ABC movie of the week. It's House Of The Devil meets Amityville. It's Crowhaven Farm catching up with Burnt Offerings and then inviting Rob Zombie over for a glass of wine. Get to the ending. You'll see.
Title: Mad Muses
Genre: Sci-fi
Logline: A group of troublesome psychiatric patients band together to destroy their sadistic android nurses.
Why You Should Read: I'm in desperate need of honest criticism. I'm surrounded by non-readers or family/friends who are completely love-biased and only provide encouragement and compliments which is wonderful for my ego but doesn't aide in my progression as a writer. Mad Muses is a lighthearted and witty depiction of mental illness, the focus is placed on character relationships and action so that even non sci-fi fans will be able to enjoy this story.
Title: Roomies
Genre: Comedy
Logline: When a sister he never knew existed claims equal rights to their deceased father's house and promptly moves in, straight-laced Jake is determined to do whatever it takes to get his childhood home back, while the presence of his out of control sister puts pressure on his marriage and threatens his dream of the perfect family.
Why You Should Read: I'm gonna keep it short. This is what I believe to be a fun and simple story in the same comedy sub-genre as "What about Bob?". — I was fortunate enough to have it read by a story analyst at Universal (mentorship through school) and, along with some great notes for improvement, he wrote: "What's most impressive is that you're genuinely funny – you've got that essential thing: the comedy gene." — That's only one man's opinion, so make of it what you will, but this section is for me to convince you to read it, so I'll use what I have. — I'm a frequent reader of the site and have the utmost respect for you and your knowledgeable community, and I would be honored if you would read it and help me improve this screenplay, as well as my overall writing.