NOTE: THE SCRIPTSHADOW NEWSLETTER HAS BEEN SENT! CHECK YOUR SPAM AND PROMOTIONS FOLDERS IF YOU DIDN'T RECEIVE!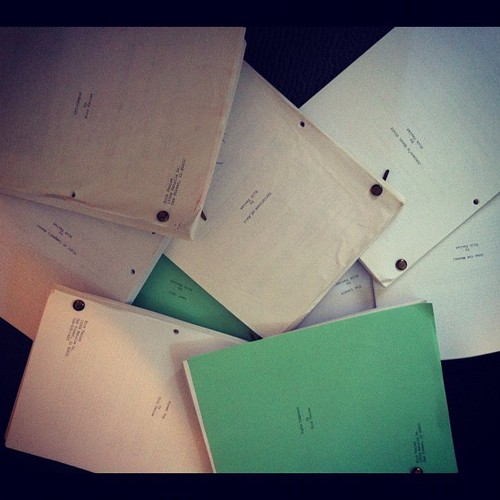 It's a delicious screenwriting Saturday.  Not only are you getting today's offerings, and not only are you getting your daily reminder to enter the Scriptshadow 250, but later tonight, the Scriptshadow Newsletter will be hitting your mailboxes.  Yaaaaay!!!  And I'll be reviewing a certain high-profile screenplay that is guaranteed to become one of the biggest movies ever.  So make sure to check your SPAM and PROMOTIONS folders later tonight.  And if you're not yet signed up to receive the newsletter, you can do so here!
Title: Miss Universe
Genre: Sci-Fi Comedy
Logline: A vapid beauty queen is abducted by aliens who think her title means she's Earth's ambassador to the universe.
Why You Should Read: It's "Galaxy Quest" meets "Legally Blonde." Deep space has never been more shallow (Carson note: When everyone pitched their ideas on "pitch your script day," this idea shot to the top of the list!)
Title: Time to Forget
Genre: Action/Thriller
Logline: A CIA agent whose memory has been erased is given four hours to assassinate the President of Palestine, but when he starts to doubt the validity of his mission, he finds himself hunted by authorities and mercenaries alike as he races to discover his true identity.
Why You Should Read: In the past Carson has written that theme and message are what tie a story together. In that sense, I've tried to knit this script up as tightly as possible. Rather than use amnesia as just a standard identity quest, I wanted to pose the question, "at what point does holding on to the past become damaging, and what is the cost of letting go?" In ways both direct and subtle, every major character is an expression of that theme. — Why else should you read? It's also an action filled, GSU-loaded, race against the clock thriller that doesn't get bogged down by its message or forget to have fun. Hopefully the SS community enjoys reading it as much as I enjoyed writing it.
Title: Street Sharks
Genre: Family / Sci-Fi / Action-Adventure
Logline: A timid college student and his three brothers search for their missing father until they are kidnapped by a technology mogul and mutated into superhuman sharks.
Why you should read: My partner and I are both college graduates looking to get into the screenwriting industry. We wrote this script intending to pitch it to the industry, but as this is our first screenplay we do not have enough of a reputation to acquire the film rights to the Street Sharks franchise. We realize there's no point in letting the script sit around, so we would like to receive feedback from you and the community on our writing. I hope everyone has as much fun reading it as we had writing it!
Title: Rose
Genre: Drama
Logline: After a rebellious slave falls in love with her master's step-son, the two attempt to run away together before she can be sold to a villainous new owner.
Why you should read: I started out as an actor, and got into writing around '08. I have two produced screenwriting credits (but don't let those fool you, I wait tables). Most of my work, to date, has been comedic. This script is not. I read Uncle Tom's Cabin in 2011 and a story with a female lead popped into my head. I was compelled to write it. People around me were like: what…? A story about slavery? You're crazy, Brooks. But, I wrote it. I know it's a Sisyphean task to get it produced but perhaps it can do well in competition. SS had been like a second film school for me. A great place to improve your script. So I submit it here to the Scriptshadow faithful today.
Title: Valentino's
Genre: Thriller
Logline: In a quiet New Jersey town, a struggling Italian family discovers bags of stolen mob money buried in the basement of their restaurant – and someone is coming to collect.
Why you should read: You reviewed this a few years ago for me. A first draft actually. You seemed to like it and I really liked the notes you had to give. I spent a few months on rewrites, submitted to the Blacklist where it did well with an 8. That reviewer really liked it as well. Ok. Great. Heard nada. Then this went into Warners last year and they passed. I'd never just give up because one studio passed. Hell no. But now what? — I've always loved this story and am ready to give this another look now that some time has passed. It seems to get somewhere then go nowhere. What is missing from this story to push it above par?