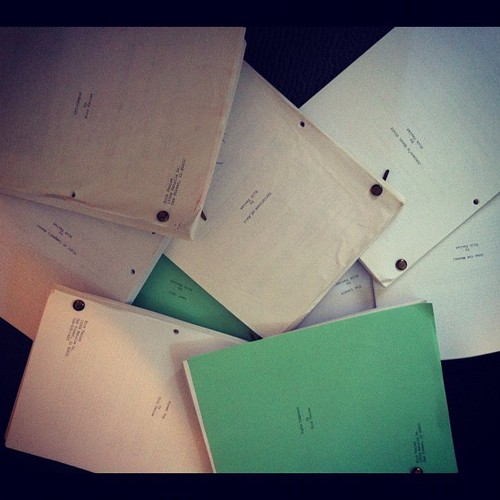 Congratulations to Logan Martin, the writer of "Meat," who just signed with Good Fear this week! They're going to go out with the script this weekend. So if you're a producer or financier whose interested in "Meat," make sure to get in touch with Good Fear by tomorrow.
Regardless of whether you liked the script or not, this is a win for screenwriters. Logan grew up in North Dakota and lives in Florida. So he's about as far away from Hollywood as an American can get. If he can get a legitimate shot, why can't you?
"Meat" is also a win for those writers with unique voices. I believe there are a lot of readers out there like me who are so sick of the current trend that they can't wait to read a script that's the complete opposite. And that's what Meat was. It was the anti "Female John Wick."
With that said, if you have a fresh take on a trend, by all means, I'm up for that too. In fact, I'm giving a Female John Wick a shot this week. Let's hope it doesn't disappoint! But mostly, I'm up for a fresh take on a familiar idea with intriguing/compelling characters who have to resolve some issues before their 100 pages are up.
How to play Amateur Offerings: Read as much of each script as you can and submit your winning vote in the comments section. Winner gets a script review next Friday!
If you'd like to submit your own script to compete on Amateur Offerings, send a PDF of your script to carsonreeves3@gmail.com with the title, genre, logline, and why you think your script should get a shot. Good luck!
Title: Siege Perilous
Genre: sci-fi/mystery/thriller
Logline: A UFO Investigator gets in way over his head when he stakes out a space observatory that has secretly recorded radio signals from another world.
Why you should read: Siege Perilous was a semi-finalist in the Page Awards this year. Didn't make the finals, but the feedback has been positive. Though it's a sci-fi thriller, the script is a love letter to kids who've grown up in a single parent home or just felt like they didn't know their place in the world. Tonally, it's a cross between Spielbergian optimism and Fincher's cynicism. Enjoy, I hope.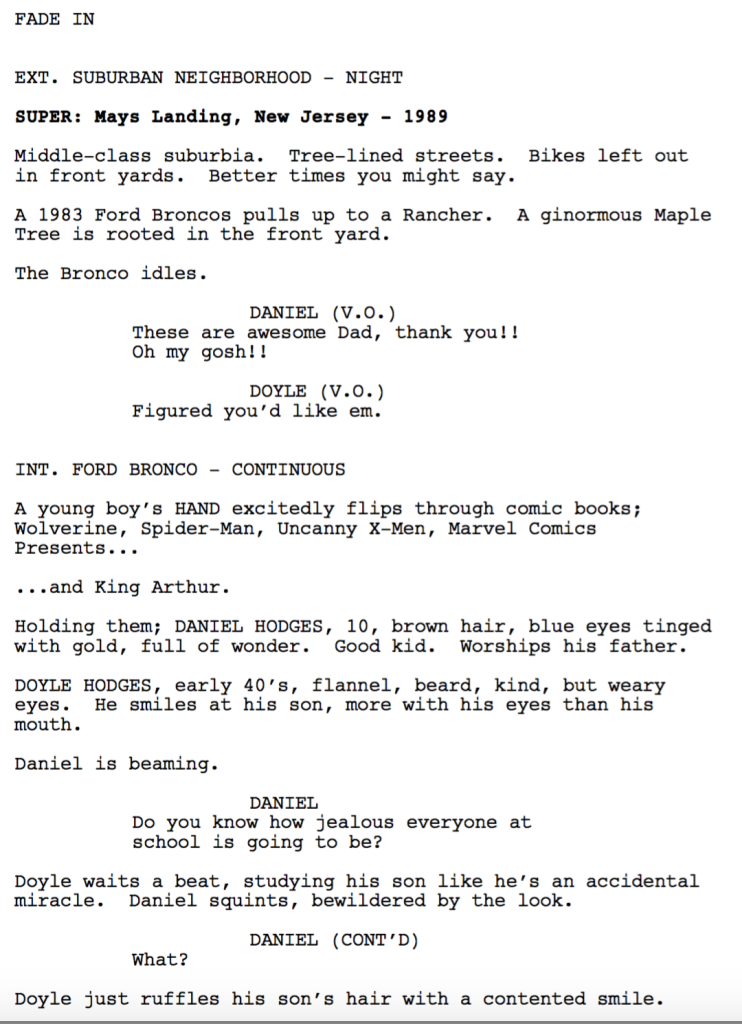 Title: The Seventh Rule
Genre: Contained Psychological Thriller
Logline: In order to save his kidnapped daughter and earn a chance at redemption, an abusive father is forced to work with and trust the stranger suffering from amnesia he has tied-up in his basement, even as it becomes increasingly clear that this man is involved in her disappearance.
Why you should read: We won't bore you with the details of contest finishes, though they do exist as we have been paying our dues for roughly a decade. All you need to know is that THE SEVENTH RULE won't disappoint you. It has GSU and is a quick and entertaining read. It is marketable with strong leads and limited locations. It takes risks (such as the first line of dialogue not being spoken until page 5), and we hope it forces the reader to take sides even if that gamble works against us later. We want you (and anyone else that reads it) to have a reaction. If you're not engaged and curious after the first 10 pages, we'll understand if you want to stop reading, but our bet is that you won't put it down. Enjoy!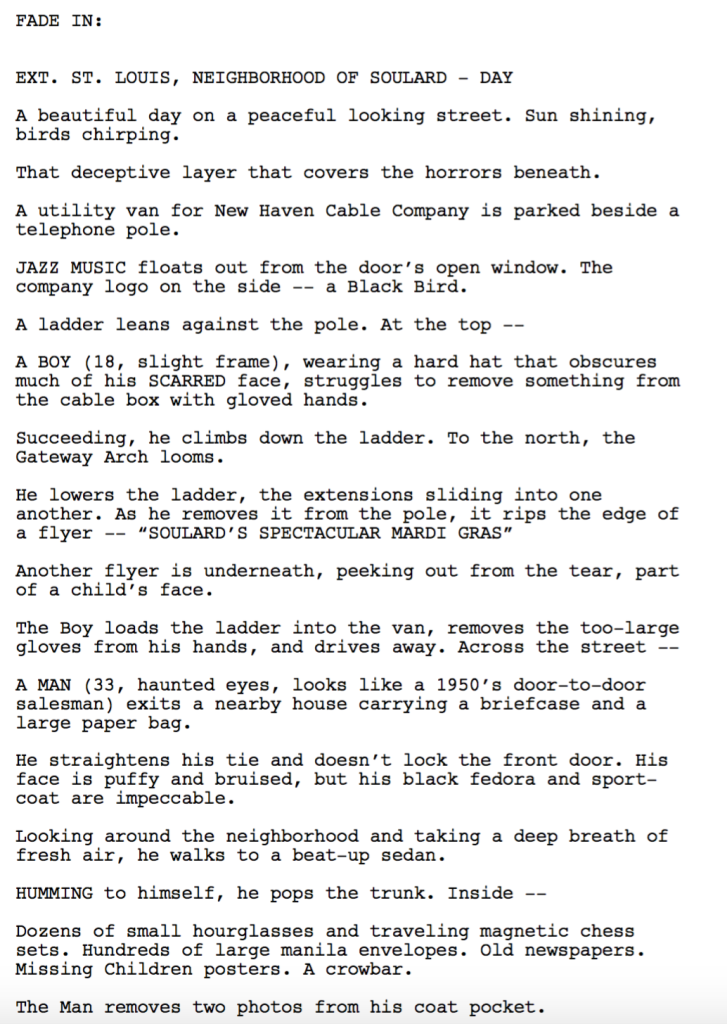 Title: 100 Proof
Genre: Horror-Comedy
Logline: Animal House Goes to Hell. A geeky college freshman joins a fraternity that's secretly run by a Lovecraftian cult.
Why You Should Read: Many moons ago, I was in a fraternity at a major party school and while I do not recommend anyone ever joining such an organization, I believe the experience provided me insight into the mindset of powerful, rich and predominately white men, such as the current US president. This script is a horror satire meant to skewer that mindset.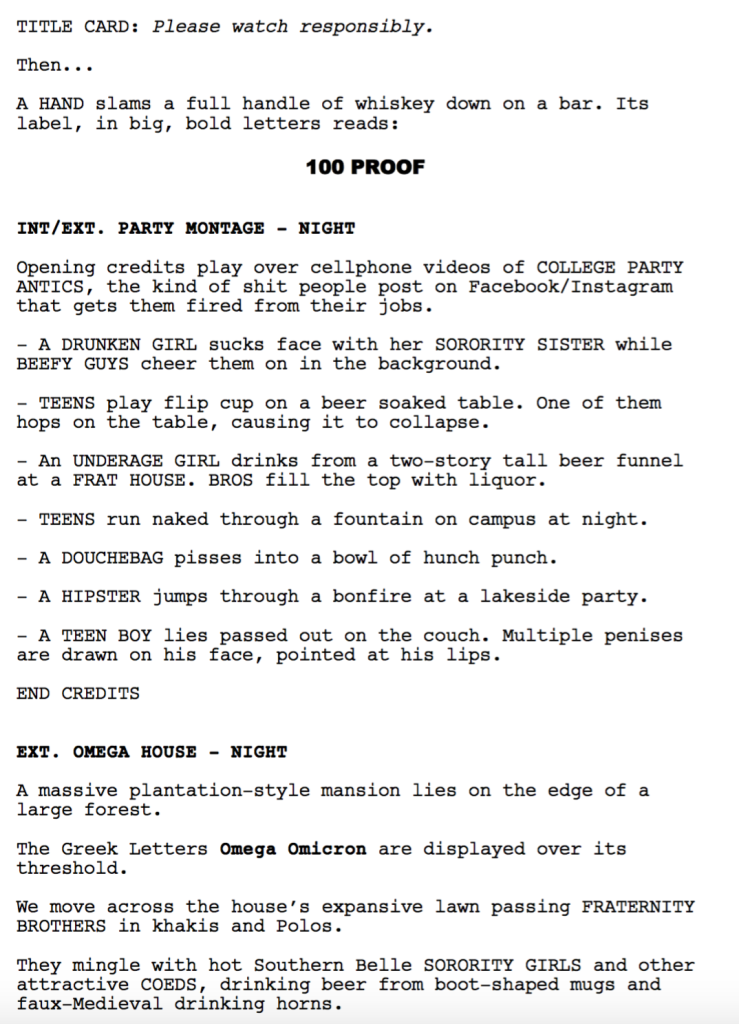 Title: CLUB LAVENDER
Genre: 1 hour DRAMA
Logline: Club Lavender follows a transgender cabaret singer forced to go undercover for the fbi to infiltrate a gay private club run by an alleged communist gangster.
Why you should read: My script received a recommend on the trackingboard.com in 2016 and yet nobody would touch it because it was too niche. This was when transgenderism was beginning to get mainstream news after Caitlyn Jenner's recent reveal. Now it's a year later and I believe it's the right time for more daring television surrounding controversial matters. Most importantly, my script exists in the new age of television and as such, takes a no hold's barred approach to the aspects of story realism and grit. So read at your own caution.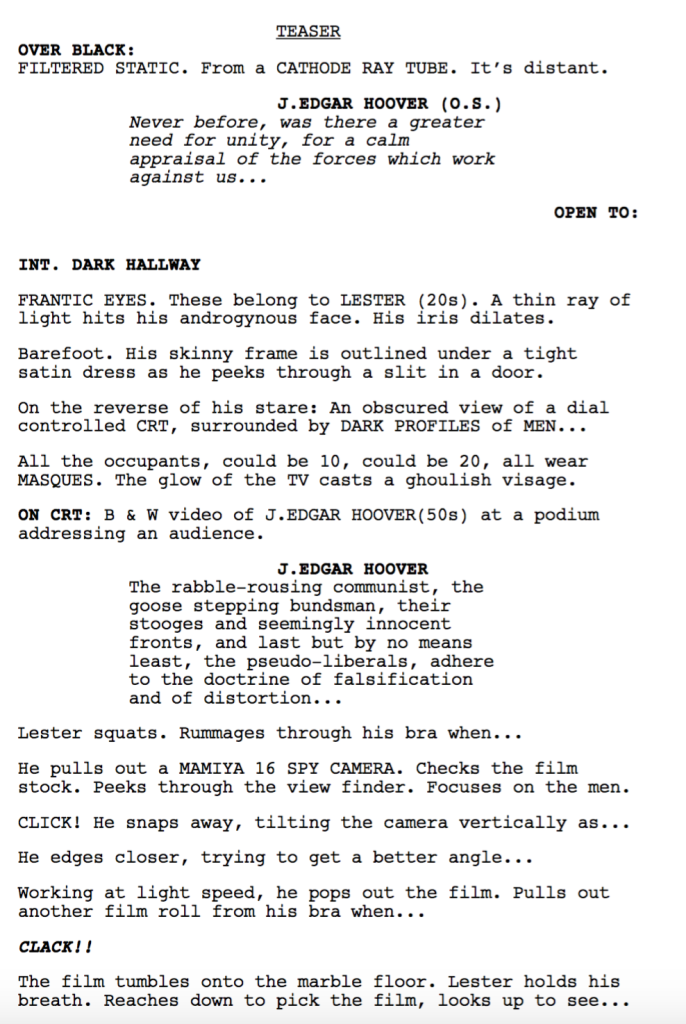 Title: A GOOD DEATH
Genre: Action/Crime
Logline: When the mob kills her fiancé and comes after her, a former prostitute uses years of street survival skills to take the mob on head-on in a bloody battle for survival and revenge.
Why you should read: Samantha ("Sammy") is my answer to the unrealistic "super-women" Hollywood has been giving us. The victim of a tragic childhood, she ran away from home when she was thirteen and learned to survive on the Chicago streets alone. Yeah, she's special. If she wasn't, she'd be dead. She's an athlete and she's smart, street-smart. She has more than her share of flaws, but her many friends know they can count on her if they need help. And she's a survivor. She won't go down easy. A strong female protagonist, plenty of action, a high body count, betrayals, twists, a woman's desperate struggle to survive. That's Sammy's story. I would really appreciate getting comments/suggestions on it.