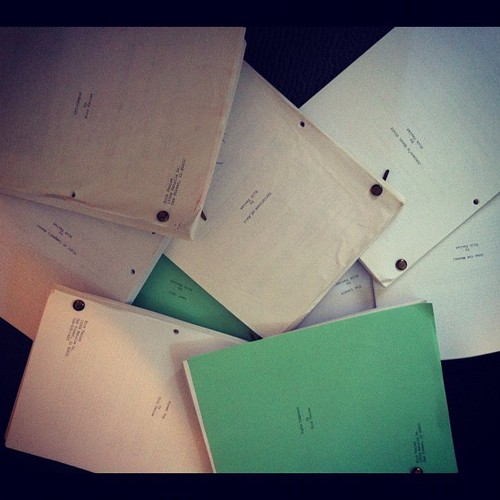 You guys have been KILLING IT with the submissions and the votes. We continue to find and celebrate good writing. Let's do it again this week. What do you say!
By the way, I'm probably going to be reviewing Stephen King's Gerald's Game on Monday. So if you have Netflix, watch it so you can participate in the discussion. It's the ultimate Contained Thriller and a huge writing challenge (which is why it's taken so long to make). But I hear the writer nailed it.
How to play Amateur Offerings: Read as much of each script as you can and submit your winning vote in the comments section. Votes will be counted through Monday, 11:59pm Pacific Time. Winner gets a script review next Friday!
Title: Human-Like
Genre: Horror
Logline: After learning her deceased mother might still be alive, a young woman traces the mystery to an abandoned farmhouse occupied by eerie mannequins – mannequins that move when no one's looking.
Why You Should Read: Haunted dolls/puppets/mannequins. Staples of the horror genre for decades. But here's my problem: most of the time, the real threat turns out to be something else — like ghosts or a masked killer. Did Annabelle even blink? Of course, there's the "Child's Play" and "Puppet Master" movies, but those are closer to black comedies. "Human-Like" is my attempt to create a sincere, creepy film that delivers on the promise of inanimate objects coming to murderous life. The story was inspired by the John Lawson house in upstate New York, a supposedly abandoned residence with oddly dressed mannequins on the porch. When I read that, I knew immediately – horror film! Thanks for your time and I appreciate any thoughts you might have.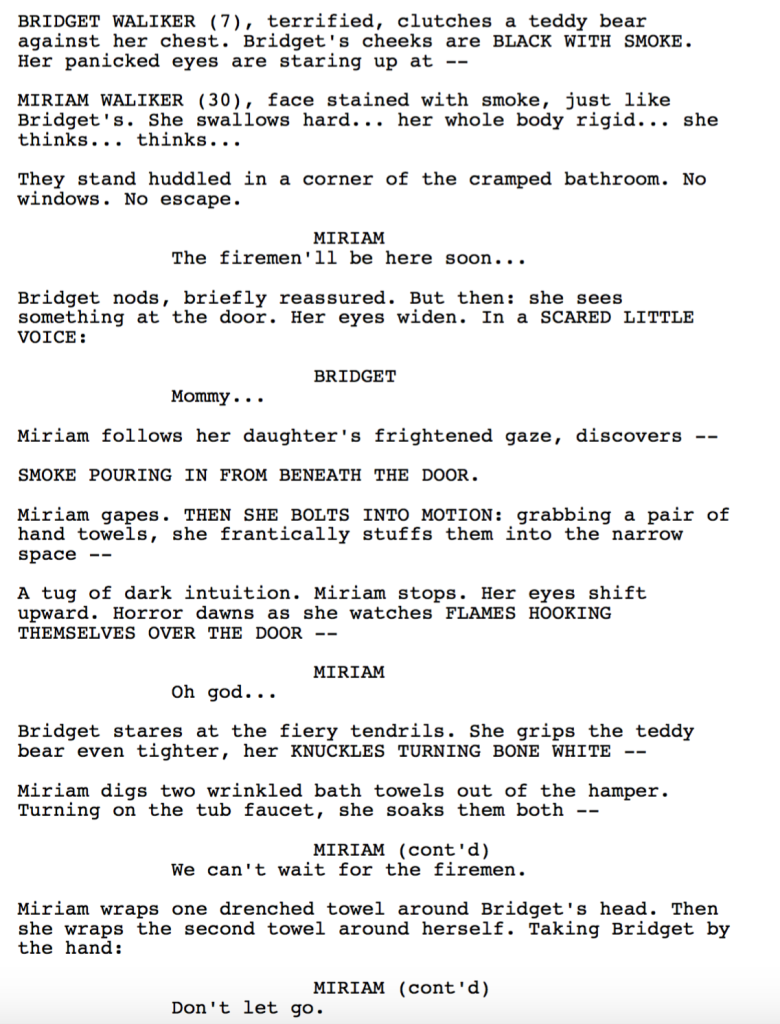 Title: Therapist of the Year
Genre: Comedy
Logline: A marriage counselor's quest for the coveted therapist of the year award gets put in jeopardy when the world's worst couple decides to blackmail her into taking them on as clients.
Why You Should Read: A hysterical breakdown of relationships. A rounded ensemble of oddball and memorable characters. Billed as "It's Always Sunny in Philadelphia" meets "What About Bob", Therapist of the Year is guaranteed to make you laugh and possibly even cry, as well as providing a litany of unforeseeable plot twists, generally not seen in the broad comedy genre, which will keep the audiences at the edge of their seat.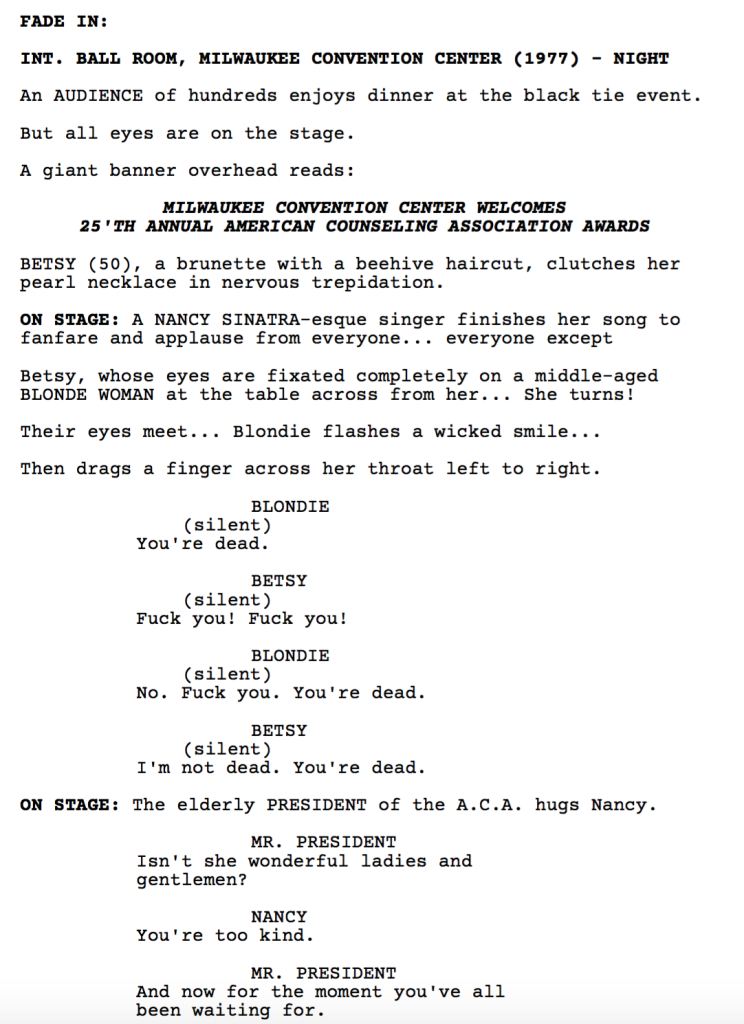 Title: Anything Helps
Genre: Dramedy
Logline: An ad agency copywriter feeling unfulfilled at work and annoyed by recent run-ins with pushy panhandlers decides to leverage his marketing expertise to become the Don Draper of beggars.
Why You Should Read: I'm a huge fan of Sorkin, Mamet, and Tarantino for their dialogue-driven scripts. If you like dialogue-driven scripts, I think you'll like this one.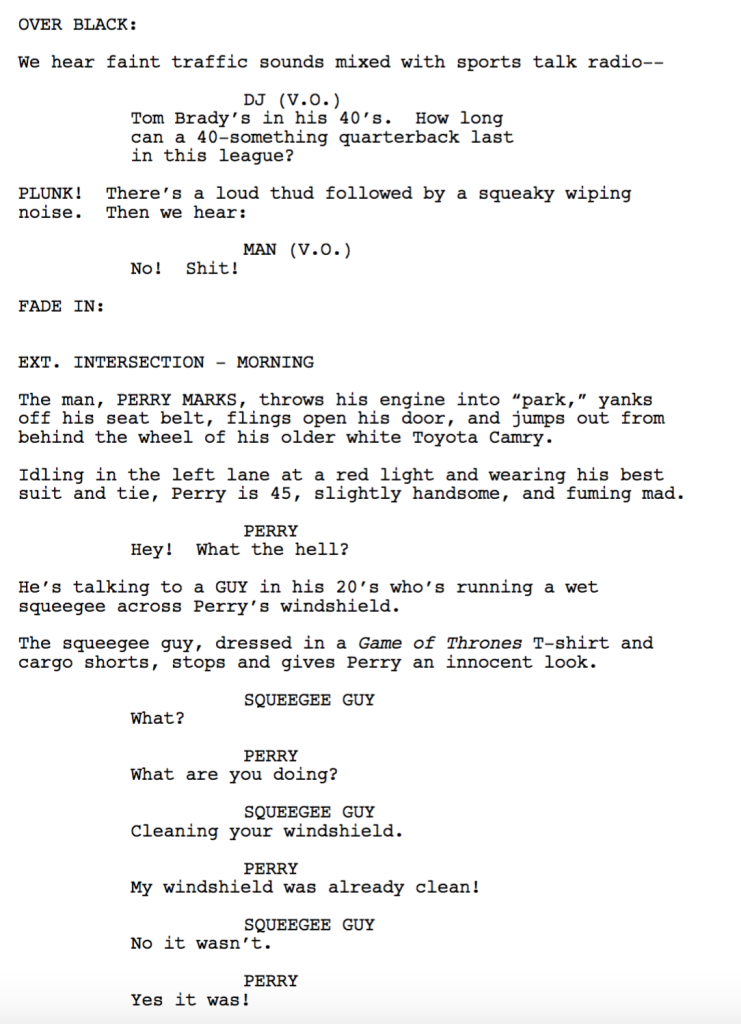 Title: The Firefly Gang
Genre: Western Action-Adventure
Logline: When a young girl's family is threatened over unpaid debts, her older brother goes after the bounty on a killer bear. When he doesn't return, she pulls together a rescue party of ragtag friends to find him, venturing out into a Wild West full of bandits, native tribes, and monsters.
Why You Should Read: My partner wanted to write a monster movie. I wanted to write a Western. So we did. Our last monster script placed in the quarter-finals of the Nicholl, so it was a challenge to take that similar element in a new direction. This is pure adventure in cowboy land, driven by heart and studded with the fantastical. It's Stranger Things meets True Grit. It's a movie on the page.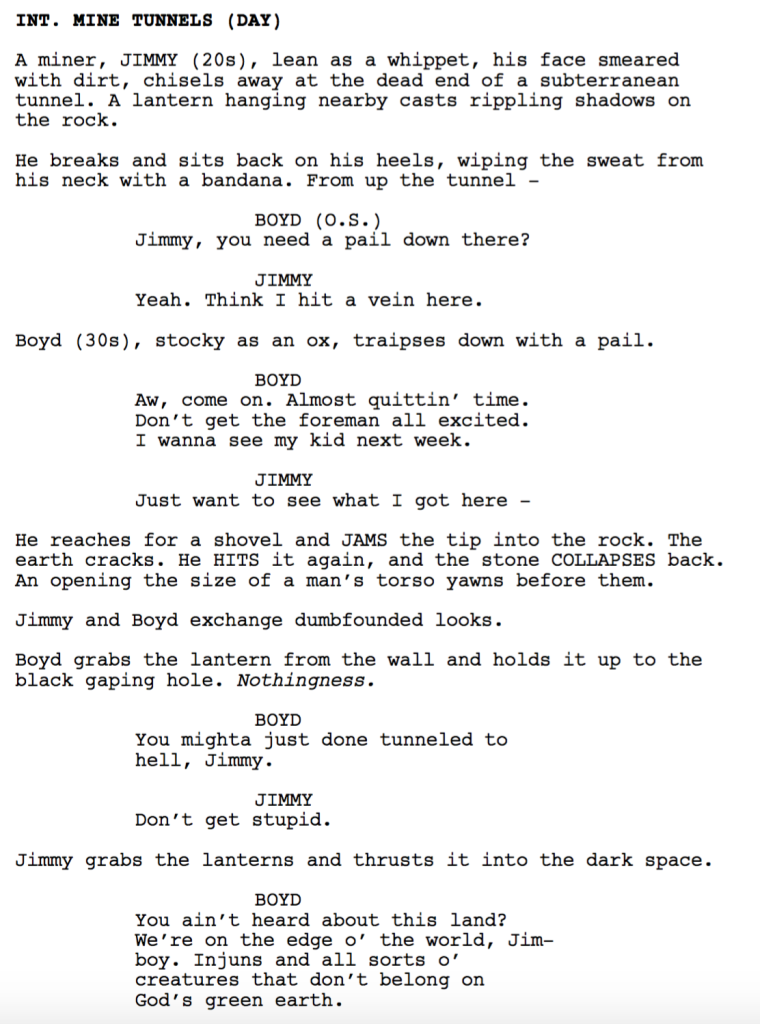 Title: Leo In The Dark
Genre: Sci-Fi, Drama Adventure
Logline: When a grieving man stumbles upon a strange camera that can peer into the ghost world, he sets out on a journey to find his late son and find the closure he never got… But as the owner of the device comes after him for it, a deeper plot begins to unfold that not only puts his son's ghost in danger, but his living family as well.
Why You Should Read: You reviewed a much earlier draft of this script back in 2013 and told me verbatim, "you have what Hollywood needs — an original mind". You called my story Chinatown meets Ghostbusters, but it needed to be drastically simplified. In the 4 years since, I moved on to focus on producing and sharpening my writing craft—writing one other feature and two pilots. Earlier this year I had a cathartic moment: I decided that if I could only tell ONE story in my life and get it made into a film, it would be this earlier story you reviewed. SO, I dedicated 2017 to revising this story, taking the common denominator of notes I received professionally, and tweaking… And here it is. Based on your film sensibilities, and focus on theme, I truly believe you will love this revised, simplified script. It's story world is Maine in 1992; Amityville meets Derry. Hope you enjoy.
Carson does feature screenplay consultations, TV Pilot Consultations, and logline consultations. Logline consultations go for $25 a piece or 5 for $75. You get a 1-10 rating, a 200-word evaluation, and a rewrite of the logline. All logline consultations come with an 8 hour turnaround. If you're interested in any sort of consultation package, e-mail Carsonreeves1@gmail.com with the subject line: CONSULTATION. Don't start writing a script or sending a script out blind. Let Scriptshadow help you get it in shape first!