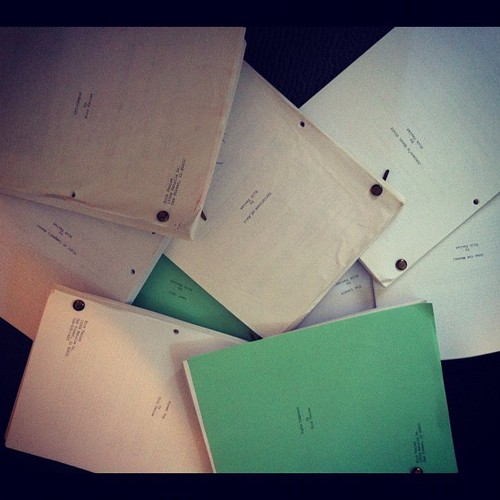 The Last Jedi is losing this weekend's box office battle to Insidious 4! When your movie is being taken down by a film that occasionally uses one of those cheesy sequel nicknames (4Sidious!), you know you're in trouble. Guys, I realize my obsession with The Last Jedi has gone too far. But I still can't believe Disney allowed a director who doesn't even like Star Wars to come in and not only undo every single significant story thread from the previous movie, but leave the story nowhere to go for its finale!!!!! Smart people actually ALLOWED THIS TO HAPPEN! And they turned Luke Skywalker into a lame weirdo coward then killed him! lol. People actually sat in an office, nodded, and said, "Yeah, this sounds like a good idea. Let's go with it." Even a friend of mine who liked the movie (don't worry, I'm working on him), admitted, "Oh, yeah, they burned the trilogy to the ground. There's nowhere to go from here."
Anyway, enough about Star Wars. Well, until the Solo trailer debuts at least. For now, it's time to get our hands dirty with some new Amateur Offerings. This is where you, the dedicated readers of this site, read and vote for your favorite script of the weekend. That script will get a site review next Friday. And hopefully we'll find ourselves the next "Meat." I know Logan (writer of Meat) signed with Charlie Ferraro at UTA, one of the biggest agents in the business. That could be you by the end of the month! Let's do it baby. Here are this week's scripts!
Oh, by the way. If you want to submit for a future Amateur Offerings: Send me a PDF of your script, along with the title, genre, logline, and why you think people should read it (your chance to really pitch your story). All submissions should be sent to Carsonreeves3@gmail.com.
Title: FROM THE CONVALESCENCE OF CHRISTIANNE ZELMAN
Genre: Gothic drama
Logline: A psychiatrist becomes involved with a disturbed young woman, but falls foul of those responsible for her condition — a former Nazi doctor and mysterious Reverend Sister.
Why You Should Read: Played against the rainy altitude of the Austrian Tyrol in 1975, FROM THE CONVALESCENCE OF CHRISTIANNE ZELMAN is both love story and Nazi fairy-tale. The role of Christianne is tailor-made for an Oscar-bound actress while the script itself resurrects an all but forgotten genre — one that allowed me to showcase character and dialogue inside a heightened storyworld. Indeed, I tried to write something that owes as much to golden-age melodrama as it does to the likes of Tennessee Williams and Rainer Fassbinder. In short, I'm convinced this script is like nothing else around at the moment!
Title: BIGFOOT LIVES!
Genre: Comedy
Logline: After coasting off his fortune from the Patterson-Gimlin film, Bigfoot has gone bankrupt. With the help of his new agent, he needs to make another splashy appearance or risk losing everything he has.
Why You Should Read: BIGFOOT LIVES! is funny as hell, unpredictable, and an all-around enjoyable read with a happy ending. Well, that's my opinion, of course. My goal was to write a movie that makes me laugh, and I've succeeded. The question is will everyone else laugh along with me? — I've always gotten incredible help from Team ScriptShadow, and it is important for me to continue my development. One of the best ways I've found is by receiving the community's constructive criticism. I've proven in my previous appearances on AOW my willingness to put in work to get better and take feedback to heart, and I'm ready to go to war again.
Title: The Promoters
Genre: Drama
Logline: A nightclub bouncer with big dreams and a failing marriage to his paraplegic brother's ex-girlfriend convinces a successful concert promoter, whose own life is falling apart in the aftermath of a family tragedy, to take him under her wing.
Why You should Read: I'm Antonio Cannady but I go by the pen name Sinsation. I've been nominated for best director and best screenplay for my previous works. I currently reside in Orlando, Florida.
Title: Whispers from the Watchtower
Genre: Mystery
Logline: The host of a popular skeptic/debunking radio show works alongside a reluctant psychic in a last ditch attempt to find his missing daughter.
Why You Should Read: I was ecstatic when I found out an earlier draft of this script placed top 10 in the 2017 Launch Pad Feature Competition. From there, the contest organizer sent the script to a producer looking for material and after the producer read it, he sent it to a manager he knew. The manager got back to him within 24 hours to say he loved the story as well and wanted to meet me. Momentum, momentum, momentum! I owe that manager and producer a ton of credit, because together we shaped the story into a project we felt the industry would consider. — My manager had a plan to keep the reads exclusive, targeting select production companies, so why am I making the script public, submitting to AOW in hopes of getting a review? After the screenplay was sent up to the owner of a fairly well known production company and interest expressed, my manager vanished. This was in late July and to this day I have no idea what happened, I hope it wasn't something catastrophic. In the meantime, it's back to square one for me and I'm proceeding as though I'm unrepresented. I'd love to know what the Scriptshadow community thinks of the story – and more importantly – if they'd pay to see the actual film. Also, I can't lie… having struck out in two previous AF attempts, the competitor in me seeks to earn that elusive "worth a read" my first ever submission – The Telemarketer – failed to produce.
Title: Mad For It
Genre: Comedy
Logline: Battling 90s Britpop bands develop a rivalry that makes them famous then ruins their lives in a spiral of one-upmanship and revenge
Why You Should Read: Dear Carson, I am Jack the Stripper, burlesque performer and writer of comedy burlesque routines for ladies in London, UK. I've decided to hang up my thong and use my comic talents to write for the screen, drawing on my experiences as a touring musician and music promoter. I've also just landed a publishing deal with Three Blend Comics as editor and writer of Tales of Astoundment, a quarterly comedy comic book anthology. You should review my script because my whole life for fifteen years has been a parade of sex and live music and comedy, while listening to the stories of musicians going up and down the industry ladder. The best of all of these experiences is here in a screenplay, waiting to be broadcast into your head, and if a little of your time is the only price to see it, then you, sir, have got a bargain.