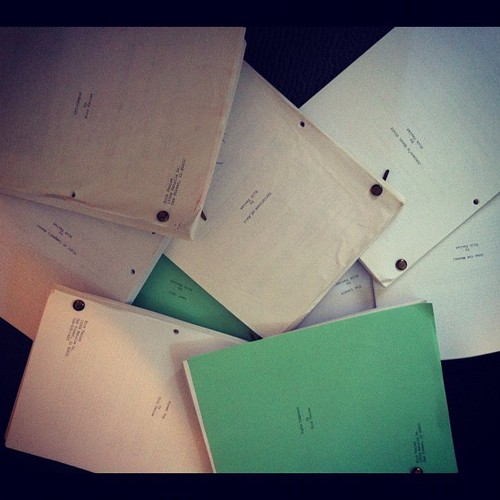 We're back like a Shamrock milkshake, baby. For how long, I don't know. So enjoy it while you can taste it!
To submit your script for Amateur Offerings, send a PDF of your script, along with the title, genre, logline, and finally, why your script deserves a shot, to: Carsonreeves3@gmail.com. Remember that your script will be posted. If you're nervous about the ramifications of a bad review, feel free to use an alias name and/or script title. It's a good idea to resubmit every few weeks so your submission stays near the top.
The rules of Amateur Offerings are as such: Read as much of each entry as you can, then, in the comments section, vote for your favorite script. The script with the most votes gets reviewed next Friday. If that script is really good, there's a chance the review will kick-start the writer's career.
And with that, here are this weekend's entries!
Title: Rift
Genre: Fantasy
Logline: A team of Victorian monster hunters must save the universe from their biggest threat yet, themselves.
Why You Should Read: I'm a Benihana chef, mandolin player and a broke as a joke screenwriter living in LA now for two months shy of a year and I've written about 10 screenplays. I've got about thirty dollars in my bank account so there's not much there to submit this screenplay to a formal contest which sucks, but I'm living the dream…which is cool. It would be very helpful if you would review it so I could know if I was heading in the right direction and if my diet of peanut butter jelly sandwiches in front of my computer monitor is paying off.
Title: The Keepers of the Cup
Genre: Action/Comedy
Premise: Two die-hard New York Rangers hockey fans steal back the Stanley Cup from vengeful Russian terrorists and travel across the country to deliver it in time for Game 7.
Why You Should Read: When you read this, I can promise you one of two reactions: either you will laugh and enjoy the ride, or you will find this a big swing-and-miss — such is life as a writer. Oh, if it helps, I graduated from USC's screenwriting program, was named a finalist for Universal Pictures' Emerging Writers Fellowship for this script, and was mentored by the writers of "Top Gun" and the famous unproduced screenplay "Smoke and Mirrors." I can also bench 250 and avoid my mother's phone calls. Honestly, who cares? An entertaining story is an entertaining story. I hope you enjoy "Keepers."
Title: All Rise
Genre: Thriller
Logline: ALL RISE follows a reprobate judge sentenced to a prison populated with convicts whose lives he's destroyed.
Why You Should Read: I won the FinalDraft Screenwriting ages ago with a script called "8Track". My writing partner – Gary Waid – did 8 horrible years in prison for smuggling 19 tons of marijuana. We were both involved with an international smuggling ring. Meanwhile, Gary and I wrote a script a few years ago entitled "Goliath", sent out by UTA. It's now a novel, selling at Barnes and Noble and around the world. Great reviews from best-seller authors (including Frederick Forsyth) as well as a covered STARRED review from Publisher's Weekly. We have another novel coming out in June. "GITMO" is also adapted from my original screenplay which was sent out by APA. Edel Rodriguez is designing the cover this week. Google EDEL RODRIGUEZ NEWS, it'll blow you away.
Title: Beyond The Front Lines
Genre: Action-Adventure
Logline: Two American spies pose as Nazi Officers to track a German train from the Belgian Congo to Germany's border in order to discover the whereabouts of Hitler's secret nuclear program and destroy it before the Nazi's most notorious female Officer, Belinda "the beast of Berlin" Von Halder discovers their plot.
Why You Should Read: The best way to describe this script is Butch Cassidy and The Sundance Kid meets Indiana Jones. Like those two films, the script is funny at times but also gives way to some great action-packed sequences. I've always wanted to write a WW2 script, but every attempt got bogged down in needless details and maintaining historical accuracies; which always led me back to writing Sci-Fi. So I decided, "to hell with it," I'll just write a fictional story, one that would address a very simple theme; a single question to be precise. Does the end justify the means? Will our heroes, US spies, shoot at US soldiers to continue their mission? Will they sacrifice one another if it means "Mission accomplished"? Will they overlook the atrocities of this war and press forward to their destination? I hope you'll consider reading and I look forward to the feedback… Good Luck.
Title: Stand Tall!
Genre: romantic comedy
Logline: A Vegas waitress, made 16 feet tall, falls in love with the scientist who accidentally enlarged her. She sacrifices her size and fame to save him when he's kidnapped by a blackmailing mobster.
Why You Should Read: I'm a journalist-screenwriter, a fan of romantic comedy and classic Hollywood. I've run the site Carole & Co., named for my all-time favorite actress Carole Lombard, for nearly a decade. "Stand Tall!" blends romcom and sci-fi in a retro yet feminist fashion, with vivid, fun characters — as our oversized heroine says, she would "rather entertain people than attack them."