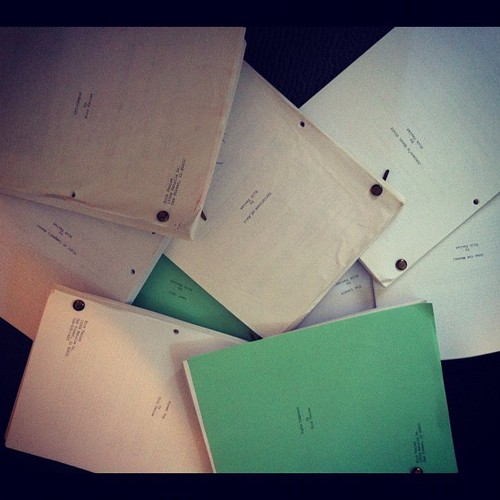 I don't know about you guys, but I'm going to see "It!" this weekend. And since the film is already breaking records at the box office (and it's only Friday!), screenwriters are going to want to get a jump start on the trend it's going to spawn – Event Horror. The Tommyknockers will be coming soon (god I love that book). And then any scripts that can build a bigger world into the horror genre. I repeat, jump on the trend now! Cause soon it will be flooded.
How to play Amateur Offerings: Read as much of each script as you can and submit your winning vote in the comments section. Winner gets a script review next Friday!
If you'd like to submit your own script to compete on Amateur Offerings, send a PDF of your script to carsonreeves3@gmail.com with the title, genre, logline, and why you think your script should get a shot. Good luck!
Title: Nollywood
Genre: Dramedy
Logline: An up and coming director receives an opportunity to finally make her debut feature film; with one caveat, she only has one week to shoot. So, she makes the obvious decision – film the movie in Nollywood, Nigeria.
Why you should read: Yes, I understand people's thoughts on movies about making movies, but this script being set in the bizarre and culturally different setting of Nollywood provides natural conflict as Merritt, the main character, has to learn to adapt and absorb a foreign culture. The speed and ways movies are made in the Nollywood system is inherently a fun experience, and the process accompanies by the people involved makes observing this mass difference between Hollywood and places where they seem to actually care and treasure movies that much more interesting.
Title: PARIS COUNTDOWN
Genre: Action
Logline: An Interpol narcotics agent is forced to team up with his hostile future father-inlaw, a CIA agent, to take down a criminal ring that has targeted Paris' most valuable treasures.
Why you should read: It placed high: American Screenwriting competition Top 100, PAGE SEMI-FINALIST. It got a STRONG CONSIDER from a screenwriting service. It's not the generic buddy movie. It has that "Meet the parents" vibe as a plus.
Title: In the Land of Tooth & Claw
Genre: Action/Adventure
Logline: A troubled professor recovering from familial tragedy is hired to help locate her ex-husband and mankind's greatest discovery in the most dangerous environment recorded throughout history. The late Cretaceous – the land of tooth & claw.
Why should you read? I'd really like to provide some deep, nuanced answer here, but I can't. Aside from those small, contained Jurassic Park movies, dinosaurs aren't really a massive fixture on the big-screen (at least recently), which is weird given how innately cinematic they are. Thought i'd take a pop at addressing that. Honestly, I've worked hard on it and I think at the very least In the Land of Tooth & Claw is a fun read. Pretty brisk too. I'd obviously love to throw around descriptors like energetic, horrifying, resonant and imaginative, but that's your job, not mine. Give it a shot, preferably with an alcoholic beverage, and see if you have a good time. That's why I do this, anyway. To try and offer a little fun. The world's pretty garbage sometimes, and dinosaurs join a select list (sex, chocolate and Tom Cruise flicks) that traditionally provide fleeting relief.
Title: EMILY VAN HELSING VS. DRACULA
Genre: Action-adventure
Logline: Young vampire hunter Emily Van Helsing must discover her full powers and true destiny in a quest to stop Dracula's sinister plan to conquer Victorian London.
Why you should read: because it's a fresh angle on the Van Helsing/Dracula mythology with a badass heroine. If you like your adventures in the gaslight and mist of Victorian London, this one is for you!
Title: Meat
Genre: Mystery/Horror
Logline: A misanthropic man notices bizarre changes in himself, his wife, and the animals inhabiting the territory around their homestead as they attempt to survive self-imposed isolation.
Why you should read: After moving from North Dakota post-college at the end of 2016, I started to write scripts in my spare time and fell in love with it. My first screenplay placed in the top 20% of the 2017 Nicholl fellowship, and as of now I've "finished" five features and am working on my sixth. I aim to create original, meaningful stories, but even more so focus on presenting them in a unique way. MEAT has been compared to The Witch by readers due to its low budget, as well as its setting and tone. It's an unconventional horror story that poses a moral question without appearing pretentious.