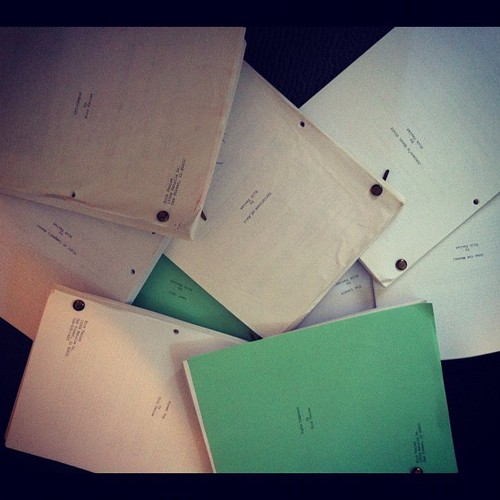 I want to try a new exercise today.  I want everyone coming to Amateur Offerings to read at least ONE SCRIPT until you get bored.  Then, share the EXACT MOMENT when you gave up on the script and why.  This is invaluable feedback to writers as most writers have no idea what's going on in the reader's head when they read their screenplays.  I expect this to be a helpful exercise.  Also, another reminder that the Scriptshadow 250 Contest deadline is in three and a half months!  Incentive to write your asses off!
Title: The Pool Boys
Genre: Drama/Comedy
Logline: Two brothers reunite after the death of their father and decide to start their own business cleaning pools: their first real client, the mob.
Why you should read: This story is exactly like A Beautiful Mind….except it's not….at all. We penned this script as an ode to the throwback comedies of our youth (The 90's) . It's got good laughs, family values and some heart….and of course, girls. (Nip-Slip on page 36, you're welcome)
ABOUT: Steve and Tim are both unemployed, and have lots of free-time….a lot. Even so, Steve recently managed to get one of his short stories produced – Mr. Happy, which stars Chance the Rapper and premiered on VICE in March of 2015. — Tim works as a janitor at night at a very prestigious university. He recently solved an extremely difficult mathematic equation that blew away the faculty, considering he is a janitor. He is currently being groomed by one of the professors.
Title: 51 DAYS
Genre: Drama
Logline: Under siege following a gun raid gone wrong, an embattled preacher must fight to protect his flock against an army of federal agents and a rogue disciple hell-bent on ascending to power.
Why You Should Read: Because you enjoy reading screenplays.
Title: Retribution
Genre: Crime-thriller
Logline: After two teens are murdered, a Detroit police lieutenant is hard-pressed to end an unprecedented wave of retributive violence—not against the gang suspected of killing them, but against the gang members' families and loved ones.
Why you should read: I've written a number of scripts, and up to this point they've all been fairly comfortable, meaning they were in genres I felt I could do well. Mostly light comedies and family-oriented scripts. But I had an idea for something quite a bit darker and edgier rolling around in my brain for some time now. "Retribution" is the result. — It's probably the most complex, layered story I've written. The challenge for me was to make it a clear and straight-ahead story despite the complicated storyline. I'd love to hear from the Scriptshadow community whether or not they think I've succeeded.
Title: Rock 'N' Roll Termites
Genre: Family/Action-Adventure
Logline: The biggest secret in music is one of the smallest things on the planet: TERMITES.
Why you should read: Pixar meets Spinal Tap. Animation turned up to 11. That's not to say I rocked this baby out overnight. I made countless rewrites with the goal being to get it as close to "Pixar quality" as a single writer could get. RNRT made the second round in this past year's Austin Film Festival screenplay competition. I'm a daily reader of Scriptshadow, for many years now. I love the community and would appreciate any feedback or thoughts, especially since it has been ridiculously hard to sell/pitch/get anyone to read an animation spec. I don't normally write animation, but this was an idea I couldn't NOT write. And I'm glad I did, cause it's the best thing I've ever written.
Title: OMAHA TOWER
Genre: Thriller/Sci-Fi
Logline: The lone human attendant to the world's first computer-automated air traffic control tower must avert catastrophe when, upon realizing the computer has rerouted two 747's into collision course, he receives a mysterious transmission warning that if he lifts a finger to stop it, his family dies.
Why You Should Read: This script is an ode to my dad. He was a Navy pilot who later in life built his own small plane, and the hours of sitting up front with him as a kid listening to the slang-laden pilot/controller chatter on the headset burned a curiosity into me for the weird wonderful inside world of fliers. He passed away in a plane crash due to instrument failure a few years ago, and this is the kind of movie he would have dug.