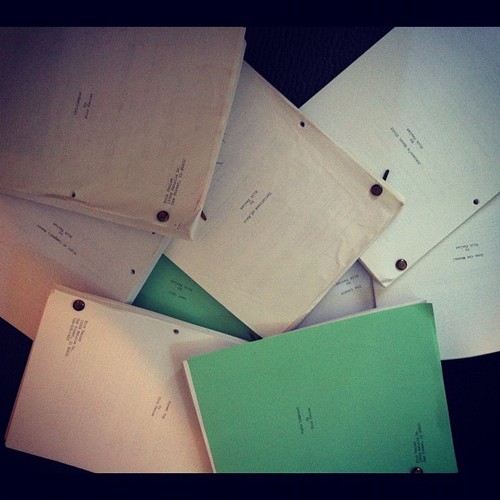 Keep sharpening your Scriptshadow 250 Contest entries.  Your competition is only getting better with Amateur Offerings feedback.  Here are this week's contestants, which include werewolves, cults, serial killers, and, of course, Harrison Ford.  Enjoy!
Title: Canine
Genre: Action
Logline: A special forces K9 unit, searching for an international terrorist deep in the Afghan wilderness, find themselves hunted by an ancient tribe of werewolves.
Why you should read: Carson is always encouraging his readers to take a genre and put a fresh twist on it. Which got us thinking… when was the last time we'd seen a kick-ass werewolf action film? Underworld? The Wolf Man? There's definitely a gap in the market out there. Hopefully we can fill it. And even if you disagree, we'd love some feedback from the Scriptshadow community to help us take the script to the next level.
Title: To Dust
Genre: Thriller
Logline: A brainwashed young woman, conditioned to track and kill the remaining members of her parents' cult, must outwit a relentless small-town Sheriff and regain her true memories before she kills her next target – the man she loves.
Why you should read: I submitted my last script, The Dark Parade, to Amateur Friday almost a year ago to the day. Whilst I had some great feedback and insight from the SS community (and the script got a few manager reads) – no one was gonna would splash down $150m on a VFX-heavy vampire spec from an unknown writer.
Title: The Rift
Genre: Action/Sci-Fi
Logline: When a soldier suffering from PTSD is told his symptoms are the result of an impossible space/time experiment, he seeks out the renegade scientist responsible, but being living evidence of the experiment's success, a black agency is quickly on his trail to appropriate the technology.
Why you should read:"Get your work out there!" is often heard advice. "The Rift" started because one of the writers did exactly that. On a slow weekend with no AOW he posted the first 15 pages of an Industry Insider challenge entry that didn't make the cut for feedback. Another writer read it, liked it, retouched and extended it, and send it back to the original writer for critical feedback. Countless emails over 8 timezones later "The Rift" was a fact. — "The Rift" is a complete screenplay that wouldn't have existed if not for that first step: to put your work out there for the world to see. If you keep it for yourself, no one will know it exists, no matter how good it is. And so, as a logical extension of how the script came to be, we put it out there where it originated, on AOW, to see what might happen this time around.
Title: Vickie
Genre: Drama
Log lien: A seemingly docile nurse in Texas morphs into a serial killer of patients where she worked, after personal set-backs push her over the edge. BASED ON A TRUE STORY
Why you should read:  I'm Randall Alexander. I'm on the cusp of 40, and live in Texas. I've long been fascinated with the story of Vickie Dawn Jackson, who was not only a nurse in Texas, but also became a serial killer. We don't hear a lot about female serial killers, mainly because they don't usually exist. What makes a person go there? I envision it was a slow burn that teetered right under the surface, that needed some nudging here and there and then WHAM!…it got that final shove, and then erupted into a fire that Vickie could not contain. And that's the way I wanted my script to play out. Looking for feedback! I think you should read my script, because I followed your advice, in regards to writing a FIRST PAGE that grabs the readers attention.
Title: Adventure Has A Name
Genre: Comedy
Logline: When a fan accidentally receives Harrison Ford's lab results in the mail, the fatal prognosis sends him and his friends on a desperate journey to find Ford and deliver the script they penned to win him his long deserved Oscar.
Why you should read: This script's life depends on Harrison Ford. While my first concern is his well-being, his near fatal plane crash today also reminded me that life is too short to keep shelving my projects because someday I'll wake up and it will be too late. I was holding off on submitting to Script Shadow 250 hoping I could get some feedback from amateur Friday (as you suggested), so here it is – a script about three guys trying to stop Harrison Ford from freezing himself. Been working on it a long time, but it's not the years Carson, it's the mileage.