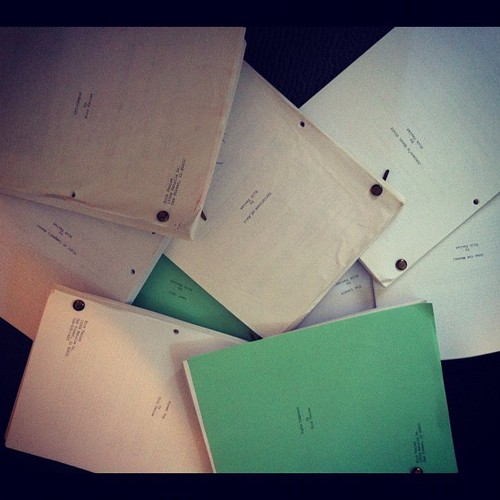 Well, I thought I could do it all– get through a bazillion consults, write up a review, put together a newsletter– but shockingly, I'm just a mere mortal.
Instead of a newsletter this week, and in place of a regular post, I'm posting five new amateur scripts for an extended Amateur Offerings Weekend slate. Hopefully next week I'll return to being the multi-tasking superhero I usually am. Watch out, Iron Man!
This is your chance to discuss the week's amateur scripts, offered originally in the Scriptshadow newsletter. The primary goal for this discussion is to find out which script(s) is the best candidate for a future Amateur Friday review. The secondary goal is to keep things positive in the comments with constructive criticism.
Below are the scripts up for review, along with the download links. Want to receive the scripts early? Head over to the Contact page, e-mail us, and "Opt In" to the newsletter.
Happy reading!
TITLE: Going Postal
GENRE: Comedy
LOGLINE: Pink-slipped, a mailman and his eccentric allies embark on a quixotic quest to prove how much he and the mail still matter.
TITLE: 3029
GENRE: Sci-fi
LOGLINE: A cyborg and a group of unruly misfits must embark on a journey across a war-torn America in an attempt to stop a super computer and its army of android soldiers.
TITLE: The Girl
GENRE: Horror
LOGLINE: Sam's life is going nowhere fast, but when he meets his fantasy girl he is dragged into his town's underworld of monsters and goons.
WHY YOU SHOULD READ: I've worked as a Sound Designer/Supervisor on over 50 games and films (Aeon Flux, The Matrix sequels, etc.) Basically my job is to help tell a story. Especially as an audio director on video games where I am responsible for music and speech as well. Having worked on projects from concept to finish I understand the iterative process and writing is a way for me to learn essential story telling techniques.  I crave the feedback I might get from even being considered for the amateur offerings.
GENRE: Sci-fi/comedy
LOGLINE: A skeptic gets roped into helping her loony father, a female Rambo, and a nerd stop a group of rebel monsters from using humans as permanent hosts.
WHY YOU SHOULD READ: I work as a professional technical writer specializing in the metaphysical, so it makes sense that I focus on the sci-fi/fantasy genre. This script is based on something my mother used to joke about when I was growing up. She'd say that you were a monster from about two until thirty because you were so sweet as a baby and so crazy once you hit the terrible twos, and you didn't become sane and human again until you grew up around thirty. I started to wonder what would happen if that were real, and this script was born.
TITLE: ABRACADABRA
GENRE: Contemporary supernatural dark comedy.
LOGLINE: When teenage witches in a small Midwestern town entice the new girl to join their elite clique, the question needs to be asked – What if she's not interested?
WHY YOU SHOULD READ: Because it's a quick, breezy read.  And because it's 'Heathers' meets 'Mean Girls' meets 'Juno' meets 'The Craft' meets 'Abracadabra.'