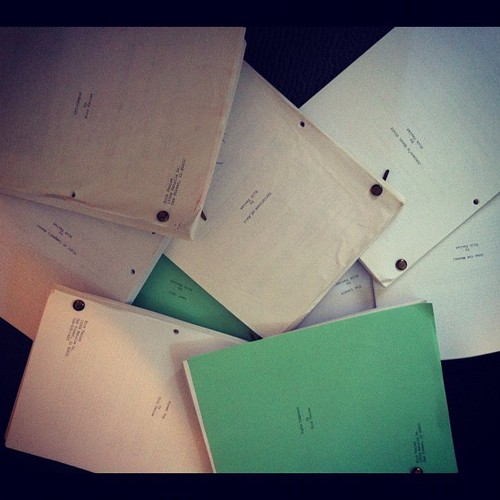 This is your chance to discuss the week's amateur scripts, offered originally in the Scriptshadow newsletter. The primary goal for this discussion is to find out which script(s) is the best candidate for a future Amateur Friday review. The secondary goal is to keep things positive in the comments with constructive criticism.
Below are the scripts up for review, along with the download links. Want to receive the scripts early? Head over to the Contact page, e-mail us, and "Opt In" to the newsletter.
TITLE: Fatty Falls Down, Again
GENRE: Dramedy
LOGLINE: A young man enrolls in film school and befriends a funny classmate who claims to be the reincarnation of Chris Farley. Still haunted by the suicide death of his best friend, the student vows to keep this self-destructive "Chris" from killing himself.
TITLE: KIng of Matrimony
GENRE: Drama/Comedy
LOGLINE: A loving husband and father must maintain a series of affairs in order to save his happy marriage.
TITLE: Rumspringa
GENRE: R-rated Comedy
LOGLINE: When a dimwitted Amish man-child gets a message from God that his long lost brother is living a life of sin in Miami, he solicits two Amish teens to help find his brother and save him from eternal damnation; upon arrival, the threesome unknowingly botch a drug deal and realize that if they don't adapt to the outside world quickly, they'll never get home alive!
TITLE: Ship Of The Dead
GENRE: Vampire/Thriller
LOGLINE: After their medical rescue aircraft crash lands above the Arctic Circle, a terminally ill flight navigator must lead the crew to survival in the face of plunging temperatures, the impending arrival of 6 months of permanent darkness – and a horde of vampires taking refuge in a nearby shipwreck.
WHY YOU SHOULD READ: Finalist in the Peachtree Village International Film Festival.
TITLE: BLACK WEDNESDAY
GENRE: Comedy/Coming of Age
LOGLINE: Three different graduating classes return to their small New Jersey town for a night of awkward reunions and drunken debauchery on the biggest bar night of the year – Thanksgiving Eve.
WHY YOU SHOULD READ: Oh man, I wish I could give you this guy's query letter. There's a hilarious story about being an assistant to a producer and having to save his boss's ass when a major director came in to get notes on a pilot the boss hadn't read. I can't give you that but here's the beginning of his query: I know you asked for a paragraph, but let's keep this shit sparse. Here are the bullet points. – Depending on what source you check, Thanksgiving Eve is either the single biggest (or second biggest) bar night of the year. Now think how many movies have ever been set on this night. Can you even think of any? HOW IS THAT POSSIBLE? – This year marks the 20th year since DAZED AND CONFUSED was released, the quintessential one night, ensemble, coming of age comedy. DAZED AND CONFUSED set on the biggest party night of the year. That's my pitch..