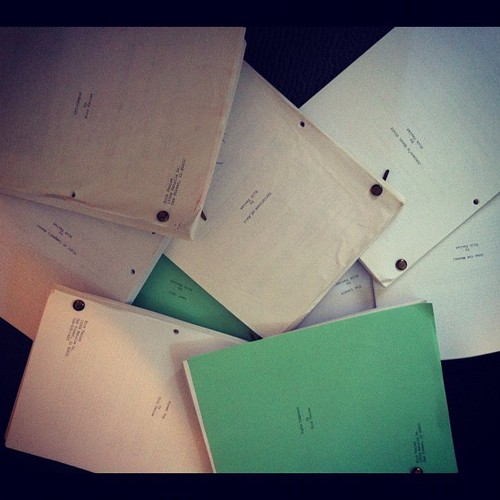 This is your chance to discuss the week's amateur scripts, offered originally in the Scriptshadow newsletter. The primary goal for this discussion is to find out which script(s) is the best candidate for a future Amateur Friday review. The secondary goal is to keep things positive in the comments with constructive criticism.
Below are the scripts up for review, along with the download links. Want to receive the scripts early? Head over to the Contact page, e-mail us, and "Opt In" to the newsletter.
Happy reading!
TITLE: Murderer's Creek
GENRE: Western Psychological Thriller
LOGLINE: When brutalized bodies begin to turn up in their homes, an unassuming sheriff must work with his brilliant-but-outspoken daughter to find and bring the serial killer to justice before the town they mean to protect tears itself apart in fear.
TITLE: Where Angels Die
GENRE: Crime Drama
LOGLINE: A suspended inner city social worker tries to protect a young girl and her mother from the girl's father, a psychotic killer who's just been released from prison.
TITLE: The Easy Way Out
GENRE: Film Noir Thriller
LOGLINE: To a young couple facing foreclosure, a bag stuffed with money sitting in an empty office is just too tempting to resist. But when the plan goes awry and they are forced to run for their lives, their relationship and survival skills are put to the supreme test.
WHY YOU SHOULD READ: "The Easy Way Out" was a second rounder at the 2011 Austin Film Festival Screenplay Competition (top 10% of 5800 entries). The writer has also had multiple scripts optioned, with one currently being pitched.
TITLE: World Peace Can Go Suck A Dick.pdf)
GENRE: Sci-fi Comedy
LOGLINE: After wishing for "all humankind to be peaceful people," the only three people who know how to break the spell have to fight and destroy a group of wizards who have started trying to destroy Earth.
TITLE: The Jaguar's Fang
LOGLINE: When contact with an expedition on the trail of a mythical treasure is mysteriously lost, a paratrooper, a gentleman thief, and an archeologist must join forces, or risk losing them forever to sinister forces bent on the same prize.
GENRE: Action/Adventure in the vein of Indiana Jones
WHY YOU SHOULD READ (from writer): It received a 8/10 paid review on the Black List, but more importantly it was your post promoting the Tracking Board Launch Pad screenwriting competition that got me to enter that competition. I ended up making the Top 25 semis, but I didn't make the cut to the Top 10. I was hoping you might give my script a go and share some insight into how to make it into a script that would've cracked the Top 10.