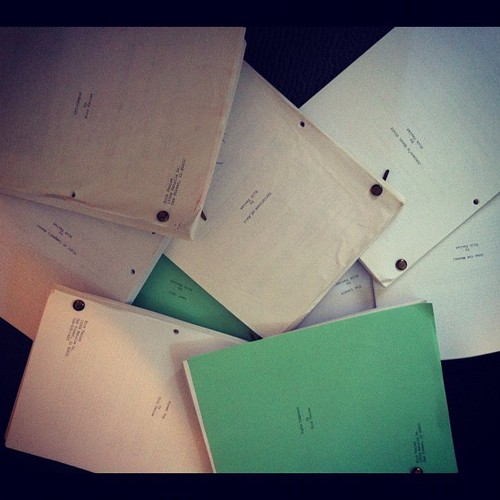 This is your chance to discuss the week's amateur scripts, offered originally in the Scriptshadow newsletter. The primary goal for this discussion is to find out which script(s) is the best candidate for a future Amateur Friday review. The secondary goal is to keep things positive in the comments with constructive criticism.
Below are the scripts up for review, along with the download links. Want to receive the scripts early? Head over to the Contact page, e-mail us, and "Opt In" to the newsletter.
Happy reading!
TITLE: Wonder Woman
GENRE: Action Adventure, Action Comedy, Superhero and Comic Book
LOGLINE: Amazon Warrior Princess Wonder Woman enters the world of men to stop Doctor Psycho and his evil plans for a never-ending world war, and maybe find a little love too.
TITLE: Paralleled
GENRE: Sci-Fi/Thriller/ Character Drama
LOGLINE: An emotionally unstable neurosurgeon undergoes an experiment with parallel realities and fights different versions of himself to find a dimension where the wife he put in a coma is still healthy.
TITLE: Anyway But Dead
GENRE: Action/Adventure, Crime
LOGLINE: Two corrupt police officers are marked for death after stealing five million dollars belonging to a vicious crime lord.
TITLE: Abstract
GENRE: Drama/Dark Comedy
LOGLINE: A man on the brink of suicide stumbles upon a homeless art prodigy who will physically die if he stops creating art.
WHY YOU SHOULD READ (from writer): "I'm a 22 year old screenwriter who has been writing scripts since I was 13 — started with pen and paper. I've had three shorts produced, the latest just screened at the Cannes film festival in France,and I've had one feature optioned. So why am I here? I love your opinions, and this a script I've had offers on, but could never come to an agreement."
TITLE: Evacuation London
GENRE: Sci-Fi
LOGLINE: As London is nuked in a last ditch attempt to fight off a sinister alien force, a young gang member and his reluctant travel companion must fight their way through the underground system to safety.