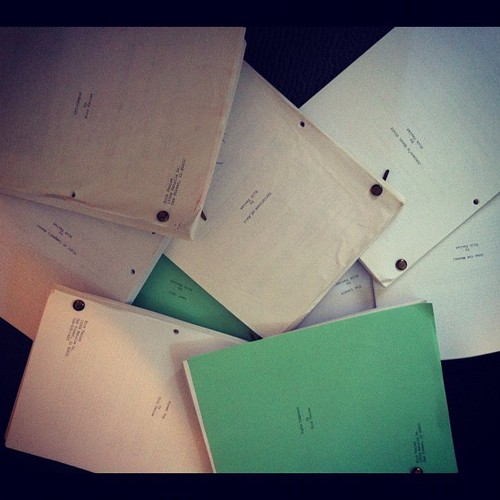 Amateur Offerings Weekend is here again, at last!
This is your chance to discuss the week's amateur scripts, offered originally in the Scriptshadow newsletter. The primary goal for this discussion is to find out which script(s) is the best candidate for a future Amateur Friday review. The secondary goal is to keep things positive in the comments with constructive criticism!
Below are the scripts up for review, along with the download links. Want to receive the scripts early? Head over to the Contact page, e-mail us, and "Opt In" to the newsletter.
Happy reading!
TITLE: Façade
GENRE: Drama, Mystery
LOGLINE: A detective investigates the murder of a teenage boy in the quintessential 1950's American suburbs, unaware of the secrets buried behind the veneer of this picture perfect society.
WHY YOU SHOULD READ: (from writer) "Here's why I think you should read this over others. First of all, as I said, it has been 4 years since I first wrote the original draft. I started when I was 15 and I'm 19 now. I have no formal screenwriting or film school experience. That's not to say it's a shit script though, in fact I hope it piques your curiosity. As in the case of Joe Marino, age doesn't always correlate with script quality. In fact, I had my first short script produced when I was 16 (and another being produced by a filmmaker in India), and "Façade" has been highly rated on other review sites, becoming a spotlight feature on Triggerstreet Labs."
Side-note: Missus Scriptshadow read and loved this script. Isn't that reason enough?!
TITLE: Super Geeks
GENRE: Comedy
LOGLINE: A strait-laced Bride-to-be, who loathes her fiancé's nerdy friends, must enlist their help to find her missing groom on an epic road trip quest to Comic Con.
TITLE: Verona Spies
GENRE: Crime/Action-Comedy
LOGLINE: After landing a job at an escort service, a young woman learns that her first date is an international spy who's just stolen a multi-million dollar pharmaceutical secret. She agrees to help him shake the assassins waiting outside of the hotel, and soon finds herself embroiled in a deadly game of corporate espionage.
WHY YOU SHOULD READ: (from writer) "I wrote A BULLET FOR MY BEST FRIEND, and submitting it to Am. Friday was one of the most important steps I've taken for my career and writing thus far. I attached a producer, took meetings and have an offer from a manager. Producers who haven't evenheard of Scriptshadow have contacted me."
TITLE – Birds of Feathers
GENRE – Animation, Children/Family
LOGLINE – Drake, an ugly-duckling introvert, reluctantly accepts the responsibility of delivering a baby after a Stork crash lands in his pond and is unable to continue his mission.
TITLE: Fortune Cookie
GENRE: Contained-Dark Comedy/Suspense
LOGLINE: A young woman opens a fortune cookie with the prophecy that she will die if anyone leaves the restaurant. When the fortunes of her dinner companions come true, she takes the restaurant hostage.