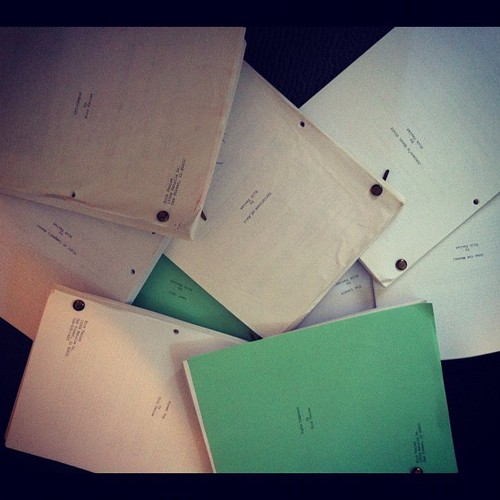 This is your chance to discuss the week's amateur scripts, offered originally in the Scriptshadow newsletter. The primary goal for this discussion is to find out which script(s) is the best candidate for a future Amateur Friday review. The secondary goal is to keep things positive in the comments with constructive criticism.
Below are the scripts up for review, along with the download links. Want to receive the scripts early? Head over to the Contact page, e-mail us, and "Opt In" to the newsletter.
Happy reading!
TITLE: Dead Woman Walking Free
GENRE: Drama/Suspense
LOGLINE: A teacher's obsession with a boy who is the spitting image of her recently-deceased son escalates into a deadly confrontation with the boy's mother – a former midwife with a dark secret.
WHY YOU SHOULD READ (from writer): "You've been complaining lately about writers 'rehashing their favorite movies in one form or another, copying their favorite writer's style, instead of looking for new ideas and telling stories in new ways.' Point taken. Dead Woman Walking Free attempts something different. You be the judge of it."
TITLE: The Twin
GENRE: Crime, Thriller
LOGLINE: After looting one of two priceless statuettes known as the Twins in Iraq, a couple of down-on-their-luck veterans must traverse the U.S. criminal underworld on a quest to sell it — not realizing that the owner of the other Twin is a high-ranking intelligence official who will stop at nothing to get his hands on their statue.
WHY YOU SHOULD READ (from writer): "Ever since uploading my short "J-W-G" at the tail end of Shorts Week, I've been fielding a surprising number of requests from ScriptShadow readers for a feature-length script of mine. So here it is — a classic crime road movie in the vein of "True Romance" or the original "Getaway." I don't think there was a single decent example of the subgenre written in the 2000s, let alone in the 2010s."
TITLE: CROSSFIRE.pdf)
GENRE: Action/thriller
LOGLINE: A thief discovers a mysterious girl in the trunk of a stolen car and must help her escape from a relentless pursuer who wants her dead.
WHY YOU SHOULD READ (from writer): "I've flirted with success but haven't quite been able to get over the hump. I had a short stint with The Onion News Network. Placed in the 2011 PAGE Awards. Landed a low-level manager. The PAGE winning script went out to the town and did absolutely nothing – no sale, no option, no meetings – which crushed me because I thought I was ready when I was still a long way off. It took me a long time to pick myself back up off the floor and start writing again, but here I am — better than before but wondering if I'm better enough."
TITLE: Soul Catcher
GENRE: Horror, Supernatural, Thriller
LOGLINE: A wayward priest hunts menacing souls by exploiting a woman in a constant vegetative state. The woman serves as an empty vessel for spirit possession but morality is questioned when she becomes conscious and aware.
WHY YOU SHOULD READ (from writer): "This story plays out like a more serious version of Ghostbusters. In addition, the Soul Catcher role would be a challenging part for an actress to play with all the different spirit possession characters. Finally, exorcism/horror scripts are typically easier to produce and generally have a higher return on investment."
TITLE: Didact Twelve
GENRE: Sci-fi
LOGLINE: As he fights to preserve the legacy of the human race, a peacekeeper on a generational starship experiences a devastating personal crisis.
WHY YOU SHOULD READ: Writer didn't provide one, but his email claims he holds a PhD. That's gotta mean something, right?!