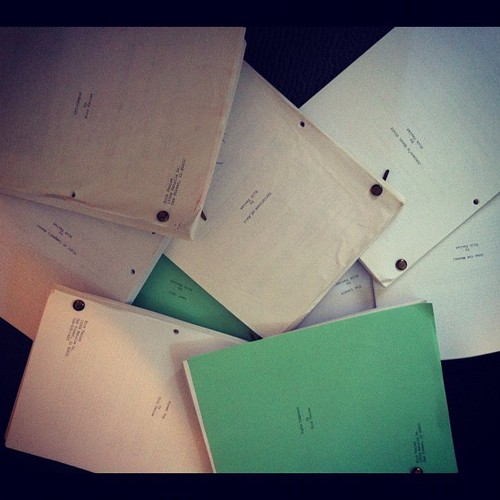 This is your chance to discuss the week's amateur scripts, offered originally in the Scriptshadow newsletter. The primary goal for this discussion is to find out which script(s) is the best candidate for a future Amateur Friday review. The secondary goal is to keep things positive in the comments with constructive criticism.
Below are the scripts up for review, along with the download links. Want to receive the scripts early? Head over to the Contact page, e-mail us, and "Opt In" to the newsletter.
Happy reading!
TITLE: Soulless
GENRE: Action/Thriller
LOGLINE: A young mercenary on a mission to exact revenge on his mother's murderers, must partner with his clone – a black ops agent working for the secret intelligence organization responsible.
WHY YOU SHOULD READ (from writer): "Where I'm from, nobody gives a damn about the art of screenwriting. I never used to either, until I stumbled upon a Pulp Fiction script online about seven years ago. Being the artistically inclined person I am, I thought it'd be a cakewalk and ended up with a buncha shitty scripts. On my journey to mastering this bch, I discovered Scriptshadow. Since then, everything's been better defined in my mind and Soulless is my second screenplay written with the sole purpose of applying all that I've learnt from you.
TITLE: The Ineligibles
LOGLINE: In a utopian future where all communication is telepathic, a stranded Ancient Studies student must venture the wilderness to save her society from a telepathy-inadequate genius who has caused a worldwide communication blackout.
GENRE:Sci-fi, Action/Adventure
WHY YOU SHOULD READ (from writer): "I'm submitting my script to you Mr. Reeves because I'm a nobody. To clarify, I'm an unknown screenwriter swirling with the thousands of fellow unknowns in the murky tidal pool of LA. I've written several features, placed in the semifinals of the Nicholl, sent out countless queries (with zero responses of course), but I'm still stuck on the outside. So what's in it for you to read a nobody's script? I completely believe in the originality of my story and feel you'll find enjoyment in it if nothing else. And if the stars align, maybe it could lead to more exposure for ScriptShadow and a break-in for me. Oh, and I'll also send you some bomb-ass cupcakes if you do."
(Psst… Miss SS is liking the sound of that)
TITLE: Second Place Hero
GENRE: Action Comedy
LOGLINE: A biploar theater geek heads to school and gets cast in a role he never expected to play: a real-life hero who must battle a band of goons to stop them from kidnapping a fellow classmate.
WHY YOU SHOULD READ (from writer): "The script is a 2013 Nicholl Quarterfinalist, and it's got a tone all its own. (Big talk, I know, but how else can I get you to read it?) if I were to pitch this is in one second, it would be: "Imagine if John Hughes wrote Die Hard.'"
TITLE: The Killing of Apollo
GENRE: Action-Thriller
LOGLINE: When a godlike superhero begins serving vicious, indiscriminate justice, a PTSD-suffering tactical operative must join a special ops mission to bring him down before the entire world becomes collateral damage.
WHY YOU SHOULD READ (from writer): "Here's something interesting about myself: when I was just out of high school I saw an HBO promo with Matt Damon (in his Talented Mr. Ripley afterglow period) and Ben Affleck (in his post-Armageddon apology tour) asking aspiring filmmakers to submit a screenplay to their new show, Project Greenlight. Since I wasn't looking forward to college, I decided I was going to become a filmmaker instead. Obviously, I did not think this through.
Three months later I had a 57-page screenplay about a group of teens that were the youngest people on earth due to an inexplicable infertility pandemic. Other than beating Alfonso Cuaron's Children of Men to the punch by 6 years, the result was horrible; I remember writing a description that started with, "She oozes cool from every pore." Yeah, I know.
I was so disappointed with my screenplay that I did not even bother submitting it. But I caught the bug, and I kept writing. Thirteen years later I am finally submitting a work that I am proud of. I would love to get some feedback from you and the Scriptshadow community."
TITLE: The Tiger And The Fig Tree
GENRE: Comedy
LOGLINE: In a last ditch effort to save his crumbling life, Peter travels to the Amazon to plead with the native tribe who cursed his family, and is sent home with the village's witch doctor, in training, to help defeat the curse.
WHY YOU SHOULD READ (from writer): Why? Because I want my characters to live, I want to find an audience, I want some feedback, and I want a chance.