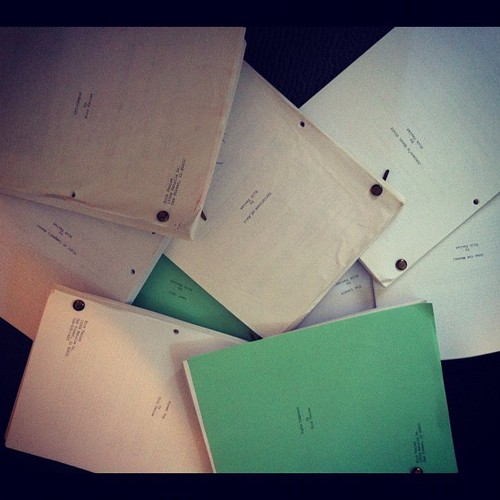 This is your chance to discuss the week's amateur scripts, offered originally in the Scriptshadow newsletter. The primary goal for this discussion is to find out which script(s) is the best candidate for a future Amateur Friday review. The secondary goal is to keep things positive in the comments with constructive criticism.
Below are the scripts up for review, along with the download links. Want to receive the scripts early? Head over to the Contact page, e-mail us, and "Opt In" to the newsletter.
Happy reading!
TITLE: Noir of the Dead
GENRE: action horror/comedy
LOGLINE: A former gangster must once again take up the gun and unite rival Prohibition enemies in order to fight off marauding, mutant zombies.
WHY YOU SHOULD READ: "I wrote this script with the intention of having fun with some familiar tropes…Prohibition gangsters, zombies, a mad scientist, the lethal femme fatal. The script ended up in a digital sock drawer…until I dusted it off and entered it into the ScreenCraft Horror contest, where it made the finals. My prize was development notes from someone named Pat at LD Entertainment…and I'm actually embarrassed to repeat some of his complements, where the writing was compared to Billy Wilder and I.A.L Diamond…and now my girlfriend thinks I write like Willy Wonka and I'm sure Scriptshadow readers will think I write more like Lester Diamond. But some judges and a studio guy liked it, maybe a few others will too. You never know.
Can we have a word on zombie scripts? The other day I saw my 6 yr old niece playing some zombie game on her kid's i-pad, and apparently it's the most popular game. I had an apocalyptic vision of millions of kids growing up already hooked on zombies. Zombies ain't going anywhere. Disco may be dead, but the undead…well, the undead never die."
TITLE: Submerged
GENRE: Contained thriller
LOGLINE: Trapped in a shrinking air pocket deep beneath the ocean's surface, the survivors of a plane crash battle to stay alive long enough for the rescue teams to locate them.
WHY YOU SHOULD READ: "This is my eighth screenplay, all in the action thriller genre. Submerged adheres rigidly to all of the spec script rules laid out on Scriptshadow – it is a low-budget, contained thriller with a marketable concept, set in a unique location, featuring a proactive protagonist who must conquer a potentially fatal flaw to succeed. And it all happens in a reader-friendly 94 pages!"
TITLE: Coin
GENRE: Thriller/Heist
LOGLINE: A brilliant young thief is forced to rob an auction in the heart of Manhattan, but, when the rules change, his mission becomes a life and death struggle to find his tormentor before he kills his mother.
WHY YOU SHOULD READ: "The script was inspired by your French Week review of the Untitled Hlavin project. To its credit, it's an interesting departure from the normal heist story. Exhibit A. The object being sought is a coin and, although it is valuable, the protagonist stands to make zero dollars for his efforts. Not your standard 80/20 split. Already, things are different. Exhibit B. The protagonist is, for all intents and purposes, retired. Sure, he's young. But he's seen the flaw of his ways and changed. Exhibit C. The story is more about the journey than the goal as it explores his life and relationships as he figures out what his next moves will be. He has a good heart and it shows. Together with all of the twists and turns and backstabbing double-crosses, he's never able to tell who's with him and who's not. It all adds up to thrilling adventure that pushes him to the limits of his abilities and wits, climaxing in a thrilling showdown you won't see coming."
TITLE: The After-Afterlife
GENRE: Comedy
LOGLINE: Terrified that there may not be life after the afterlife, a group of ghosts must convince the world that ghosts exist by revealing themselves to the crew of a cable ghost show on the night before their haunting place is bulldozed to the ground. It's something that's way easier said than done. It is a basic cable show, after all.
WHY YOU SHOULD READ: "In a word: story. This is a story first and foremost. It's a funny story, but story always, always, always takes precedent over funny. Then, in many words: I wrote with a partner for many years, and we even scored well in a multitude of contests including Nicholl (Semifinals twice) and the Austin Film Festival (Finals). But now I'm trying a few solo scripts, and need to know if I'm good on my own, or if I should beg my partner to take me back."
TITLE: Shifting.pdf)
GENRE: Supernatural Horror/Drama
LOGLINE: A teenage girl balances high school life with keeping her lycanthropy at bay.
WHY YOU SHOULD READ: "I've worked for the city as a 911 call taker for the last, going on seven years. You hear stuff. One minute it's a guy who robbed the local Best Buy (make that tried) of a PS3 console, tripped and fell in the parking lot, busting his head open in the process — now he's got a brief hospital visit to look forward to, followed by a slightly longer stint in jail — the next it's a man playing with his pet puppy, which ended up biting clean through his penis (do. not. ask.), and EMS has to walk him through how to contain the bleeding while his girlfriend laughs uncontrollably in the background.
Not to mention, of course, random conflicts among senior citizens involving tasers.
It can put your mind in a place. Which brings me to "Shifting". I think I wrote this as a way of staying sane in my most unsanest of professions, but also out of genuine affection for werewolf cinema. Even 'Bad Moon.'"