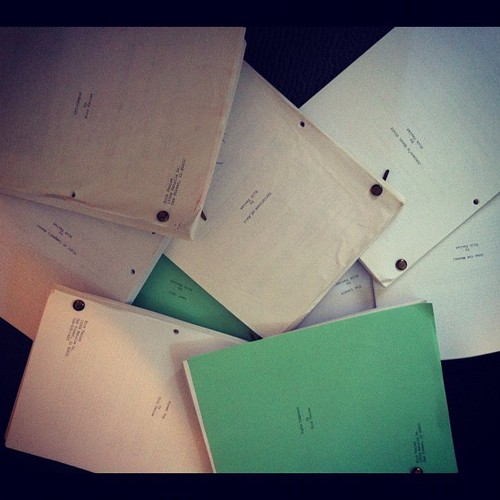 Guess whaaaaaat? There's a super-sneaky surprise in these offerings. I'm not going to tell you what it is until I review the winning script. But it's going to be a doozy! — Read the following amateur scripts and voice your opinions and constructive criticisms in the comments section of Saturday's Amateur Offerings Weekend post! Good luck to all the writers!
TITLE: Fuse
GENRE: Sci-Fi/Thriller
LOGLINE: A cop in the near future hunts a killer who murders victims for their enhanced body-parts so he can utilize them himself.
WHY YOU SHOULD READ: "I've been trying to get work as a screenwriter for a couple years now. By that I mean I've been trying to actually get paid, a common conundrum I know. It can be hard to get material read, so I've submitted a number of projects to various contests and I've been a finalist in the Austin Film Fest and Scriptapalooza, which is exciting but hasn't meant much so far."
TITLE: Terror in the Year 3000!
GENRE: Post-Apocalyptic Comedy
LOGLINE: An immature, belligerent survivalist and his on-again/off-again girlfriend fight for their lives after discovering and subsequently enraging a horde of flesh-eating mutants.
WHY YOU SHOULD READ: "Howdy! I'm a recent grad from SUNY Purchase (with a BFA in Screenwriting) and, as of a month ago, an L.A. transplant. I've been reading scripts and writing non-stop since I got here in between job searching, and I can definitely see my work improve with each script and draft that I write. "Terror" comes from my recent binge on all the apocalyptic fare that came out this past year; I wanted to combine the usually very serious high-stakes story of survival in a nuclear wasteland and put my own comedic spin on it. The action is frantic and serves the story, and there's more to the jokes than just gross-out junk. Hopefully it's up your alley, enjoy!"
TITLE: Vindication
GENRE: Thriller
LOGLINE: An archeologist searches for a Viking ship buried in Washington State, while seeking justice for the murder of a friend.
WHY YOU SHOULD READ: "Writing is who I am and what I do. It's been said by writing professionals that I have a good handle on the craft of writing, and for that I'm proud and very humble. I'm heavy into characterization and the multi-faceted motives that drive my characters. My plots are always completely original and of interest to both adult males and females. I'd like to mention that my dialogue is crisp and often times caustic. Regarding pace, it's usually tight and right. If you decide to read my script, I know you'll recognize and see that I've learned a thing, or three from you also.
Aside from my publishing credits, I've completed a screenplay adapted from my fourth mystery/thriller novel entitled, VINDICATION. The logline for this script garnered first place in a recent logline competition."
TITLE: In the Flesh
GENRE: Contained Horror Thriller
LOGLINE: A woman fights to escape an isolated home controlled by an Incubus, a demonic force that feeds on sexual energy. A task made more difficult by her co-hostages, who are content to remain under the creatures spell.
WHY YOU SHOULD READ: "Something interesting about me: Watch the pilot episode of "The Wire" and you will see my elementary school in the background behind the young Barksdale dealers. I went from playing marbles to shooting craps on the same corners where many of the show's stories were ripped. I've loved movies and writing since childhood. They provided a 90 minute respite from an oft times less than ideal environment. I've had many people tell me that a career as a writer was a dream beyond my reach. Admittedly, I believed them. But even without the hope of making a dime let alone a living, I kept writing, reading scripts, and consuming all I could to learn about the craft from sites like Scriptshadow. I can't stop writing. I've tried. It is a part of me. A part I want to make better. A goal I work on daily. "In the Flesh" is a sample of that effort. I believe a good one. One that people will one day read and enjoy. If I'm wrong, I'll write something better tomorrow."
TITLE: Tall, Dark and Handsome.pdf)
GENRE: Thriller
LOGLINE: A Manhattan trophy wife's attempts to retrace the missteps of her romantic past lead to the doorstep of a mysterious doctor and down a rabbithole of hatred.
WHY YOU SHOULD READ: "I wrote it."