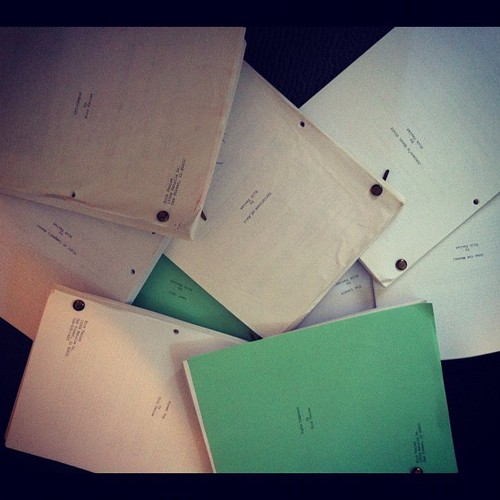 This is your chance to discuss the week's amateur scripts, offered originally in the Scriptshadow newsletter. The primary goal for this discussion is to find out which script(s) is the best candidate for a future Amateur Friday review. The secondary goal is to keep things positive in the comments with constructive criticism.
Below are the scripts up for review, along with the download links. Want to receive the scripts early? Head over to the Contact page, e-mail us, and "Opt In" to the newsletter.
Happy reading!
TITLE: Hunter's Moon
GENRE: Action/Adventure
PREMISE: "Loosely based on a feature article I penned for Maxim ("The Death Dealer") some years ago about an ex-merc who takes wealthy hunters on human safaris – mostly in Africa where they hunt poachers."
WHY YOU SHOULD READ: "The merc this story is based on – a very twisted individual by the name of Keith Idema – died last year in Mexico. He made the cover of the Wall Street Journal for detaining Afghan civilians – and torturing them! – back when bin Laden was still alive, trying to get intel on where he was hiding. Idema – who owned a gun store near where I grew up – taught me to shoot. On the weekends, he used to go to El Salvador to fight alongside the Contras against the Sandinistas.My first year of college (U of Maryland) – I came back from a long weekend and he was in my apartment, hiding behind the couch which he had flipped over to guard against grenade attacks.
Yes, you read that right. Here's his Wikipedia page:
http://en.wikipedia.org/wiki/Jonathan_Idema
The script, which I'd pitch as Billionaire Boys Club meets Most Dangerous Game meets Deliverance is pretty fuckin' cool and based on events that actually took place.
TITLE: Penalty
GENRE: Black comedy
LOGLINE: An ambitious soccer referee works his way up the lower leagues when he's suddenly bribed to start throwing games.
WHY YOU SHOULD READ: "One thing I notice about your amateur submissions are that they seem to be mostly written by under 30s with comparatively little life experience. Technically they might be structured well and are always written in a confident style but generally lack a certain nuance that only age can give you. So come on Carson, how about us oldies. I propose an over 40s week to see if you can encourage a more measured kind of voice that can harness the important ground rules to something truly life-affirming."
TITLE: Safeguard
GENRE: Action Thriller
LOGLINE: A hitman is offered the chance to avenge his wife's murder by joining forces with a team of highly skilled ex-cons to prevent an assassination attempt in Paris. It's Ronin meets the Dirty Dozen…
WHY YOU SHOULD READ: "SAFEGUARD was a 2013 Nicholl SF. The script was a (four week) first draft so as you can imagine, I was utterly stunned to see it advance as far as it did in the contest. My first script was an honorable mention in Trackingb and also a PAGE Award winner and has since been taken on by the guys behind the Batman Trilogy and Man Of Steel."
TITLE: Rigged
GENRE: Biopic
LOGLINE: The true story of Bobby Riggs, The Battle of the Sexes, and how the mafia may have influenced the most famous tennis match in history.
WHY YOU SHOULD READ: "Rigged combines something you love (tennis) with something you hate (biopics). Like chocolate covered raisins. It's also tailor-made for an A-list actor (Paul Giamatti?), has clear GSU and features some of the most intense tennis scenes this side of Bridesmaids. Is this the first amateur biopic to get a "Worth the Read" by Carson?"
TITLE: The Junkie's Debt
GENRE: Dark Comedy
LOGLINE: When a street-wise, self-centered bookie is held responsible for paying back his junkie friend's debt, he must go to his books and collect. But when he can't raise enough cash, his wannabe Mafioso debtor makes an intriguing offer: Kill the Junkie, and only pay half.
WHY YOU SHOULD READ: "I'm not much, but I like to write, and I write pretty well for a beginner. The second script I ever wrote was a semi-finalist in the American Zoetrope screenplay competition. I am your classic example of why college might not matter any more, as I have two degrees, and am still just working as a bouncer at a bar. You should read this script because it's a tough and dirty world the characters are living in. The main character's a dick, but finds a way to redeem himself. I would describe it as Martin McDonagh's take on Godard's Breathless. It's very blunt, and there's a lot of white space on the script. If you read it, you'll have a good time, unless it's too 'tough' for you."