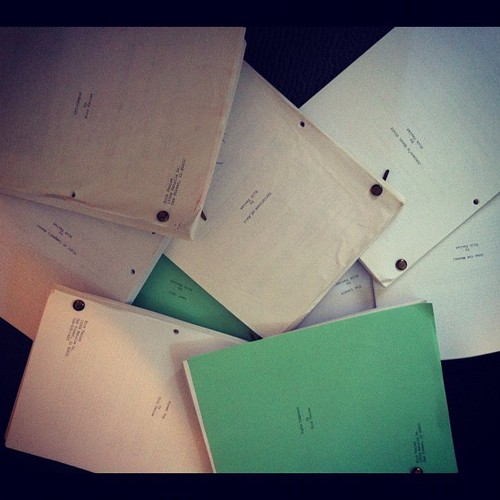 This is your chance to discuss the week's amateur scripts, offered originally in the Scriptshadow newsletter. The primary goal for this discussion is to find out which script(s) is the best candidate for a future Amateur Friday review. The secondary goal is to keep things positive in the comments with constructive criticism.
Below are the scripts up for review, along with the download links. Want to receive the scripts early? Head over to the Contact page, e-mail us, and "Opt In" to the newsletter.
Happy reading!
TITLE: GRIPPER
GENRE: Horror
LOGLINE: When a young geneticist attempts to save the world's forests from a rabid insect infestation she unwittingly unleashes a plague of apocalyptic proportions.
WHY YOU SHOULD READ: A new, original monster for the horror/nature gone wild sub-genre based on real science and current environmental concerns – and its a pretty swift read at 103 pgs. Plus, the first and last lines of dialogue are 'fuck' and 'beautiful' ;)
TITLE: Gone
GENRE: Supernatural Drama
LOGLINE: A woman's past affair with a married writer haunts her in unusual ways.
WHY YOU SHOULD READ: I'm a huge fan of the 1986 French film "Betty Blue". Even though it's really quite terrible. I remember reading about some arthouse theater in Houston doing a retrospective screening back in the mid-90's. Perhaps it was being a teen with hormones running amock, along with a burgeoning interest in all things cinema — especially movies I could never see growing up in Crockett, Texas — but those notorious opening 5 minutes of "Betty" had me intrigued. So, while not a great piece of work by any means (it's a rambling mess, especially the longer three-hour version, with a goofball denouement and incredibly stilted dialogue throughout)… still holds a special place with me.
I think I like the idea of the thing more than the thing. Thus, wanted to pull central story elements and play around with them. Pay homage.
Also, I wasn't aiming for a surprise at the end, but I'm kinda tickled it's there.
TITLE: The Cloud Factory
GENRE: WW2 romantic drama
LOGLINE: Torn between family and college or the love of an aristocratic lesbian doctor, a badly-injured American pilot grapples with her burgeoning sexuality and WW2 Britain's rigid social order.
WHY YOU SHOULD READ: 'The Cloud Factory', is based on the true story of the women's section of Britain's Air Transport Auxiliary, with fictional protagonists. Now, I get that Hollywood seems to think period romances and period dramas are so boorrring. Let's take 'Philomena' (part period drama, and part contemporary). Probably made for less than $10 million; its global box office gross to the end of January was $68 million. Making money's so boorrring. 'Atonement' – made for some $30m with global box office of $120m+. Boring! 'The English Patient' – production budget in the high $20m region; global gross of around a quarter of a billion dollars. Really boring! They all had strong female leads involved in a romantic relationship that didn't end well, in common. Women over 30 especially turn out in droves for relationship dramas with strong female leads because we get to see so darned few good ones. See Lindsay Doran's TED talk on relationships in movies – women get it! It's not rocket science. So that is what I've written. I've just given the period romantic drama a little twist to keep things interesting. And I could be wrong, but as far as I can see, the last time a period drama seems to have gotten a run on Amateur Offerings Week was 'Templar' back in August, 2013. Long overdue, surely.
TITLE: The Triennial
GENRE: Action/Thriller
LOGLINE: An elite Israeli secret agent is on loan to the US teams with an unlikely civilian in a race to infiltrate and eliminate a terrorist cell in Chicago.
WHY YOU SHOULD READ: During the last couple years, I've had three comedy scripts show up nicely in the contest circuit, yet none gained any traction with agents, managers, or producers. Apparently, I crack myself up. So I changed lanes and wrote this action/thriller feature, because… it's a business, right? Bottom line – I had a blast writing this one, so I'm really glad I left my comfort zone and tried a new genre. Only question – will anyone else be glad? Would love some scared straight feedback.
TITLE: Fantasy Man
GENRE: Comedy
LOGLINE: A fantasy footballer must convince a sports star to play, or else a mob boss will have him killed.
WHY YOU SHOULD READ: The story. Period. Even if you're not into fantasy football, there's a heartfelt story here about friendship, love and going after your dreams. And it's also pretty fucking funny. Happy reading and we appreciate everyone's comments in advance. Thank you.