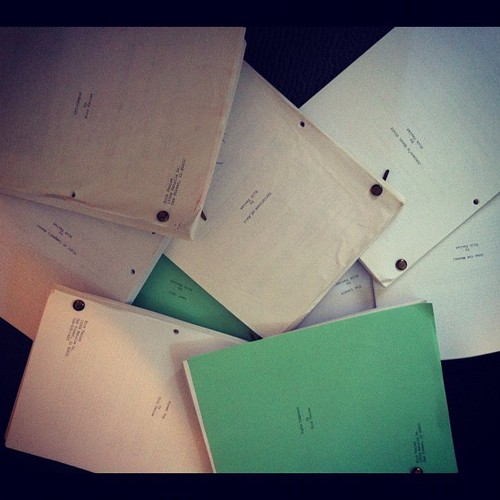 This is your chance to discuss the week's amateur scripts, offered originally in the Scriptshadow newsletter. The primary goal for this discussion is to find out which script(s) is the best candidate for a future Amateur Friday review. The secondary goal is to keep things positive in the comments with constructive criticism.
Below are the scripts up for review, along with the download links. Want to receive the scripts early? Head over to the Contact page, e-mail us, and "Opt In" to the newsletter.
Happy reading!
TITLE: AESOP THE COURAGEOUS
GENRE: Adventure
LOGLINE: When his mother is kidnapped and sold into slavery, the legendary fableist must overcome being a short, ugly mute and outmatch Greek philosophers and bloodthirsty kings to rescue her and save the kingdom.
WHY YOU SHOULD READ: If I have to sit through another movie starring a chisel chinned, barrel chested, cooler-than-christ anti-hero, I'm gonna start drinking. And when I drink, I get all existential. And when I get all existential, I go searching for myself. And when I go searching for myself, I take trips to exotic countries. And when I take trips to exotic countries, my planes mysteriously disappear. And when my planes mysteriously disappear, I end up on Lost island. As cool as that would be for about a week, please don't let me end up on Lost island, Carson! For a change, let's give the short and uglies of the world a chance at being heroic. And you can start right here with this inspired, true-ish tale.
I've always been intrigued by ancient Greek culture and stumbled upon this story in college. It is tailor-made for the big screen, but very few people know about the man behind the fables. A cute, straight forward fantasy adventure this is not. Think more along the lines of the dark and dirty original versions of the Grimm Brothers' fairy tales. The Zemeckis', Burtons, and Depps of the world would have a field day with this.
TITLE: The Disappearance of Flight 229
GENRE: Drama / Thriller
LOGLINE: A grieving father will stop at nothing to uncover the truth when his family goes missing in an airline disappearance.
WHY YOU SHOULD READ: I've placed in just about every competition out there and am looking to take it to the next level. I first wrote this script a few years back and it has recently become a timely topic in the world today, so I thought I'd throw it out there again.
TITLE: Eve
GENRE: Sci-fi/Comedy
LOGLINE: In a future where the government chooses your spouse for you, a group of married friends rebel by starting an underground sex club.
WHY YOU SHOULD READ: Imagine a world without war or racism, without adultery or hurt feelings, depression or diseases… oh yeah, and no sex, either. Your Friends (the people in power) choose your job and spouse for you. When they think the time is right, they deliver a baby to you via drone. Everyone takes a vitamin each morning that helps them remain perfectly content. Eve fits right into this world… but one day she stops taking her vitamin and discovers everything that she never knew she was missing.
TITLE: From the Wild.pdf)
GENRE: Mystery/Drama
LOGLINE: After a massive wildfire, a small Oregon town starts to experience strange occurrences that could end up altering modern science forever.
WHY YOU SHOULD READ: This script was the first time I've ever really written from my heart, and it's inspired by the Spielberg films I love. I entered it in the most recent script contest on trackingb.com but it didn't place anything. I wasn't expecting much. It was the first time I've submitted anything to anywhere. Still, I like the script and hope to get some great feedback from the vast amounts of screenwriting knowledge that frequent Scriptshadow. Tear it apart!
TITLE: Doggone
GENRE: Dramedy
LOGLINE: A suicidal man's plan to off himself is thwarted by a stray dog.
WHY YOU SHOULD READ: I've been writing two years, and well, I'm probably the most unlikely to succeed in this business, but I love writing(maybe I'm somewhat masochistic)! This is a buddy-dog story. Coverage readers have given it a consider. It found me an agent the first year I began writing(yes, I recklessly sent out old fashioned queries before the script was ready). My cowriter/best friend, could've killed me for doing such! Anyway, it's been optioned(once) and the first-time director recently backed out, so I'd love to give it some sort of shot in the dark. I figure if anyone could give it a shot… Carson could! :) So why not? Hell, it's got a damn DOG in it!