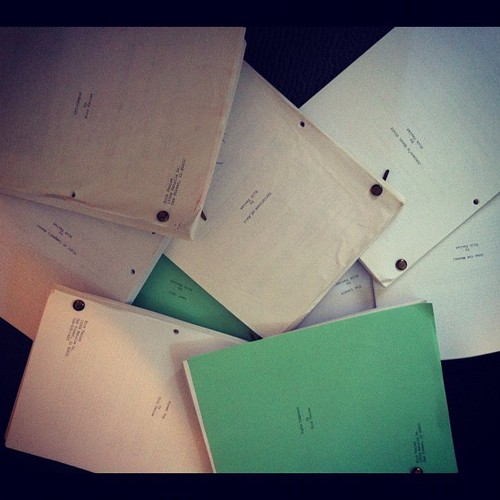 This is your chance to discuss the week's amateur scripts, offered originally in the Scriptshadow newsletter. The primary goal for this discussion is to find out which script(s) is the best candidate for a future Amateur Friday review. The secondary goal is to keep things positive in the comments with constructive criticism.
Below are the scripts up for review, along with the download links. Want to receive the scripts early? Head over to the Contact page, e-mail us, and "Opt In" to the newsletter.
Happy reading!
TITLE: HOT MESS
GENRE: Contained Thriller/ Satire
LOGLINE: "A selfish starlet wakes up trapped in a portable toilet… Held captive by a deranged paparazzo, intent on filming her last 15 minutes of fame."
WHY YOU SHOULD READ: This script was conceived for twit-pitch, and after missing the cut it went into a major overhaul.  You were among the first to provide notes on the early rewrites, at the time calling it "surprisingly layered for a premise like this," and as a satire on the state of Hollywood starlets, "brilliant." Over the past 18 months of rewrites I've received a humbling amount of positive notes from a half-dozen of the SS faithful, including (most recently) Matty and your own Missus.  A glutton for the guts of a story, I even crawled down into the cave and kicked a sleeping Grendl, for some carnivorous criticism.  So let's just say there's no more fat on these bones, as it weighs in a full 15 pages shorter than the draft you had deemed "a fast freaking read… and I mean really fast!"
TITLE: Man Cave
GENRE: Comedy
LOGLINE: Three downtrodden buddies lie to their overbearing wives and set off on a quest to watch the big game, but their journey goes awry when the women discover their plan and hunt them down.
WHY YOU SHOULD READ: Sometimes a dude just wants to take a night off from the wife and/or kids.  Meet up with his bros.  Have a beer.  Watch the game.  And sometimes the wife and/or kids do not want that to happen. This is the story of a few friends who try anyway.  God help them.
GENRE: Crime / Drama
LOGLINE: Calvin Barry, lost and adrift in his 20s, falls victim to the charms of Gwen Summers, a seductive young beach bunny. Soon, with the help of Gwen and her stoner roommate Amy, Calvin embarks on a binge of sex, drugs, and violence – a downward spiral he may not be able walk away from…if he even wants to, that is.
WHY YOU SHOULD READ: Big fan of ScriptShadow. I've been a reader on and off for awhile, and I finally talked myself into submitting a script for Amateur Friday consideration. I'm Caleb Yeaton, a (hopeful) writer from around Chicago. I've been writing for a little over fifteen years, although I'm way too cheap to shop my scripts around to contests…which, considering my lack of connections, may be the wrong approach thus far. Anyway, I'm trying to get my current script, California Dream, a little more exposure – it's been well-received on several workshop sites, and, while those reviews are helpful, I'd love the extensive Amateur Friday treatment. As for why you should read the script? California Dream drags the old-fashioned noir genre into 2014 with style – it's dark, sometimes unpleasant, occasionally funny, and it's been fine-tuned over a dozen drafts into a clean, tight story. Not convincing? Okay, there's also a lot of sex and nudity in it.
That's all I've got.

TITLE:
Orion's Flight
GENRE:
Action/Thriller
LOGLINE:
When a governmental Space Station gets taken by a terrorist organisation its once headstrong Architect must escape upon learning that the terrorists have also captured her disabled husband back on earth.
WHY YOU SHOULD READ:
I'm going to pitch this as ALIEN MEETS DIE HARD in that a strong female protagonist is trapped on a space station while trying to avoid/defeat a stronger, better equipped foe. This wasn't written to win Oscars or Nicholl contests, but to entertain those seeking an adrenaline rush and a bit of fun.
TITLE
:
PREPPER

GENRE
: Horror
LOGLINE
: A psychopathic survivalist lures his neighbors into his secret bunker when the national power grid goes down.
WHY YOU SHOULD READ IT:
Are you and your family prepared to survive for weeks or months on end if the grid goes down and all the stores close? Like most movie going Americans, our hero, Bobby Murphy and his loving family weren't ready for societal collapse and soon found themselves at the mercy of those who were like our villian Ray McKlusky.  I would describe Ray as Hannibal Lecter meets the Joker at Duck Dynasty's house. Like many of you, I have been at this for many years passionately honing my skills. While Prepper may appear to be just a popcorn flick/script, it was crafted with care and profoundly inspired.