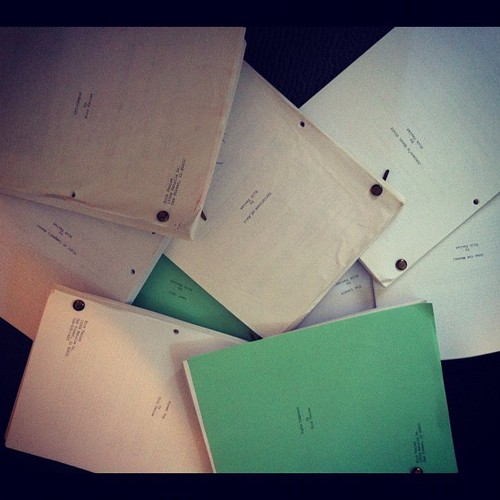 This is your chance to discuss the week's amateur scripts, offered originally in the Scriptshadow newsletter. The primary goal for this discussion is to find out which script(s) is the best candidate for a future Amateur Friday review. The secondary goal is to keep things positive in the comments with constructive criticism.
Below are the scripts up for review, along with the download links. Want to receive the scripts early? Head over to the Contact page, e-mail us, and "Opt In" to the newsletter.
Happy reading!
TITLE: Harmony
GENRE: Thriller
LOGLINE: When Harmony, an American woman's adopted Mexican child, is mysteriously kidnapped by the cartel, she must go to Mexico to confront a dangerous drug lord, and find out the truth behind his disappearance.
WHY YOU SHOULD READ: Harmony is the most perfected script I have ever written. Before that, I thought that the stories I had imagined wasn't worth the extra effort, the notes orders, and the 3-o'clock-in-the-goddamm-morning rewrites.
I believe this story does worth all the pain, due to its emotional, easy to relate drama, simple GSU, marketability. Had Scriptshadow's Rich and Lauren analyze and nitpick my script and recently got a "consider" from another scriptwriting service.
Thanks to them, I think the story is where it needs to be. Anyway I'm now broke and out of ideas, so it would be helpful to have free feedback from you and the script shadow world.
ps: I'm a writer from Paris, maybe it would be an opportunity to do your first french writer's review? And hopefully I can prove that we don't all suck miserably :)
TITLE: Marlowe
GENRE: Noir/Historical
LOGLINE: P.I. Sam Marlowe shows novice writer Raymond Chandler the realities of detective work, juggling gangsters, corrupt politicians and movie star Jean Harlow to find out who's burning farms on the Arroyo Seco Canyon.
WHY YOU SHOULD READ: This is the real life story from the files of Detective Samuel B. Marlowe.
TITLE: IGNOBLE
GENRE: Dramatic Thriller
LOGLINE: Watch from a struggling father's perspective – listen to his troubled thoughts, experience his beloved memories and vivid imagination – as he faces two daunting challenges: repaying a debt to his ruthless drug dealer and regaining his estranged family's trust… in one afternoon.
WHY YOU SHOULD READ: Although my script is not written in first-person, it is written from a first-person perspective throughout and the above sentence basically describes what I am going for. I believe this approach provides a novel and more personal opportunity for the audience to empathize with the protagonist. I also believe this is a totally original story that is almost certainly unlike anything else you've ever read and that you would enjoy reading it.
TITLE: Perpetual
GENRE: Sci-fi
LOGLINE: In a future, where it's impossible for people to die, a police officer needs to team up with a former serial killer when he investigates the disappearance of a scientist.
WHY YOU SHOULD READ: Being a silent reader of the site, Perpetual has influences coming from the ScriptShadow University. There's irony alert (a serial killer in a world where no-one can die), conflict (a police officer needs to work with this killer) and a GSU that comes from the 'what I learned' of The Giver; the story builds with changing goals and stakes getting higher. After months of crafting and re-writing, my project is ready for the eyes (and feedback) of my fellow writers.
TITLE: Cubicle Farm
GENRE: Comedy/Horror
LOGLINE: Two office screw-ups clash with their boss, after discovering that their soul-sucking job is run by blood-sucking vampires.
WHY YOU SHOULD READ: For years, years I tell you, I have sat at this desk. Forced to toil on meaningless projects. Projects that add nothing of value to this world.
Dante was wrong. Advertising is hell.
Daily, I have dreamed of a life that meant more. Nay. I have longed for one. I have longed for a life of purpose and excitement with every fiber of my being.
To no avail.
My coworkers? Sycophants. My clients? Mongoloids. My bosses? Evil.
Which is where I got the idea for this script.
It's not autobiographical because I've never had a close friend at work. Possibly because I keep telling them about my screenplay about two guys who work in an office and find out that it's run by vampires so they get a group of people together and–
But, I digress.
It's more of an account of my dreams. Which is sad because no one gets laid. And almost everyone dies.
So, with all of that said, why should you read this script? Because it's a lot of fun? No. Because it offers catharsis, for those people stuck in offices they hate, surrounded by people who make them miserable, in a way that no other film has, or could? No. You should read this script because writing it has been the equivalent of masturbating at my desk in lieu of actually earning my paycheck. And that is a damn fine way to make a living.