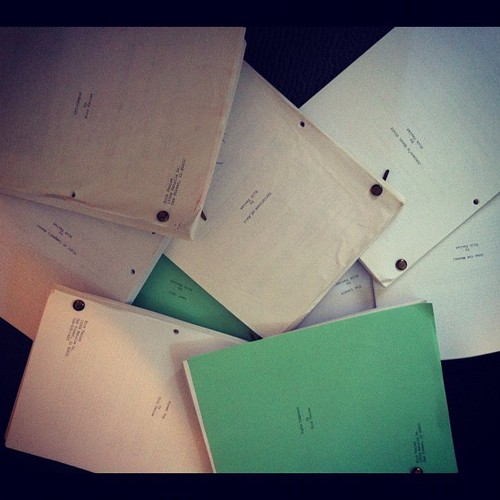 This is your chance to discuss the week's amateur scripts, offered originally in the Scriptshadow newsletter. The primary goal for this discussion is to find out which script(s) is the best candidate for a future Amateur Friday review. The secondary goal is to keep things positive in the comments with constructive criticism.
Below are the scripts up for review, along with the download links. Want to receive the scripts early? Head over to the Contact page, e-mail us, and "Opt In" to the newsletter.
Happy reading!
TITLE: I. A. A. I. (It's All About Imagination)
GENRE: Multiple, but essentially a modern fantasy.
LOGLINE: A tiered story in which a professional screenwriter whose vices have ruined his family life and career, mentors a fledgling screenwriter with no imagination, only to find out both of their lives are controlled by a third writer who disguises himself as a cop.
WHY YOU SHOULD READ: I think you'd enjoy this screenplay because it's a quirky story that screenwriters could certainly relate to. It's tiered structure gives the reader/viewer something to think about as the story unfolds and is explained. There is plenty of action, some adventure, comedy, suspense, horror etc. It's basically a story about the creative art of writing.
TITLE: LOST IN TIME
GENRE: sci-fi
LOGLINE: When a young man finds the enigmatic journal of his long missing father, he sets out to find him only to discover he may be lost not in a far away place but in a far away time – and he's not alone.
WHY YOU SHOULD READ: I decided to send my script when I read what you wrote about having at least one MEMORABLE scene in a horror script (mine is sci-fi but with horror elements). I believe I have one because every person who read LOST IN TIME (not family or friends but people in the industry) was shocked by the last scene of the script and told me it was unforgettable. I hope you will think so too.
TITLE: The Savage South
GENRE: Driller (Drama/thriller)
LOGLINE: When a professional contract killer discovers he's become the target of an assassination himself, he teams up with the would-be killer to figure out who set them up.
WHY YOU SHOULD READ: Been a screenwriter for a certain number of years, written some amount of screenplays, placed in various categories of various competitions, and done other unspecific things.
But why should you read this specific script? I don't know. Because I think it's a decent script. Because I'm genuinely curious what kind of bashing Carson gives it. Also, this was a top 10 script in the Industry Insider Competition – Roger Avary round. No, it did not win the coveted honor of first place, but Fargo also lost best picture to The English Patient, so clearly people do make mistakes.
TITLE: THE HARVESTER
GENRE: Horror
LOGLINE: Murdered to advance the construction of an exclusive golf resort, a mountain man is resurrected by Death himself and urged to seek revenge as an undead killing machine. But vengeance is just the beginning…
WHY YOU SHOULD READ: I'm a lifelong horror fanatic and very much a product of the VHS generation. While moaning about the state of modern horror movies one night, someone said "You should write a better one." So, this is what I came up with. THE HARVESTER is a high-concept, supernatural-slasher that celebrates its bloody roots with an imaginative and fresh approach. Rest assured, there are no prolonged torture sequences, haunted houses, found footage or zombies. THE HARVESTER is something else. It's my sincere attempt at horror the way I lovingly remember it; gruesome and gory, sure, but also eccentric, cinematic and, most importantly, FUN! THE HARVESTER is a blood-soaked blast of old-school carnage with an ending so wild and explosive; it needs to be read to be believed. Hope you'll check it out.
TITLE: FOE
GENRE: Science Fiction
LOGLINE: In a near-future world shattered by an alien invasion, a lone Special Ops soldier, unaware that he's the key to victory, stumbles on a group of disabled military vets holding their abandoned VA Hospital as the invaders lay siege.
WHY YOU SHOULD READ: I've been writing screenplays for years; had low-level agents twice; sold options twice; almost had deals 3 times; considered quitting many times, but always came back because I realized I just liked writing, and if one never sold, I'd do it anyway. So I do something over and over and expect a different result. Insanity, right? Anyway, FOE is the script I think could restore my sanity. So, for mental health–humanitarian–reasons, I'm begging you. Help a brother out.